Chicago Roundup

TCF Celebrates Faiz Ahmed Faiz Centennial and Raises Funds to Educate the Poor in Pakistan . AAI Demands Justified Redistricting of Asian Americans . Niles West Qur'an Study Club a Beacon of Light . Foundation for Economic and Educational Development (FEED) Raises $ 250,000. Indo-American Center Plays Host to Dr. Abdul Kalam . Razia Fasih Ahmed Receives Lifetime Achievement Award for Literature . 5 th Pak-o-Hind YakJehati Mushaira . Compassionate Care Network's Free Health Fair
By Dr. Mujahid Ghazi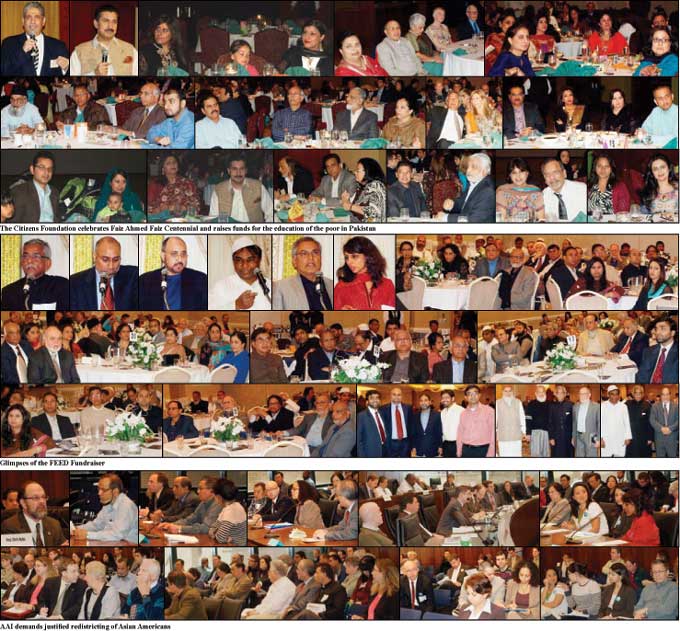 TCF celebrates Faiz Ahmed Faiz Centennial and raises funds to educate the poor in Pakistan
Chicago, April 24 th 2011: The Citizens Foundation USA, a nonprofit 501 (C) Chicago-based organization, raised funds last weekend at the Meadows Club to support its sister organization in Pakistan. TCF Pakistan was launched by five philanthropists with the aim of eradicating illiteracy from Pakistan. They pledged to open 1000 schools in city slums and backward rural areas of Pakistan. Now they are almost close to their goal with 730 schools in all the four provinces of Pakistan and Azad Kashmir. There are 102,000 students who are being imparted education by 5100 teachers trained at the TCF's own facility before entering the class rooms. The infrastructure and equipment at these schools are the best available today.
The founder and CEO of TCF USA Danial Noorani introduced the organization and with the help of statistical data explained to the audience that as supporters of TCF USA they have played a major role in this success. He said this year the fundraisers are tagged with the great revolutionary poet of the last century Faiz Ahmed Faiz. A documentary film was also shown on the life of the great poet.
The Consul General of Pakistan Zaheer Pervez commended TCF USA for celebrating the centennial of Faiz Ahmed Faiz. He also praised the work TCF is doing to promote education in Pakistan. He said he salutes the thoughtfulness of Mr. Danial Noorani and praised his dedication and selflessness. He said he wants to thank him on behalf of government of Pakistan.
Later, Mehdi Hasan's sons Kamran and Imran Hasan, presented the kalam of Faiz Ahmed Faiz.
AAI demands Justified Redistricting of Asian Americans
Chicago , April 21 st 2011: The Illinois House of Representatives has created a Special Committee on Redistricting that is conducting public hearings, held across the state, to hear directly from residents on how legislative boundaries should be drawn. One such hearing was held in downtown Chicago last week. Social and political activist groups and individuals participated in the hearing by giving testimonies in support of their specific projection of how they want their electoral districts look like. The Asian American Institute in collaboration with other Asian advocacy groups like CIOGC is playing an instrumental role to suggest legislative districts consisting of clusters of Asian voters. The group argued that the present legislative districts put the Asian community under multiple House Representatives and State Senators. They stressed that this dilutes their electoral importance affecting their socio-economic development and civic involvement.
They demanded that the areas of Rogers Park, Albany Park and West Ridge should be mapped as one legislative district. They also demanded that AAI should be consulted before final maps come out.
The group consisted of Ami Gandhi Esq., Legal Director AAI, Sung Yeon Choi-Morrow, Community Organizer AAI, Lakshmi Lakshmanan, private attorney from Indo-American Center, Ahmad Ansari of Islamic Circle of North America-Chicago, Sharda Thapa of Nepali-American Community, Hye Young Lee of Korean American Community Services (KACS) and this scribe representing South Asian communities on the North side.
The Redistricting hearings are also being conducted by the State Senate Committee on Redistricting. One such hearing took place in Springfield last month. AAI pleaded their case there also. This scribe gave his testimony there as well along with the same team of Asian American Institute. Ahlam Jbara from CIOGC also gave her testimony in that hearing.
Legislative redistricting is done every 10 years after the census because of demographic shifts in the population.
For more information on this issue and to read testimonies including the testimony of this scribe please go on
http://www.aaichicago.org/images/LegalAdvocacy/testimony_2011-04-21_aai_combined_testimony.pdf
Niles West Qur'an Study Club a beacon of light
Chicago ; April 24 th 2011: Dr. Arif Hussain, a dynamic physician and leader of ICNA, praised the work of Qur'an Study Club (QS) at the Niles West High School. He said there are so many distractions for young Muslims and it is hard to focus on the right path but the members and Shura of QS has proved that this is not impossible.
In his keynote speech he went on to educate and inform the young audience about the good and bad of this society and how they can strengthen their characters in the light of the Qur'an and Sunnah.
This year a record number of students and their parents showed up at the Potter Mosque in Des Plaines to stand by QS in its mission to promote the Qur'an and its teachings. The Qur'an Study Club was started in Niles West High School by people like Azhar Usman and Ali Quadri. It is now one of the most active clubs at NWHS and attracts young Muslims for the Friday prayers and other events, some to help American charities. The present Shura consists of Saad Riaz and Farah Siddique, Ameer and Ameera. Bilal Khan and Abeer Zaidi are Vice Presidents. Mahween Ahmed is Secretary while Omair Khan is Treasurer and Nadia Ali and Wafey are Public Representatives. Munaiz Ahmed and Ashhad Ghazi are Advisors. Ms. Tayyaba Ahmad and Ms. Amina Jarad are the teacher-sponsors. These two teachers were also part of QS in their student life.
Following the keynote speech the enthralling entertainment consisting of comedy skits took the audience by surprise. The students who performed included Ashhad, Nakib, Shazain, Saad, and Hazem. Munaiz Ahmed, Ashhad Ghazi, Saad Riaz and Shazain Khan hosted the program.
The food was donated by famous restaurants and business on Devon Avenue and North side of Chicago including Nirala Sweets, Anmol Restaurant, Chopal Restaurant, J K Kabab, Sabri Nihari Restaurant, Usmania Restaurant, Hyderabad House, Ghareeb Nawaz, King Sweets, Pakwaan Restaurant, Khan BBQ, Sheesh Mahal Dhaba, The Sodagar Enterprise, Cellshack at Rewaj, Agee's Pizza Grill, Little Caesars and Charminar.
Foundation for Economic and Educational Development (FEED) raises $ 250,000
Chicago , April 25 th 2011: "People respect us the most today because of honesty and transparency in functioning these trusts," said Ghiasuddin Babukhan, Founder of Hyderabad Zakat and Charitable Trust (HZCT), Foundation of Economic and Educational Development (FEED) and Ghiasuddin Babukhan Charitable Trust during a fundraiser last Sunday at Monty's Banquets in Bensenville, Illinois.
The work which started in 1993 is now one of the leading philanthropic endeavors in India aiming to assist 500,000 students in the State of Andhra Pardesh by disbursing Rs. 200 crore to produce5,000 doctors, 15,000 engineers, 5,000 MBAs, 5,000 MCAs, 5,000 MScs, 10,000 BEds, 5,000 MAs, 5,000 nurses, 10,000 other graduates, 2,000 lawyers, 500 chartered accountants, and at least 100 IAS officers. Working towards this goal Mr. Babukhan said that there are 15000 students in schools and 16,000 students under scholarship projects. He said out of these 12,000 are studying in villages which make 90% of the total. He said they are funded completely by the trusts.
Mr. Ghiasuddin Babukhan is touring the US to collect $ 2.5 million through the Educate India Fund, a 501(C) tax exempt organization based in Chicago. He is seeking support for the construction of The Hyderabad Institute of Excellence at Knowledge City in Vikarabad, Hyderabad. A state-of-the-art modern educational institute, it will help the best of the best Muslim students of Andhra Pardesh and transform them into highly qualified professionals.
Earlier, Tasneema Osmani, Director of Educate India Fund, welcomed Mr. Ghiasuddin and shed light on the achievements of his trusts. She asked the audience to extend him full support in his mission of empowering the less fortunate population economically and academically. Mr. Khalil Ahmed, who donated a major portion of his wealth to these trusts, also motivated the audience by highlighting his experience with these trusts. Karim Irfan Esq raised $ 250,000 by his motivational speech.
For more info on the work these trusts are doing please go to www.feed-hyd.org.
Indo-American Center plays host to Dr. Abdul Kalam
Chicago, April 23 rd 2011: "Today the challenges of the world are poverty, illiteracy, safe drinking water, clean green energy, quality education, values for all, societal imbalances, diseases, quality health care for old and good living conditions," said India's famous nuclear scientist and ex-President Dr. Abdul Kalam. He was speaking at a community event last week organized by the Indo-American Center (IAC) in the Greater West Ridge, a South Asian hub in Chicago.
Talking about these challenges he said that individual nations are working to find a solution to these challenges and India definitely has got the competence to contribute in this striving. He shed light on creating a better world. He marked four factors to establish his hypothesis of creating a better world which are environment, people, economy and ideas.
His speech projected the world as a global village where exchange of ideas, effects of disasters, economic roller coasters, environmental factors, scientific and technical progress and political uprising affect the whole world equally. He said what is needed in this environment is the purity of heart and thought and compassion for all.
He said he was very much impressed with the work IAC is doing to promote computer literacy, English proficiency and civic awareness.
Razia Fasih Ahmed receives Lifetime Achievement Award for Literature
Chicago , April 17 th 2011: Famous Urdu writer and poet Razia Faseeh Ahmed was recognized at an event organized to present her the Lifetime Achievement Award for her service to Urdu literature. The award was announced last year by IJRA magazine.
Shaheen Niazi, founder and Chief Patron of Ijra, organized the event taking advantage of hers and Razia Fasih's presence in Pakistan. The event in Lahore was attended by prominent writers and poets.
5 th Pak-o-Hind YakJehati Mushaira
Host Committee of Gehwara-e-Adab's 5 th Pak-o-Hind Yakjehti Mushaira met at Chopal Restaurant last week to give final touches to the arrangements. Professor Naqi Akhter presided over the meeting and spoke about the importance of Mushaira in the literary world.
Professor Masroor Qureshi, national coordinator of Gehwah-e-Adab shed light on the Mushaira arrangements and the work of his organization in promoting Urdu poetry in America. He requested the attendees to support Gehwarah in its endeavor to organize such events. He announced the participation of Dr. Malikzada Manzoor and Dr. Naeem Hamid Ali Al-Hamid from Pakistan and Popular Merthi and Tahir Faraz from India along with prominent local poets.
The Mushaira is scheduled to be held on 29 th April 2011 at Monty's Banquets, 703 South York Road, in Bensenville Illinois. Tickets are $ 10 for individuals and $ 15 for couples.
Compassionate Care Network's Free Health Fair
Chicago , April 17 th 2011: A Free Health Fair was organized by Compassionate Care Network last Sunday at Northshore Banquets on Devon Avenue. Free health screening for hypertension, cholesterol, obesity, dental health and vision was provided along with consultations and physical therapy.
Talks on obesity and depression by prominent physicians were also a feature of the event. Participants were offered free enrolment into low cost health insurance provided by CCN.