Chicago Roundup
Inauguration Ceremony of Import of Pakistani Mangoes in US . Futurity First Insurance Group's Chicago Branch Moves to New Location
By Dr Mujahid Ghazi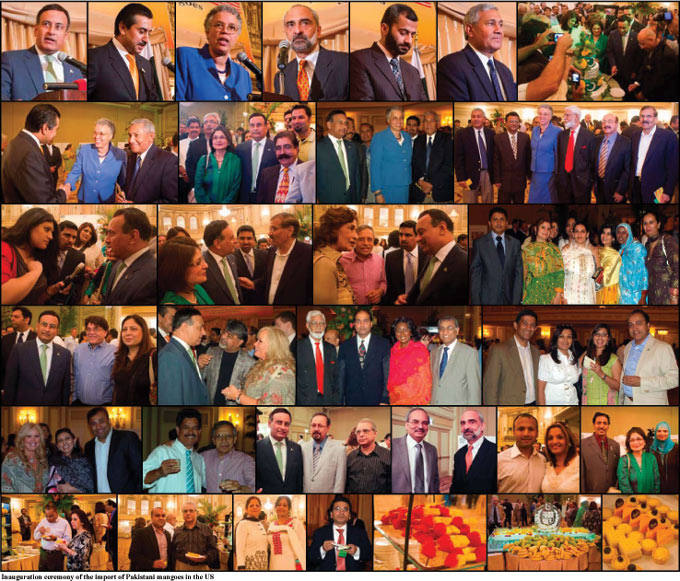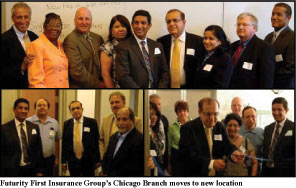 Inauguration Ceremony of Import of Pakistani Mangoes in US
Chicago, July 30 th 2011: In the midst of tense US-Pakistan relations, Pakistani Americans celebrated the inauguration ceremony of the import of Pakistani mangoes in the US. There were different mango settings as soon as one entered the Grand Ball Room of Palmer House Hilton in Chicago.The Mango Party, which was by invitation only, attracted Pakistani Americans and other communities to taste mango chunks, mango ice cream, non-alcoholic mango drinks, mango lassi, mango custard, mango pies but the main attraction was a four-story mango cake covered with a green and white colored flag topping. Ambassador Hussain Haqqani and his wife MNA Farah Naz Isphahani officially inaugurated the mango import by cutting the cake.
Earlier, speaking to the audience first briefly in English and a little longer in Urdu, Ambassador Haqqani used Urdu couplets to highlight the efforts made to get Pakistani mangoes on American soil. He commended the Ministry of Commerce, specially the Commercial Councilor in Chicago Asad Hayauddin and his team, who worked tirelessly during the last four years or so to bring Pakistani mangoes in the American market. He said right now it is only Chaunsa which is meeting the requirement but he hoped the growers of other mango varieties will also soon meet the US import requirements. He said the US is the biggest importer of mangoes in the world and Pakistani growers have to take advantage of this. He said with time the import of mangoes in the US will usher prosperity for the mango growers in Pakistan.
Indirectly addressing the critics of the government, he asked them to be more futuristic in their outlook and endeavor to make a better Pakistan instead of indulging in undue criticism. He said they should give suggestions and engage in dialogue and establish the root-cause of problems. He said that's how the task of arranging the import of mangoes in the US was tackled. There were 78 different steps that the government had to take. He disclosed President Zardari and Prime Minister Gilani took special interest to facilitate the import of mangoes.
Speaking to the audience County Board President Toni Preckwinkle congratulated the Pakistani-American community on the milestone development. She also recognized Mr. Tariq Malhance, chief finance officer of the Cook County, and said the County was proud to have him as CFO.
Earlier, Zaheer Pervez Khan welcomed the guests and the Ambassador for joining him and his staff on the historic day.
In spite of this grand inaugural ceremony it is hard to say if the mangoes will be in the market soon. According to reliable sources licenses with the package of instruction have been issued to a number of interested parties but so far it is not clear who has actually started working on them. Since the season is almost over, chances are the mango will be in the US market next year or so. But this won't stop politicians and officials like Sen. Dick Durbin, Sen. Mark Kirk, Rep. Jesse Jackson Jr., Illinois Governor Pat Quinn and Chicago Mayor Rahm Emanuel from tasting the sweetness of the Pakistani mangoes as they have already received a box each from the Ambassador of Pakistan reminding all of us of late Nawabzada Nasrullah Khan.
Governor's Senior Advisor and Analyst Samreen Khan represented the State Government. Several City and State officials were also present at this party. The quantity of the mangoes was probably less than the number of people invited. Late-comers missed the taste of real Pakistani mangoes and had to taste Mexican mangoes which were probably there to support the ambience of the party. But then this scribe also saw people grabbing the mangoes which were for display only and filling their pockets and, in one case, a baby push chair.
Futurity First Insurance Group's Chicago Branch Moves to New Location
Oakbrook, IL, July 27, 2011: The Chicago-based branch office of Futurity First Insurance Group moved to a new location in Oakbrook to better serve clients and accommodate continued growth and success.
The branch hosted an Open House to celebrate and introduce clients and community to the branch's services and a more centralized, spacious office space.
"It was great to see so many friends and family and local community and media joining us at this event to learn more about Futurity First, how we help our customers meet their financial security needs in a friendly, knowledgeable way," said Aamir Chalisa, Branch Manager. "In addition, we are actively looking for the right people to join our organization as agents. We offer an incredible career opportunity where our agents make a great, positive impact on the lives of clients."
The guests included Mike Dressander, President Dressander & Associates, Inc., a Futurity First Company based in Naperville, IL and Lionel Lauture, VP Product and Sales Support with Futurity First Insurance Group. This Chicago branch of Futurity First Insurance Group is actively looking to employ licensed agents and encourages those looking for employment in Insurance & Financial Services Industry to contact Aamir Chalisa at 630-537-0990 or by e mail at aamirchalisa@ffig.com . More information on the branch can be obtained by visiting www.futurityfirst.com/chicago
About Futurity First Insurance Group (www.futurityfirst.com): Futurity First Insurance Group, Inc. is an independent, nationwide insurance distribution organization specializing in retirement income and insurance protection solutions from leading insurance companies.