Chicago Roundup
Islamic Relief- A Mission, A Movement, An Organization . CAMP and NAAP Annual Iftar Dinner Raises $ 10,000 for East Africa Crisis
By Dr Mujahid Ghazi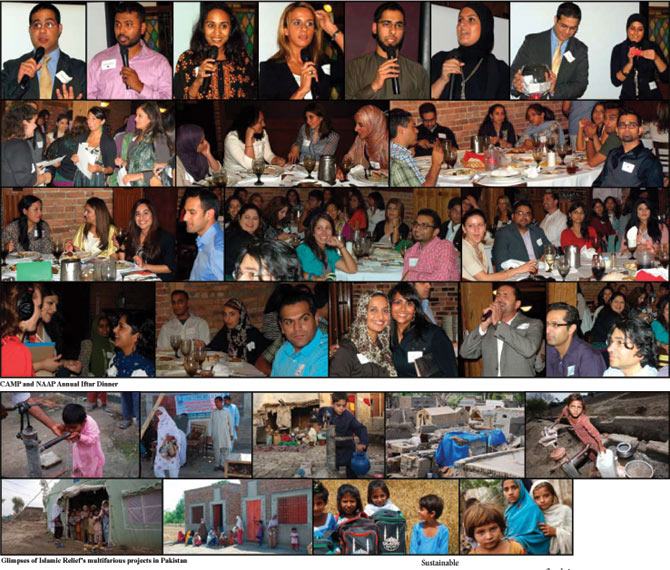 Islamic Relief will celebrate Pakistan's Independence Day on Sunday, August 14th, through a Live Telethon on Geo Entertainement Channel 745 on Dish Network from 1 to 4 pm. Join the celebration by dialing (855) 447-1009 in USA and (855) 377-4673 in Canada.
Islamic Relief works in countries around the world to alleviate suffering, poverty and illiteracy. Last year, Islamic Relief provided humanitarian assistance to over 3.5 million people in 33 countries. Islamic Relief provides aid in a compassionate and dignified manner based solely on the needs of the beneficiaries, regardless of color, race or creed. Islamic Relief collaborates and cooperates with local organizations in order to best cater to beneficiaries' needs and to maintain cultural sensitivity to local customs and traditions.
Islamic Relief supports the United Nation's Millennium Development Goals to improve the lives of people living in the world's poorest countries.
Islamic Relief has projects in six categories, namely, Education, Emergency relief and disaster preparedness, Health and nutrition, Orphans, Sustainable livelihood, Water and sanitation.
For the eighth year in succession, Islamic Relief USA has been recognized as a 4-star charity, the highest rating assigned by Charity Navigator, America's largest charity evaluator. Out of thousands only 2.5 % of US-based charity organizations are on this list. Islamic Relief USA is listed in the catalog of Combined Federal Campaign of the National Capital Area - a charity program for Federal employees: CFC Code 10194. IR USA is also listed in Better Business Bureau as the most credible charity.
Islamic Relief in Pakistan
Before large scale devastation following massive floods in Pakistan in 2010, 51% of the population was living in poverty as per UNHDR 2008 records. 73% population was living on less than $2 per day. Monsoon rains in July 2010 caused the worst floods in Pakistan's history and worsened this humantarian crisis. Four of Pakistan's most populated provinces were destroyed, more than 20 million people were affected, more than 6 million people lost their homes, 2,000 people were killed, stagnant waters spread disease, 10 million people had to drink contaminated water
Islamic Relief responded immediately and helped more than 300,000 flood survivors by providing food, drinking water, hygiene kits, mobile health units and $23 million worth of medicine.
As of today Islamic Relief efforts in Pakistan help families rebuild homes with stronger foundations to withstand floods, regain livelihoods by providing farmers with seeds, livestock and farm equipment, construct wells to provide safe drinking water
Pakistan programs:
Rebuilding Homes: Islamic Relief is building flood and quake-resistant houses which will benefit 14,000 people.
Livelihood Support: Through its Cash for Work Program IR is paying workers to aid the rehabilitation effort locally; it is providing farmers seeds and livestock, supporting small-business owners, including giving sewing machines to women. This will benefit nearly 3,000 households
Water, Sanitation and Hygiene: To promote healthy living Islamic Relief is constructing new wells, restrooms and showers which will bring clean water to more than 27,000 flood survivors. It is also providing training to manage water facilities, new wells and pumps.
Health: Islamic Relief medical teams are out there to administer health services and medicine and also provide special services to pregnant women. This will benefit over 27,000 people in Pakistan.
Today, hundreds of thousands of flood survivors still need your help.
Eight million flood victims are still in need of help. Current monsoons will add an estimated 6 million more to this count. Islamic Relief plans to rebuild more than 2,000 homes in 12 villages, construct sanitation facilities and improve hygiene practices, dig 19 wells for more than 7,000 flood survivors, deploy health teams and set up clinics , institute viable income generation programs, rebuild and repair schools
Ongoing 2011 projects in Pakistan:
One-to-One Orphan Sponsorship:
Sponsorships enable guardians to provide food, health care and education to orphaned children. Orphans receive supplies like book bags, stationary and pencils to help them succeed at school. Orphans receive regular medical checkups and vaccinations. Caretakers learn how to help orphans maintain a healthy lifestyle.
By donating less than $ 2 a day($ 49/month) an orphan can be sponsored in Pakistan.
Community Livelihood Improvement Project (CLIP)
This project in District Bagh AJK will benefit over 90,000 people. It will provide access to clean drinking water and sanitation facilities, rebuild infrastructure and provide training in vocational skills, teach natural resource management, strengthen existing democratic institutions, increase opportunities for training and networking with local public and private-sector institutions
Nowshera Integrated Rehabilitation Program
This project in Nowshera, KPK will benefit over 20,000 people. It wll provide shelters and basic services. Foster self-reliance of targeted families. Over 1,200 households have disaster resilient shelters. Over 20,000 persons have access to potable water and sanitation facilities resulting in improved hygiene. In addition over 2,800 income generation opportunities will be created. Over 20,000 people will benefit from primary health care services and six schools have already been rehabilitated in six villages.
Punjab Integrated Rehabilitation Program
This project in Muzaffargarh, Punjab benefits over 7,500 people. It provides shelter and basic services. Fosters self-reliance. Over 800 households have disaster resilient shelters. Over 7,500 people have access to potable water, sanitation facilities resulting in improvement in hygienic conditions. Over 800 income generation opportunities have been created. Over 7,500 benefit from primary health care services. Over 120 volunteers receive Disaster Risk Reduction training, including first aid training.
Recently Completed Programs and Projects
Sindh Flood Relief Operation:
More than 9,000 people received food packs, kitchen supplies and hygiene kits. Water filtration plants were installed and latrines were constructed to improve sanitation. Emergency health services were provided to more than 60,000 people. During Pakistan Flood Emergency about 1,000 families (7,000 people) received food packs and kitchen supplies after floods destroyed their homes.
Donate to IRUSA during Ramadan through your Zakah, Sadaqa e Fitr and Donations
This year in Ramadan Islamic Relief is celebrating Pakistan's Independence Day on Sunday August 14th through a Live Telethon on Geo Entertainement Channel 745 on Dish Network. Join the celebration by remembering the poor and needy and dialing (855) 447-1009 in USA and (855) 377-4673 in Canada between the hours of 1 and 4 pm in the afternoon.
Donations can also be made by going online at www.irusa.org.
CAMP and NAAP Annual Iftar Dinner Raises $ 10,000 for East Africa Crisis
Chicago , August 5th, 2011: The Council for the Advancement of Muslim Professional and the Network of Arab American Professional jointly organized an Annual Iftar Dinner at Reza's Restaurant in downtown Chicago. A large number of young professionals attended this event.
The program started before Iftar with networking and registration. After the Maghrib prayers and dinner, Tawfiq Farraj, Outreach Director of CAMP, welcomed the attendees. After few of the professionals presented their work Farhan Aziz of Islamic Relief USA gave a presentation on the current crisis in the Horn of Africa. He said
more than 13 million people are suffering owing to famine in Ethiopia, Kenya and Somalia. Almost 29,000 Somali children have died in the past three months. Crops and livestock are dying, and the little food that exists to buy is extremely expensive. People are walking long distances or trading their last possessions for transportation to find food and water and children and other vulnerable people are dying along the way. More than 700,000 Somalis have left their country to seek help in Kenya and Ethiopia. He further said that it was the worst drought in 60 years in East Africa (aka Horn of Africa).
He said the Islamic Relief family is collectively responding through the Islamic Relief offices in East Africa, which have been delivering assistance all summer. To date, the East Africa offices have distributed food to 29,000 people, provided access to water to 210,196 people, provided health and nutrition services to 30,931 people, mostly children. He said the projects currently being implemented will eventually help over 449,000 people. He disclosed Islamic Relief USA is currently supporting some of these initiatives in East Africa, and is planning to expand its work to more areas in greater need. IRUSA is now preparing to provide food, water, medicine , protein supplements for children, emergency seed packs and nutrition and health care for livestock (including protein supplementation and vaccination). He said food packs for a family of eight people for a month costs $71, truck in water for 42 individuals for 30 days costs $210 , essential medicines for a health center serving 80 children cost $1,413. He asked the attendees to support Islamic Relief USA in its relief work in East Africa.
Sabrina Qureshi, Interim President of CAMP, announced later a collection of $10,000 through this event for the current relief efforts of IR USA.