Chicago Roundup
Flag-Hoisting Ceremony at Daley Center . FBI Community Iftar Marks a New Tradition . Iftar at a Synagogue
By Dr. Mujahid Ghazi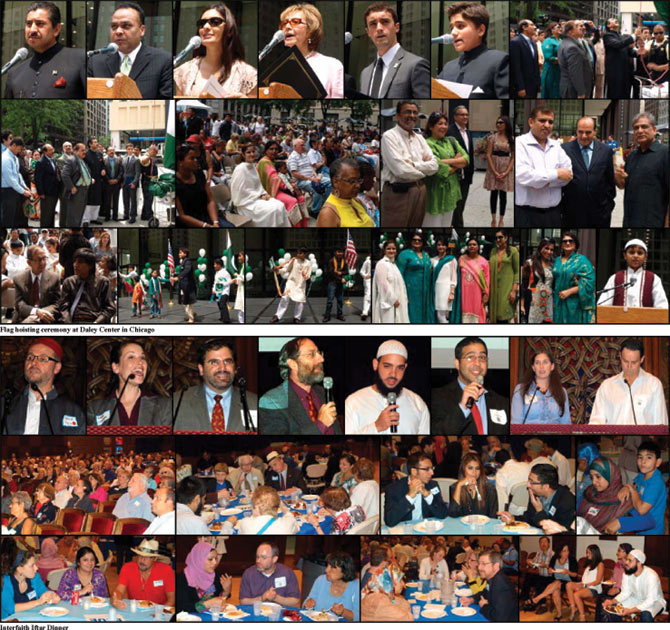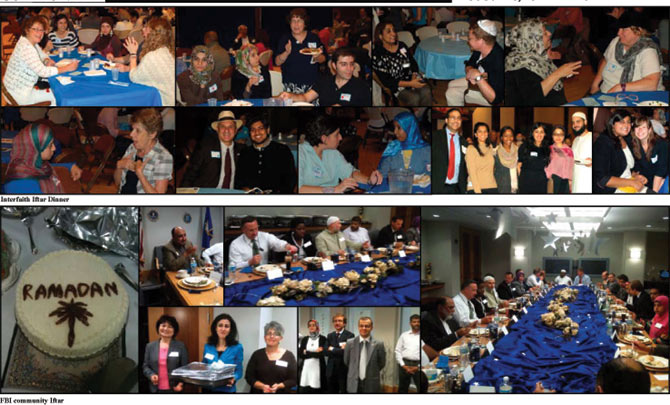 Flag-Hoisting Ceremony at Daley Center
Chicago , August 14 th, 2011: In a graceful celebration Consul General of Pakistan Zaheer Pervez Khan hoisted Pakistan's National Flag outside Daley Center in the heart of Downtown Chicago. He was joined by prominent Pakistani Americans and their families. The program started with the recitation of Holy Qur'an and its translation by young Ramish Sheikh. Samreen Khan Senior Policy Advisor to the Governor Pat Quinn read his message in which he said that the bond between Illinois and Pakistan has been further strengthened by recent import of Pakistani Mangoes in Illinois. He congratulated the Consul General and the Pakistani Americans on the 64 th anniversary of Independence. Representatives from the Mayor's office and Attorney general Lisa Madigan's office also read their messages. Consul General of Pakistan Zaheer Pervez Khan thanked the audience for joining the celebration of Independence of Pakistan. He gave a brief history of the creation of Pakistan paying tribute to the founder Quaid e Azam Mohammad Ali Jinnah.
An emotional and patriotic Urdu speech was delivered by another young Pakistani American Sumair Sheikh. Wearing a black Sherwani he presented the true color of Pakistan. Quoting couplets from Dr. Allama Iqbal he asked the Pakistanis to be united and to stop thinking about their own selves.
This graceful and memorable program was masterly conducted by Saqib Nisar.
FBI Community Iftar Marks a New Tradition
Chicago , August 17 th, 2011: About 25 Muslim Community leaders arrived at the FBI Field Office in Chicago to be greeted and hosted at a very well decorated and well presented Iftar. The room was decorated with Islamic theme. On one wall were written 5 pillars of Islam. On the other wall in front were quotes from Qur'an and Hadith. The long dining table was done intricately with superb aesthetic taste. It looked like a Royal Feast at the Buckingham Palace. Special Agent Incharge of FBI Chicago Mr. Robert Grant welcomed the guests and thanked them for joining in the Iftar. Attorney Kareem Irfan, Sheikh Kifah Moustapha, Imam Abdul Malik Mujahid, Sherif Soydan and other community leaders declared this event as historical and a step towards better understanding between the community and Government. They also spoke about the spirit and importance of fasting in Islamic faith.
Attendees commended Parisa Jawadi, Martha Salazar, Beata Plaza and Alice Cheng, all from Chicago Field Office, for the beautiful and fine arrangement they did. Camera is not allowed inside the FBI Field Office but people used their cell phones to take pictures of the event. Before the Iftar Mr.Robert Grant give the early arriving guests a surprise by taking them on the roof. FBI Field Office in Chicago is a tall building in the middle of Illinois Medical District to its north, Chicago West Side with lot of gang activity in the west, Burial Ground in the South and Courts in the East. From the roof top it is quite a good vintage point to see the air show as well. For all the participants it was a rare experience in Life.
Iftar at Synagogue
Chicago , August 18 th, 2011: Hundreds of Muslims, Jews and people of other faiths gathered in Temple Sholom, a synagogue in the near north of Chicago. It was organized by the Jewish-Muslim Community Building Initiative which promotes education and understanding between the Jewish and Muslim communities, and addresses local and domestic issues affecting these communities and the broader society based on their shared interests and commitment to social justice.
Every year they organize Iftar at Synagogue. This year the theme was "Diverse Experiences. A Common Feature." Among the speakers were Imam Senad Agic, Rabbi Asher Lopatin, Rabbi Shoshanah Conover and Rabbi Aaron Petuchowski. Asaf Bara-Tura, Coordinator of JMCBI for JCUA thanked the audience for responding to this call for a better understanding among the communities. He gave a brief history of the JMCBI (www.jcmbi.org). At Iftar time Adhan was given in the main hall and after Maghrib prayers attendees were served with Middle Eastern food.