Historic APPNA 'Day on the Hill' in Washington
By Muslim Jami, MD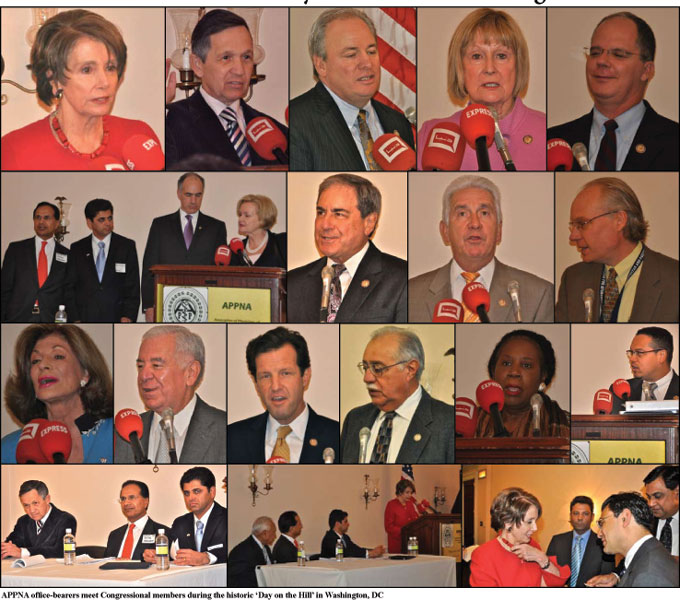 Tuesday, December 6th marked the historic APPNA "Day on the Hill", a tremendous effort by the Advocacy Committee and members to gather and garner support from Congressional and Senate members for young Pakistani physicians on critical Residency Training Visa Issues.
The day's activities began with a breakfast meeting of the participant members at L'Enfant Plaza Hotel. It was followed by a meeting of APPNA President Manzoor Tariq and Dr. Abdul Paracha with Tim Linderkin, Director of Pakistan Affairs at the State Department, two of his associates and DHS staff Thomas Frye and Chris Walker.
The 'Young Physicians Visa issue' was the main topic of discussion. DHS and State Dept. officials gave several recommendations asking the physicians to apply with proper supporting documents and to include crucial contact information in timely manner before the start of Residency. They also promised that current average wait of 48 days for visa clearance would be significantly reduced. Dr Tariq will visit US Ambassador in Islamabad to advocate simplifying the process and ensuring that Pakistani physicians are equally treated with regards to the visa process for residency training.
The proceedings at the Rayburn Congressional Building began with interviews of President Manzoor Tariq and Advocacy Chair Zaffar Iqbal by the press and a press briefing followed. This led to the main event of the visit of Congressional and Senate members in the conference hall. The exhibit of posters was visited by each legislative member and explained by Zaffar Iqbal. These posters highlighted APPNA as an organization, its important activities and contributions to healthcare in America and worldwide and young Resident Physicians' Visa issue and its potential solutions.
The program was presided over by Dr Manzoor Tariq and moderated by Muslim Jami and Dr Paracha.
Muslim Jami introduced APPNA, its mission and contributions and explained that future members of APPNA are these young physicians under training. In this context he underscored the hardship of young physicians with visa clearance issues, who endure a tedious security clearance while applying for visit visas. He emphasized that it is in the paramount interest of American people that we facilitate this process, as data supports that most of IMGs provide services to our elderly and in underserved areas in America. Therefore, we bring this issue to be heard and discussed by the Congressional and Senate members. We appreciate that Democratic and Republican House and Senate members are reaching out to our physician community to hear about this issue and find potential strategies and solutions.
Tim Linderkin, Pakistan Affairs Director at State Department was present and explained the visa clearance process to the audience and ssured full support of the State Dept. on the visa issue.
The following Senate and Congressional members attended, discussed and made their obsrvations to the audience.
Representative Shelly Berkley (D-NV) remarked about her perspective on healthcare reform and recognized Pakistani American physicians' services and understanding of the issue presented to her. She was genuinely interested in our position and promised her help to find some resolution of the issue.
Representative Dennis Kucinich (D-OH) pointed out that he had a good understanding of the APPNA physicians' concern and in this political environment current Pakistani-American relations should not be confused by the US authorities to impact young physicians. He offered his support to help circulate a letter to inform other representatives in order to gain their support to resolve this issue.
Representative Mike Doyle (D-PA) acknowledged his personal knowledge of Pakistani physicians opening up free clinic in the much needed rural area of PA. He recognized that without thousands of Pakistani American physicians thousands of Americans go without healthcare.
Representative Judy Biggert (R-IL) Judy Biggert (R-IL) also acknowledged full understanding of our Young Physicians Visa Issue and offered her support for this cause
Senator Claire McCaskill (D-MO) despite her busy schedule came to our event and voiced her commitment and support to resolve Young Pakistani Physicians issue.
Senator Robert Casey (D-PA) joined Senator McCaskill and articulated his appreciation of the important role of Pakistani American physicians in the healthcare system of America and affirmed his support as well.
Representative Jim Costa (D-CA) recognized the contributions of IMG's in American healthcare and his personal awareness of many Pakistani physicians who are providing excellent care in his constituency and indicated his willingness to help APPNA in this endeavor.
Representative Keith Ellison (D-MN) gave a passionate speech; his remarks included, "If you 're not at the table , you 're on the menu " and he praised the APPNA advocacy committee for arranging the important event on behalf of Pakistani physicians and its importance in a broader context of being relevant to the American political system. He also affirmed his assurance in this effort.
Representative Russ Carnahan (D-MO), in his speech, assured his support for the Young Physician's Visa issue. Representative Nick Rahall (D-WV), Representative Bret Guthrie (-KY), John Yarmouth (D-KY) and Representative Ed Pastor (D-AZ) each discussed their views on healthcare reform, recognized the hard work all Pakistani physicians do for the American people. They agreed that young Pakistani physicians should not be singled out and should not face this hardship and they voiced their support to help solve this issue.
Representative Sheila Jackson Lee (D-TX) gave an impressive speech and recalled her track record with Pakistani physicians and reminded everyone that she was the founder and co-chair of the Pakistan Caucus. She praised APPNA's efforts in providing relief during disasters in the US, Pakistan and Haiti and assured us of her help and support on the young Physicians' Visa Clearance issue.
Minority Leader Nancy Pelosi (D-CA) assured that her office would help APPNA to ensure that the current system is streamlined, and is fair to all young physicians including Pakistani physicians . She was very gracious and took questions from the APPNA members in this regard.
Representative Jeff Flake (R-AZ): APPNA members also met Congressman Jeff Flake to engage his office. The Congressman warmly welcomed the team.
Representative Dan Burton (R-IN) sent his chief of staff Mark Walker to deliver his message. Representative Andre Carson (D-IN) also sent his chief of staff to attend the event.
Muslim Jami thanked each Representative and Senator on behalf of APPNA for meeting with us and showing true interest to solve this issue faced by young Pakistani physicians every year. With the interest and participation of legislative members this program lasted for over two-and-a-half hours.
-------------------------------------------------------------------------------------