PL Publications Hosts Luncheon in Honor of Prof Akbar Ahmed
By Akhtar Faruqui
Pictures by Anwar Khawaja and Rubina Faruqi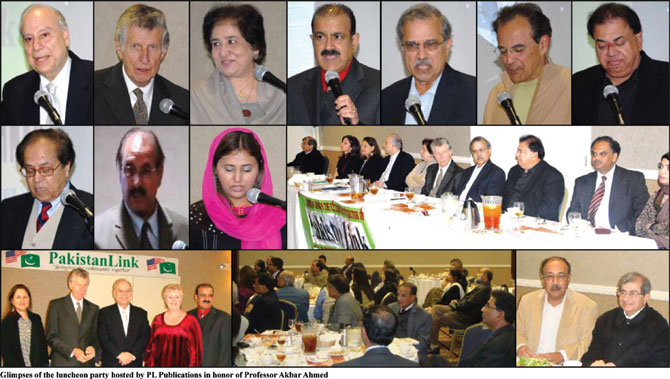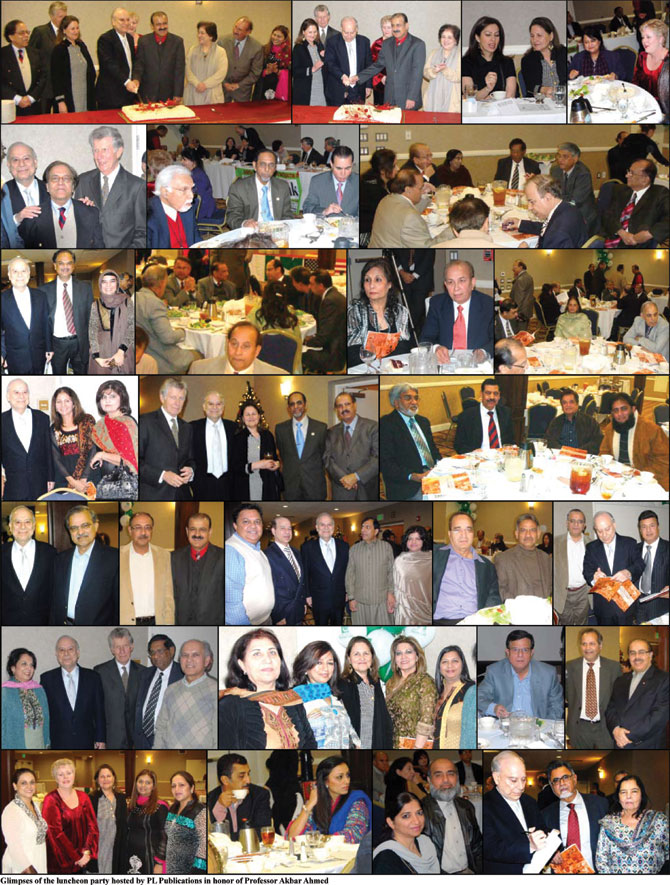 On December 17, PL Publications, publisher of Pakistan Link and Urdu Link, hosted a luncheon party at the Fullerton Holiday Inn in honor of Prof Akbar Ahmed, Ibn Khaldun Chair of Islamic Studies at the American University in Washington, DC. The luncheon was attended by leading lights of the community, besides Professor Stanley Wolpert of UCLA, Consul General Mrs Riffat Masood, Consul Dr Khalid Ejaz, and writers of Pakistan and Urdu Link.
Dr Akbar Ahmed is known as an anthropologist, a civil servant, a bright light among Muslim scholars, and according to the BBC, "the world's leading authority on contemporary Islam." The scintillating remarks at the luncheon party seemed to add credence to his distinguished credentials.
Professor Stanley Wolpert, himself an eminent writer and historian, testified, "There is nobody else who stands so high as does Prof Akbar Ahmed. He is the greatest scholar of Islam in America and the world. He is the Dara Shikoh of modern Islamic leaders."
Dr Mansur Shah, a schoolmate of Prof Akbar Ahmed at Pakistan's famous Burn Hall, informed the gathering of the school's inspiring motto: 'To what height can I not rise.' He pointed to Prof Ahmed and said he is the living example of the school's lofty motto. Indeed, the three Burn Hall students present in the gathering that day - Dr Ahmed, Dr Shah and Brigadier Sikander (Prof Ahmed's younger brother) - have made their mark in life by living up to the school's lofty motto.
Consul General Mrs Riffat Masood complimented the distinguished professor with the remark, "We in the Foreign Office admire Dr Akbar Ahmed for all the work he is doing for Muslims and Pakistan." She exhorted the community members to "speak out for themselves here and also for Pakistan" and impress upon their respective Congressmen and elected representatives "the importance of closer relations between Pakistan and the United States."
Arif Mansuri, President and Managing Editor, PL Publications, fondly recalled how he met Prof Akbar Ahmed and treasured every moment of his association with him. "It is because of Dr Akbar Ahmed that the world is a safer place for all of us," he remarked. Having successfully undergone heart surgery recently Mansuri celebrated his recovery by cutting a cake at the luncheon party with Prof Ahmed at his side. He was all praise for Consul General Mrs Riffat Masood, Consul Dr Khalid Ejaz, and Samin and Rubina Faruqi for their zest and enterprise in successfully organizing the Eid Mela and Fundraiser on November 12.
Other speakers paying tribute to Prof Ahmed included former COPAA President Hamid Malik, LEDTRONICS CEO Pervaiz Lodhie, Pakistan Link Editor Akhtar Faruqui and Urdu Link Resident Editor Anwar Khawaja. The event was ably emceed by Nighat Ali, Director of Advertising and Sales, PL Publications.
In his inspiring talk on the occasion, Prof Akbar Ahmed made many an edifying exhortation. The community should identify itself with the American identity, the vision of the founding fathers – Washington, Jefferson, Benjamin Franklin and Adams. In the face of growing Islamophobia, the Pakistani-Americans don't have to idly sit out but engage in the political, social and intellectual discourse to prove that Islam and America are compatible and a good Muslim can be a good American too. They must explain who Muslims are and what Islam stands for. The essence of his message: Islam is not to be presented as a theology but as a culture emphasizing the spirit of coexistence and well-being of the human race.
Prof Ahmed paid tribute to Pakistan Link as a pillar of the community -- he acknowledged its editors and staff but especially thanked Arif Mansuri for his leadership and Akhtar Mahmud Faruqui for providing a good example of professional integrity and leadership. He asked the community to rally to them and learn from them. He thanked them both for years of support and friendship.
The luncheon mood appeared infectious, the response from the audience spontaneous. Said Mohammad Yacoob, a community activist, in a message to Prof Ahmed soon after the address:
"I learned a lot from the speech you made at the Holiday Inn reception. I would rather say that it was an instant inspiration. One of the points you mentioned was that Pakistanis should be proud to be American citizens and that they should introduce themselves and assert themselves as Americans, Muslims and Pakistanis. This point struck the chord with me including the whole speech.

"Immediately after the speech I talked to you and said, 'Dr. Akbar Ahmed, today, you have shown the Road Map to Pakistanis.' I added that MAP is the acronym for Muslim, American and Pakistanis..."
Others in the gathering shared Yacoob's exuberance. Like the solitary reaper who won Wordsworth's acclaim, 'The music in my heart I bore/Long after it was heard no more...,' Prof Akbar Ahmed seemed to have mesmerized the gathering and left it in a trance. The memory of his address is sure to linger on in many hearts.
-------------------------------------------------------------------------------------