NED Alumni in Silicon Valley Hold Annual Banquet
By Ras H. Siddiqui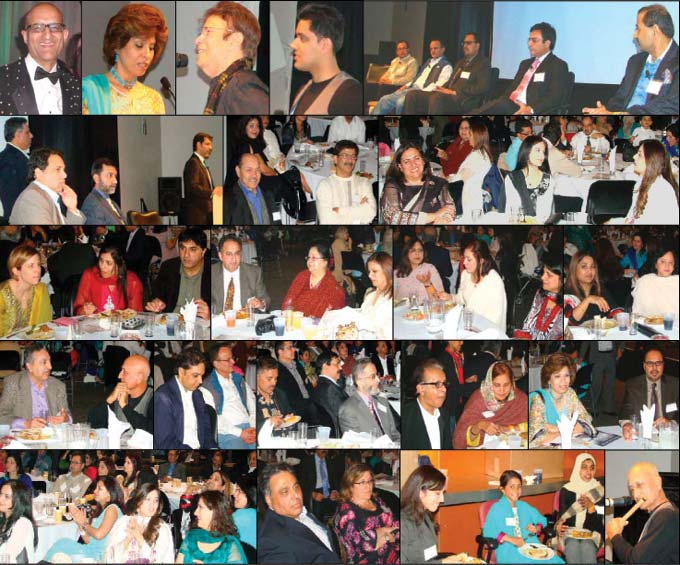 Pictures above: Glimpses of the annual banquet hosted by NED Alumni Association of Silicon Valley at the Computer History Museum, Mountain View, California
Under the theme of "From San Francisco to NED, Giving back to Your Alma Mater, May it Be the Values of Ethics and Integrity", the NED Alumni Association of Silicon Valley (http://www.nedians.org/SV/) held its annual banquet at the Computer History Museum in the city of Mountain View, California on February 5, 2011.
With style and an emphasis on business promotion, the evening reflected what the website stated: "The vision for this organization is to connect, serve, empower and support NEDians and NED, as well as the cause of technology and technical education in the communities we hail from and live in." Keeping such a vision in mind, the mission and goals of the organization currently include an online platform where NEDians can keep in touch with each other, a physical Alumni Center to be established in Karachi, Pakistan and the establishment of a philanthropic organization to help those in need of assistance.
For those who may not be aware, NED University is the oldest engineering college in Pakistan and along with the Engineering University Lahore can boast of a rich education tradition along similar lines as the IIT's in India. NED University is the name given to the original Prince of Wales College established in 1921, renamed to reflect the contributions of Parsi philanthropist Nadirshaw Edulji Dinshaw (NED College) from 1924 to 1977 till its conversion to its present form as NED University of Engineering and Technology. It is the alma mater of thousands of individuals across the globe today with many in the San Francisco Bay area's Silicon Valley. Its motto is "May the plumb rule prompt us that neither passion nor prejudice should make us deviate from the strict path of virtue; The level whispers to us that we should neither look down upon some nor cringe before others; And hammers remind us that skill without exertion is of no avail."
The evening program started off with a sumptuous buffet dinner from Shalimar Sunnyvale featuring nihari, a favorite of many old campus NED Alumni who took advantage of the fine eateries in the neighborhood of the college in Karachi's Saddar area (specifically Burns Road) which featured this specialty.
With a change from the original plan, keynote speaker, Mr. Ashraf Habibullah, addressed the gathering of close to 300 people in the beginning via video with a "Blast from the past". Ashraf is one of the high profile members of NED Alumni and currently CEO and President of Computers and Structures Inc. (CSI) of Berkeley, California. Ashraf paid homage to the giants in the field of engineering on whose shoulders his own efforts stand today, and within these giants, his teachers at NED just have to be included.
Imran Qureshi welcomed everyone and invited mistress of ceremonies Sabahat Rafiq to the stage to conduct the proceedings. Sabahat Sahiba introduced and invited Naeem Zafar, President of OPEN Silicon Valley. Naeem introduced the three winners of this year's Business Acceleration Plan (BAP) competition conducted by OPEN and MIT Enterprise forum in Pakistan. This effort has been continuing for the last five years and the speakers - Faisal Khan, CEO of OvexTech (a 400 strong business outsourcing company); Reza Samad, CEO of Noblet HR; and Dr. Zakiuddin Ahmed, President of Healthcare Paradigm - spoke for about five minutes each and shed light on their impressive efforts.
Next Sabahat Rafiq was in her elements when she conducted a panel discussion on the values of Ethics and Integrity featuring Bacher Muzaffar, Imran Jaffer, Zain Jeewanjee, Aftab Yakub, and Mukhtar Zaidi. Each one of these panel participants brought their own ideas on the topic to light but the bottom line projected was, when conducting business, or in life in general, do onto others by placing yourself in their shoes and then judge what is fair.
Entertainment for the evening was provided by Amjad Noorani who played the bansuri/flute like a consummate professional. He was followed by the young Komail Ali who tried to get people up to dance and almost made them do it with powerful vocals. But last and not least, all in the audience were waiting for the one and only Alamgir, and they were not disappointed.
Alamgir Haq has performed at many venues around the world at South Asian gatherings and is a very familiar face and voice for the NED Alumni. He has been battling kidney failure and undergoes frequent dialysis to keep him going. He is currently looking for a matching kidney and told the audience about a potential donor being located in Ohio. But in spite of his difficulties the entertainer gave a fine performance. Starting off with "Kabhi Tum Idhar Sey" and meandering through his old hits like "Yeh Shaam Aur Tera Naam" and "Shaam Sey Pehlay Aana", Alamgir lit up the NED Alumni along with their spouses and friends at this event.
In conclusion, it was sad to hear about the death of NED Professor Mohammad Nauman, but the fact that NED Alumni generously supported the Koshish Foundation's Nauman Social Responsibility Initiative and helped make it a fiscal reality is reflective of the ethos of this university and its alumni. But if this scribe is allowed one more observation, that would be the appreciation of Pakistan's religious minorities. One has to acknowledge the contribution of the Zoroastrian or Parsi community to our lives here. Where would NED be today without the incredible philanthropic contribution of Mr. Nadirshaw Edulji Dinshaw and his family trust?