Chicago Roundup
Jalsa and Jaloos e Eid Milad un Nabi Attract Hundreds of Muslims
By Dr Mujahid Ghazi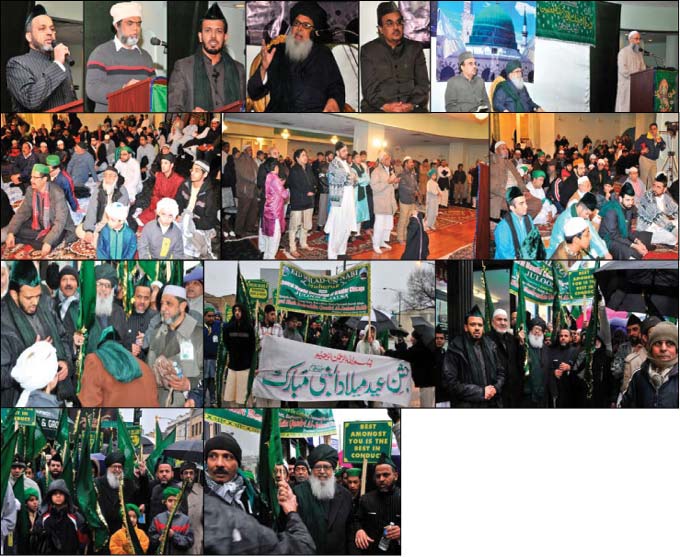 Glimpses of the Eid Milad-un-Nabi procession taken out by Central Muwalid Committe of Greater Chicago
A procession was taken out last Sunday by Central Muwalid Committee of Greater Chicago to commemorate the birth of Prophet Muhammad (SAW). In spite of bad weather hundreds of Muslims from several Islamic organizations took part in the procession which started from Devon and Leavitt intersection and ended on Western and Devon.
People were holding playcards and flags. Young children were seen wearing nice dresses. A meeting was also held at Khan Restaurant and Banquets. Addressing the audience the leader of the Jaloos Maulana Syed Badruddin Quadri said that events like these help propagate and promote Islamic teachings and also dispel the misconceptions about the religion. He said the divine law is superior to the human constitution and the Shariah given by Allah and the Prophet is definitely a great gift for the betterment of humanity.
He said Islam has the promise to provide global peace and harmony. It is the religion which will give salvation. Maulana Syed Najmuddin Jilani, Maulana Syed Imaduddin Jilani and Maulana Syed Nasiruddin Quadri also spoke on the occasion. Before the speeches recitation of the Holy Qur'an was done by Syed Ali Quadri. Naat khawani was done by Syed Shakeel, Dilawar Patel and Laeeq Chishti. Salam was presented before food was served.