Abraham's Vision "UnityJam 2011" with Salman Ahmad
By Ras H. Siddiqui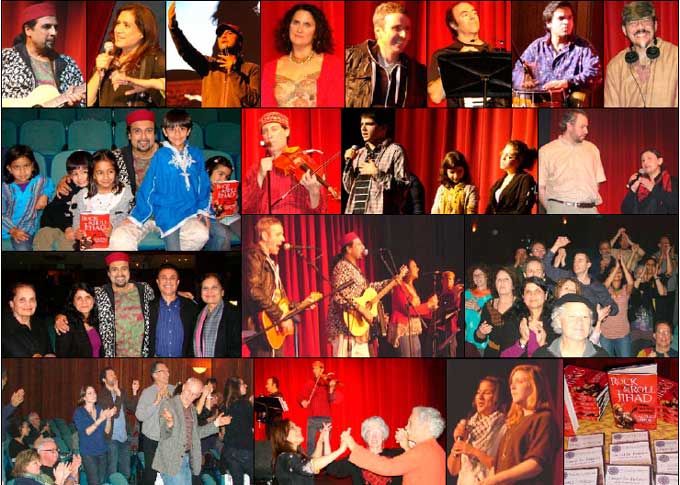 Abraham's Vision (AV) and the Samina and Salman Global Wellness Initiative (SSGWI) pool their efforts to bring "UnityJam 2011" to the Spangenberg Theatre in Palo Alto, California on Sunday, January 16, 2011
Abraham's Vision (AV) and the Samina and Salman Global Wellness Initiative (SSGWI) pooled their efforts to bring "UnityJam 2011" to the Spangenberg Theatre in Palo Alto, California on Sunday, January 16, 2011 to the delight of local peacemakers and connoisseurs of Rock music.
AV ( www.abrahamsvision.org) is an effort seeking to transform conflict and promote better understanding between followers of the Abrahamic faiths, namely, Jews, Christians and Muslims. It has done some seminal work within the Israeli and Palestinian communities towards humanizing the problem between them. And SSGWI ( www.ssgwi.org) is a humanitarian effort to aid war displaced individuals in Pakistan. It is led by Dr. Samina and her husband Salman Ahmad, the musician who founded Junoon, one of South Asia's most successful "Sufi" Rock bands ever.
The event began with an introduction to AV and its charter by its two Board Members, Reza Aslan and Daniel Fenster. A follow-up by the organization Co-Executives Huda Abu Arquob and Aaron Hahn Tapper laid the groundwork for musicians Yale Strom, Elizabeth Schwartz, John Alec, Sunny Jain, Lou Fanucchi and Salman Ahmad to come to the stage to start their performance. The religious diversity reflected both within the musicians and the audience of Muslims, Jews, Christians and Hindus indicated that it was going to be both an unusual and a uniquely colorful evening. This was proved as soon as Sunny Jain made an entrance on stage playing his Dhol-drum.
Salman Ahmad started with "Maula" (God), a Sufic Urdu language version with its roots in Amir Khusrow's Delhi. Next, lovers of Rock music really got a chance to appreciate some fine guitar work by Salman and Yale Strom's excellent violin playing (a duet that just has to be heard live to be fully appreciated) in this instrumental turned vocal number joined in by Elizabeth Schwartz. "Tu Hi Tu" (Only You referring to the divine)) in Urdu, was performed next with its catchy beat to light up the audience. This was followed by "The Lark," a powerful English song by Elizabeth, inspired by her learning about people kept in solitary confinement. But the somber mood did not last long because Salman Ahmad's "Sayonee" (Soul Mate), an Urdu song that had once captured the imagination of over a billion people in India and Pakistan, and may have assisted in restarting the now struggling peace process in the region.
A few hundred Jews, Muslims, Christians and Hindus clapping, swaying and dancing to "Sayonee" was quite a sight to see at this venue.
Yale Strom is one of the foremost American practitioners of klezmer, a musical tradition with its roots in Eastern European Jews. He gave the audience an introduction to Common Chords ( www.commonchordsmusic.com), an interfaith musical effort of which he is a member. The performers that played at UnityJam 2011 owe their genesis to the Common Chords and Junoon, and in some cases in both. He described his own life experience in places like a Kibbutz in Israel to teaching in San Diego. From Yiddish to Urdu lyrics, Strom's musical journey has been a very unique one.
A few staff members and students involved in the Abrahams Vision program also got a chance to air their views during the show. Yale and Elizabeth's daughter Talullah Strom was recognized by SSGWI for her great effort in raising $5000 for flood victims in Pakistan by running many miles. Salman and Samina thanked her on stage and presented her with a shawl from Pakistan as a token of their appreciation. Salman also played and sang (along with almost everyone there) a fine version of John Lennon's "Imagine" in her honor (And let us add a word of thanks to Talullah from our community here too).
The musical-spiritual effort continued as Klezmer met Sufi, something for everyone present as almost half of the audience got up to dance to "Shahbaz Qalandar" now almost a signature song of Sufis from all over South Asia. It was followed by "If you build it, it is no dream", by Elizabeth Schwartz using her strong vocals. And while this scribe lost track of time, the songs "Dosti" (Friendship) by Salman and " Hava Nagila" (Let us rejoice) somehow blended together to end the live music as DJ Feral appeared on stage and played his recorded beats to close the program.
To conclude, one wonders why events of this nature do not get a much higher visibility in the mainstream media. American Jews and Muslims are no strangers. They are all Americans. Pakistani origin Salman Ahmad, whose book " Rock & Roll Jihad" has raised eyebrows not only in New York, a place which he has a great deal of affection for, but also in Pakistan, continues his musical quest to raise some interesting points about Muslims sharing cultures and growing up in the Western world. Salman's recent musical collaboration with Peter Gabriel is a case in point. His writing collaboration with Deepak Chopra is another. One finds his efforts and those of his wife Samina, different but highly commendable.
As a young student at this event mentioned, it is not often that you get a chance to have fun while you are saving the world. UnityJam 2011 was certainly a great deal of fun. And maybe these young people involved in Abrahams Vision and musician-idealists members of the Common Chords can do a much better job at saving the world than our politicians.