Chicago Roundup
Overflowing Gratitude to Governor Ibad and Ansar Burney for Arranging Release of Ship Hostages . "Bringing HOPE to Pakistan through Sustainable Community Development". Seminar by Pakistan Club of Booth Business School . HOPE USA's Fundraiser Creates Awareness in General Population . Community Activists' Get Their Activist Daughters Married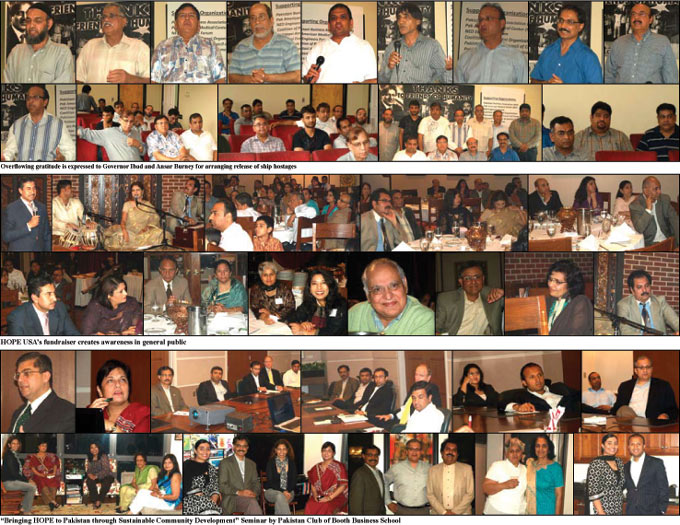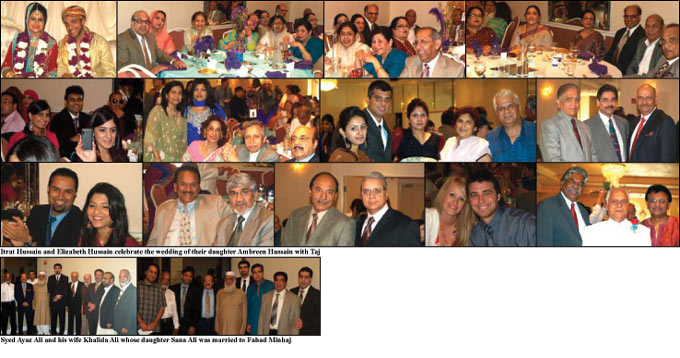 By Dr. Mujahid Ghazi
Overflowing Gratitude to Governor Ibad and Ansar Burney for Arranging Release of Ship Hostages
Chicago, June 25 th, 2011: In five US cities and two in Canada meetings were held to honor the individuals who played a pivotal role in the release of hostages in the recent crisis in the seas near Somalia. These meetings were broadcasted through telephone in 31 different cities of the US and Canada. In his introductory remarks Javed Riaz from Pakistan Club commended the efforts of Governor Sindh Dr. Ishratul Ibad, human rights activist Mr. Ansar Burney of Ansar Burney Trust, Mr. Ahmed Chenoy of Citizen Police Liaison Committee (CPLC) and Chief of the Naval Staff Admiral Noman Bashir. He said that Mr. Altaf Hussain of Muttahida Qaumi Movement instructed Governor of Sindh Dr. Ishratul Ibad to take personal interest in the effort to get the 22 hostages released. They were being held hostage on the high seas near Somalia on board the ill-fated MV Suez. These included four Pakistanis, 11 Egyptians, six Indians and one Sri Lankan.
The program started with the recitation of the Holy Qur'an by Arshad Malick. Mr. Naimatullah Choudhry of Pakistan American Council said that the individuals we are honoring today had given us pride to walk with our chins up and proved that we care about our fellowmen and recognize their worth and value. This scribe said that the humanitarian work is not everyone's domain. It is done only by people who think beyond their selves and are seen possessed by passion to do something for humanity. Dr. Ishratul Ibad, Ahmed Chenoy and Advocate Ansar Burney can rightly be said to be such human beings. Asif Malick representing Pakistan Business Association, congratulated and thanked Dr. Ishratul Ibad and Advocate Ansar Burney on behalf of the business community of Chicago. Jamal Siddiqi of Radio Dil Sey and Pakistan Times said that this is not the first time that this has happened. Efforts should be made to stop such piracy incidents in future. Altaf Ali of NED Engineers Forum said this whole incident should prompt our nation to be united and tackle problems in future with the same spirit of unity. Asif Saleem, General Secretary of United Parade Committee of Greater Chicago, commended Mr. Altaf Hussain and Governor Ishratul Ibad for the great humanitarian effort they made. He said out of 22 hostages only four were Pakistanis yet Pakistan took the lead in rescuing all of them. He said the wife of Governor Sindh should be commended also for she went to offer Umrah to pray for the release of the hostages. Community activist Sadruddin Noorani commended the efforts of individuals who made the release possible. Mr. Hameedullah Khan of Pakistan Federation of America commended General Shuja Pasha of ISI, Admiral Noman Bashir, Chief of Naval Staff, Dr. Ishratul Ibad and Ansar Burney. He said our nation is always ready to deal with situations like this.
Advocate Ansar Burney of Ansar Burney Trust spoke to the audience on telephone. He gave a detailed timelined account of the 11-month long ordeal of the hostages. He said he was asked by the Governor Sindh Dr. Ishratul Ibad to help as a mediator to overcome the crisis. He commended Dr. Ibad for taking immense interest in a task which once looked impossible. He said during all this time the governor would call him two to three times a day to get an update of the ongoing process and extended help when needed. He said that it is the leadership of Mr. Altaf Hussain which produced people like Dr. Ishratul Ibad. He also commended General Shuja Pasha of ISI and Chief of the Naval Staff Admiral Noman Bashir for their encouragement and support at critical times when their help was needed. He said the most frightening moment was the time when he had to wait the whole night in his car, in the airport's parking lot in Cairo, with $ 2.1 million that was to be delivered to the pirates the next morning.
The organizations which supported this event included Pakistan Business Association Chicago, Pak American Medical Center NFP Chicago, NED Engineering Forum, Coalition of Pakistani Organizations, Pakistan American Council of Chicago, Lions Club Rogers Park, Pakistan Times, Urdu Times Foundation, Gehwara-e-Adab, United Parade Committee of Greater Chicago and University of Chicago Alumni. Among the audience were present community activists Rauf Sheikh, Syed Kamran, Sohail Shams, Khalid Khan, Shehzad Hussain, Ex MPA Sind Wakil Jamali, Junaid Fehmi, Nigran e Aala Gehwara e Adab USA and Raja Razzakh of Pakistan Business Association.
"Bringing HOPE to Pakistan through Sustainable Community Development": Seminar Held by Pakistan Club of Booth Business School
Chicago, June 23 rd, 2011: Pakistan Club at Booth Business School, University of Chicago held a seminar at the Gleacher Center to introduce HOPE (Health Oriented Preventive Education) and its founder and chairperson Dr. Mubina Agboatwalla.
Speaking at the seminar K. Rizwan Kadir of the Pakistan Club talked about the importance of sustainable community development in Pakistan. He introduced HOPE (Health Oriented Preventive Education) which is a non-government organization, established in 1997 by a group of volunteers who sought to provide basic health and educational services to the underprivileged communities of Pakistan.
Dr. Agboatwala talked in detail about her organization. She said the motto of HOPE is SELF-SUFFICIENCY and SUSTAINABILITY. She said through Community Development and Community Organization active members of the community, both male and female, are organized into Community Based Organizations (CBOs). The community work is implemented through the community volunteers. HOPE believes in providing community development working together with grassroots CBOs. This includes provision of Primacy Health Care (prevention of diarrhea, malnutrition, promotion of breast-feeding, vaccination, ante-natal care, family-planning, and prevention of AIDs) as well as imparting awareness to the population through improvement of literacy status of children and women, income-generation activities as well as environmental sanitation and solid waste management. She further said that HOPE's primary objective is to develop marginalized communities through key interventions in the health, education, and emergency relief areas whereby a community-based approach is applied to sustain desirable outcomes of programs. HOPE integrates the community through capacity building of local community health and education resources, in addition to collaborating with Community Based Organizations (CBO) in identification of problems and implementation and monitoring of its programs.
In her talk, Dr. Mubina outlined the results HOPE Pakistan has achieved in creating sustainable community development through their social entrepreneurship initiatives.
Two charitable hospitals in Karachi and Thatta, 20 bedded each, fully equipped OT, labor room, NICU, treated 50,000 patients annually. Basic Health Unit in HUB, OPD services, ultrasounds, maternal and child care facilities attended to 9,000 patients. 200 Informal Home Schools nationwide, 9,000 children. 2 Formal Schools in Karachi and Thatta up to metric, 1,000 students enrolled. 5 Vocational Centers in Karachi, Thatta,
Muzzafarabad, computer facilities, sewing/cutting. Support a Marriage Campaign. Crisis Center for violence against women. 52 health facilities monitored in earthquake affected areas in AJK.
In 2010 after the floods relief efforts were done nationwide. 35,000 patients were treated in the emergency medical camps. 12,250 people were given food and shelter. 40,000 families were facilitated access to safe drinking water. 119,000 households were reached out. During Nutrition Support Program in Karachi, Thatta, Dadu and Shahdad Kot, 36,566 children and 13,209 pregnant and lactating women were screened. Permanent Screening Centers were opened in Thatta, Dadu, and Shahdad Kot.
She supported her presentation with the help of documentaries showing adverse conditions that the poor and needy population is exposed to. It also showed home schools in the difficult high altitude terrain of Pakistan educating 9000 children and supporting the women by teaching them.
HOPE USA's Fundraiser Creates Awareness in General Population
Chicago, June 24 th, 2011: Hope USA a not-for-profit organization based in the US raised funds and created awareness of the projects of its sister organization in Pakistan "HOPE" (Health Oriented Preventive Education) last week. The fundraiser was attended by a good number of community members. The program started with the recitation of the Holy Qur'an by 10-year-old Ibrahim Siddiqi followed by a welcome note and introduction of the keynote speaker Dr. Mubina Agboatwala by Dr. Mujahid Ghazi.
Dr. Agboatwala spoke in detail about the vision, mission and achievements of her organization which seeks to create sustainable community development through social entrepreneurship initiatives. Her talk was supported by statistical data and video presentations to highlight the achievements of HOPE in education, health, financial and social upliftment. Environmental sanitation and promotion of hygienic practices in health. Famous youngest reporter of Asian Broadcasting Network Ibrahim Khan delivered an emotional and moving speech. Later fundraising was done by Dr. Mujahid Ghazi. An entertaining musical program followed the dinner. Shakeela Ahmed and Rashid Bokhari entertained the audience with their mesmerizing ghazals and songs. The great thing about this event was the active involvement of Bangladeshi Americans like Shakila herself along with Feryall and Kanwal Rehman, both daughters of legendry actor of the sixties and seventies Rehman. Their faces and smiles reminded me of Rehman's sweet smile in 'Darshan'. In addition to these individuals Shareen Rizvi, Sehrnaz Ali, Sadruddin Noorani, Arshia and Jafer Husnain were instrumental in organizing the fundraiser. Mehmood Minhas did a great job with the sound system.
Community Activists' Get Their Activist Daughters Married
Chicago, June 25 th, 2011: Last week two Chicago activists got their daughters married. Community leader and activist Syed Ayaz Ali and his wife Khalida Ali had their daughter Sana Ali married to Fahad Minhaj. Known Urdu poet and activist Itrat Hussain and Elizabeth Hussain celebrated the wedding of their daughter Ambreen Hussain with Taj. Interesting is the fact that both of these brides were involved in community activism. These weddings brought together almost all the prominent poets, writers, social and political activists of the city. There was a large number of young activists also present at these weddings.