"APPNA Can Bridge the Gap between Where We Find Ourselves Today and Where We Can Go," Says Marc Grossman
By Dr M. Shahid Yousuf

St. Louis , MO : Doing less and less but asking to do more.
APPNA often serves as a window into Pakistan for various kinds of visitors and guests that are invited to speak on its various platforms. No platform is more influential or has more prominence that its annual banquet with some 2500 guests this year. Amongst its list of distinguished guests was Marc Grossman, currently serving as US Special Envoy for Afghanistan and Pakistan, at APPNA's 34th annual meeting held June 29th through July 3rd 2011 at the Renaissance Hotel in St. Louis, MO.
Mr. Grossman is not stranger to Pakistan having served in Islamabad at the US Embassy between 1976 and 1983. He has seen much of Pakistan's history starting with Pakistan establishing diplomatic relations with Bangladesh, the wee end of Bhutto's rule, imposition of the second martial law by General Zia ul Haq, Bhutto's execution in 1979 and Pakistan conducting a cold test of its nuclear device, and not in the least, the Soviet Afghan war beginning on December 24th, 1979. His arrival at APPNA thus was amongst people whom he had understood for many years.
Amongst other things, including the role of APPNA in its diverse endeavors, he said because his first posting as a foreign service officer was in Pakistan it has never left his heart, a remark that received a loud round of clapping. Marc Grossman has returned to the diplomatic role out of retirement and accepted this role as Special Envoy replacing late Richard Holbrooke. He said he returned to Pakistan as his heart belonged to the area. He repeated the statement of President Obama and Secretary of State Hillary Clinton. "I think it is worth saying here and saying it out loud that both the Secretary of State and President Obama have said counterterrorism cooperation with Pakistan helped lead us to Bin Laden." "With this success against Bin Laden , brings a time of choice and for both Pakistan and America... we have it in our grasp to be finished with al Qaida.. choices for Pakistan and choices for United States "
He reminded the audience of statements of Hillary Clinton in May 2011 in Islamabad when she said that Pakistan and the United States must proceed with openness and candor because part of friendship is to speak honestly with each other. He said part of what he has to do is to "try to convince people that between Pakistan and the United States this is the time to act and to act jointly. And not just on questions of terrorism but questions about Afghanistan, questions about the economy and questions about the region that Pakistan and America should jointly move forward."
Referring to the economy of Pakistan and Kerry Lugar Bill and the US$ 2 billion in assistance, he said, "We want to demonstrate our commitment to the people of Pakistan over the long term." Mr. Grossman went on to the IED ( improvised explosive devices) issue. He said that the US is sending a delegation to Pakistan on July 5th to meet Pakistani officials to make good on its commitment and deal once and for all with this problem of improvised explosive devices.
He informed that the Fulbright Scholarship Program is the largest in Pakistan than anywhere else in the world. The Fulbright Scholarship website gives the following description of its aims: "The Fulbright Program is the flagship international educational exchange program sponsored by the US government and is designed to increase mutual understanding between the people of the United States and the people of other countries." He expressed the view that "APPNA can bridge the gap between where we find ourselves today and where we can go. It is incumbent upon us to work jointly." "You will find our office open to you and your ideas. You manifest the very best ideas and intentions for the relationship between the United States and Pakistan."
After this profuse profession of love for Pakistan by the State Department and the Foreign Service as well as the US Military, the reader would expect that improving the relations with Pakistan would be the top priority. After all in President Eisenhower's administration, Pakistan was said to be the "cornerstone of foreign policy." More recently, Pakistan was described as "the most allied ally." Much has been made of the "special relationship" between Pakistan and USA. Often, Pakistan is asked to "do more" then do more than more. The trust and mutual respect is held to be vital for US interests and in defeating extremism the world over. Pakistan is always said to be the key player and the one to count on to bring peace, tranquility and economic prosperity to that region of the world which has seen conflict for more than 30 years.
The question for Pakistan has always been how durable is this often professed love. Many in Pakistan have questioned US intentions and what was described as the "trust deficit" in the past years. During the Soviet Afghan war in the 1970s and 1980s General Zia ul Haq questioned the durability of US engagement in the region when he spoke to CBS 60 Minutes. More recently, threats to withdraw US loans to Pakistan have been made repeatedly in either clear language or veiled language starting with the statement of Secretary of State Hillary Clinton who remarked that there would have been consequences for Pakistan if there had been loss of life in the aborted attempt by American citizen Faisal Shehzad to bomb Times Square in New York. Additionally, when CIA contractor and former US Army soldier Raymond Davis killed two Pakistanis on the streets of Lahore on January 27th 2011 there were again threats to suspend all financial loans to Pakistan. During the 2009 APPNA San Francisco annual meeting former US Ambassador to Pakistan (2007-2010) Ann Patterson appealed to physicians of Pakistani origin to help in removing this trust deficit.
What has been the US authorities' record in promoting harmony, cooperation and promotion of good relations between Pakistan and the USA? There are many ways to measure this. From the physicians of Pakistani descent point of view there is a very simple yardstick. It is the number of Pakistani physicians that are allowed to come to the US on a variety of visas - H1, H1 , J1 and others. What should have US authorities done to promote this harmony? If one is to praise APPNA for its good deeds, especially in promoting better relations between Pakistan and the USA, then it follows that the USA should increase this group's numbers not only for diplomacy but also for the burgeoning health needs of the USA.
Speaking with Dr. Rubina Inayat , Chair of Young Physicans Committee 2011 of APPNA, this writer was made aware of numerous impediments that have been put in the path of prospective physicians from Pakistan who wish to come to the USA for pursuing further medical education. Here is a sampling of the conditions that are prevailing:
"In 2003, more than 30 doctors were refused J-1 visa. Through APPNA's advocacy via Day on the Hill, meetings with US State Department, US Embassy in Pakistan, the number improved significantly though each year since 2005.
We get 30 plus requests of help from physicians whose visas get delayed due to security clearance. Some of them are delayed by up to 3 months. Some are delayed by more than a year.
This year six physicians were refused J-1 visa. Two of them got it on second try but four were refused multiple times and lost their residency spots. Twenty-eight physicians have had visa delays. Only three of them have received their visa so far..
More alarming is the fact that for the first time ever, a PGY-1 physician visiting Pakistan on vacation was off-loaded from plane on his way back to the US without any known reason and informed that his J-1 had been revoked. He reapplied on June 29 and now his visa is "under administrative processing". This vague term means nothing. This physician had already been working in the US and had cleared previously demanded conditions for entry to the US residency program.
Another PGY-1 physician's family was not allowed to board the plane in Karachi as they were returning from vacation and their J-2 visas were revoked. Now this physician has been isolated and must live a barren life without his loved ones.
Owing to the conduct of non-clearance for physicians from Pakistan, resulting in delays and denials by the State Department many residency training directors simply do not interview Pakistani physicians, no matter how talented they are. This is a serious loss to the US. Physicians who are less qualified end up being hired in the hospitals and educational programs of this country.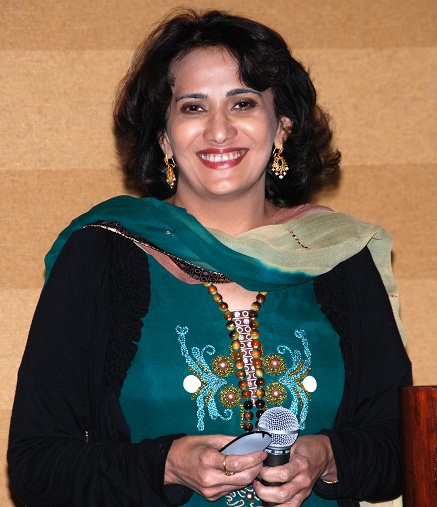 Dr Rubina Inayat, Chair of Young Physicians Committee 2011
From Young Physicians Committee of APPNA, Dr. Abdul Rashid Piracha and Dr. Rubina Inayat have visited the US State Department on June 6th, 2011. Additionally Drs. Piracha and APPNA President Manzoor Tariq met with Marc Grossman on June 13th 2011 to seek resolution of these issues. Dr. Tariq has these observations with regard to cooperation between APPNA and Marc Grossman's office: "Mr Grossman and his office have been of great help with regard to visa issue and I have been in touch with them since my visit to State Department. He came on my invitation and APPNA will continue to work very closely for visa related & others issues."
There was a time when the largest number of international medical graduates came from Pakistan but in recent years Pakistani physicians' numbers have significantly declined. Without this influential and benign group coming from Pakistan how will the US remove the trust deficit and promote harmony and goodwill?
Special Envoy Marc Grossman has promised to keep his office open to APPNA. He has been made aware of the difficulties and denial of entry to the USA by a number of US authorities. Will he deliver on the promise of a better tomorrow? Time will test his resolve.