Chicago Roundup
Bait-ul–Ilm, a New Muslim Architectural Landmark in Greater Chicago . Al-Hira Community Center Raises Funds for Renovation . The First Annual Eye on India Festival ' OCA-Greater Chicago Offers Ten Scholarships to Asian Pacific American High School Seniors
By Dr. Mujahid Ghazi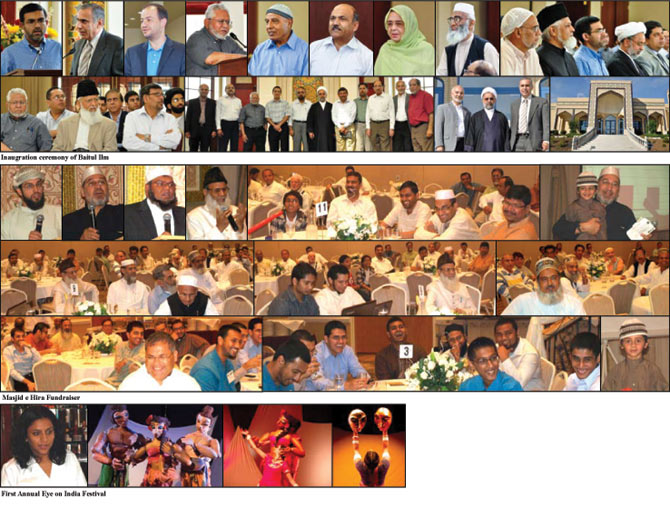 Bait-ul–Ilm, a New Muslim Architectural Landmark in Greater Chicago
Streamwood , July 16, 2001: Muslims from all walks of life and various organizations gathered in Streamwood Illinois last Saturday to mark the inauguration of another Muslim architectural landmark in Greater Chicago. The Shia Muslim community hosted the event in the banquet hall of the newly built Bait-ul-Ilm Imam Bargah and adjacent school. During the brief ceremony which started with the recitation of the Holy Qur'an, Imam Sheikh Mukhtar Faezi gave a brief history of Bait-ul-Ilm. He welcomed the guests and talked about the importance of unity in Islam. He said that Bait-ul-Ilm is proud to be a part of the Streamwood community and aspires to be a positive contributor for all its neighbors, Muslim and non-Muslim.
Mohammed Abdul Haque from ISNS congratulated the Shia Muslim community on building the facility which will serve to meet the needs of Muslims in the western suburbs of Greater Chicago. The architect Dr. Jamshid Jahedi gave a brief presentation on the structural uniqueness of the building. He said the new Bait-ul-Ilm Masjid is nearly 45,000 square feet in which only phase 1 is currently completed. Phase 2 will comprise of a school to help meet the rising needs of the Muslim community. He further said that Bait-ul-Ilm Masjid will also be certified as "Green Masjid" once the prerequisites are met. After the Mosque Foundation, it will be the second Muslim mosque to acquire green status.
This event enjoyed the presence of leadership and representatives of several Muslim communities and organizations which included Dr. Zaher Sahloul of CIOGC, Ahmed Karim Jhangda and Abdul Wahid Jhangda of Masjid al-Huda, Mohammed Abdul Haque of the Rolling Meadows Community, Mujahid Ghazi of Islamic Relief, Rajaullah Qureshi, Sher Rajput and Azmatullah Qadri of Muslim Community Center, Dr. Shahid Ansari from CPSA, Professor Inamul Haq from Elmhurst College, Jamaluddin Husain, Murad and Sher Ali Jiwani of the Ismaili community and many more.
Al-Hira Community Center Raises Funds for Renovation
Chicago , July 17 th, 2001 : The Muslim community from Bensenville, Wood Dale, Itasca, Elk Grove Village, Franklin Park, Schiller Park and Elmhurst gathered at the Monty's Elegant Banquets last Sunday to raise funds to renovate the existing center and to return Qarz e Hasna borrowed to buy the property in 2008. The event started with the recitation of the Holy Qur'an by Meraj Sheikh. Mohammad Azim. President of the community center gave a brief history of the project. He said that the Muslim community around the South, East and West of O'Hare Airport has experienced growth since its humble beginnings more than 20 years ago. The Surrounding Suburbs of Bensenville, Wood Dale, Itasca, Elk Grove Village, Franklin Park, Schiller Park and Elmhurst have become a prime location to live and it is expected that the Muslim community will continue to expand. There was a big need for a centrally located Masjid to unite these communities. Therefore, many Muslim brothers belonging to these communities formed the Al Hira Community Center in October 2006.
Al Hira purchased a property in Wood Dale, IL on February 1, 2008. It now serves the needs of the surrounding Muslim communities. He said the center now offers daily/Friday/Taraweeh prayers, teaching of the Holy Qur'an (including memorization) to children as well as adults, and guidance to Muslims on matters of the Shariah. He asked the audience to help Al-Hira to meet its needs.
The center needs to be renovated to accommodate the growing community and the Qarz e Hasna has to be returned. Young Muslim scholar Mufti Azeemuddin Ahmed spoke on the importance of Mosques and Islamic Community Centers and quoting the history of Islam he highlighted the achievements of the early Muslims. Junaid Ahmed, Secretary of ACC, introduced the speakers. Keynote speaker Shaikh Faisal Hammouda made people laugh with his wits and humor. He mobilized the youth and children to collect funds. Other keynote speaker Shaikh Abdool Rahman of Islamic Foundation Villa Park also stressed the importance of Islamic institutions and concept of charity in Islam. Earlier, tilawat was done by the Imam of the ACC Hafiz Ismail Patel. Maulana Mir Qutubuddin Ali Chishti concluded the program with his Dua.
The First Annual Eye on India Festival
Chicago, July 17 th, 2001: Chicago's first annual Eye on India Festival kicked off to a fabulous start last weekend with the Opening Night concert on Friday, July 8 featuring Dr. L. Subramaniam, Natya Dance Theatre and the Chicago Children's Choir. More than 900 guests filled the Harris Theater to celebrate the opening of this brand new festival. Festivities continued through the weekend with free literature panel discussions with renowned authors, including Tarun Tejpal, Nayantara Sahgal, Shrabani Basu and Hari Kunzru, and an exciting Q & A session with internationally-acclaimed actress, Tabu.
More than 400 guests attended these sessions at the beautiful Art Institute of Chicago in Fullerton Hall. A free screening of "Chandni Bar" at the Chicago Cultural Center on Monday, July 11, filled the Claudia Cassidy Theatre with more than 300 attendees. The festival wraps up this weekend with a performance by the Ishara Puppet Theatre Trust at the Harris Theater on Friday, and a special culinary event at Naveen's Cuisine in Wicker Park on Sunday.
"Transposition" is an original work based on Rashna Imhasly's book, "The Psychology of Love: Wisdom of Indian Mythology," created and directed by Ishara Puppet Theatre Trust's founder Dadi Pudumjee, India's premiere puppeteer. The production features theatrical spectacle, dance, martial arts and puppetry to both playfully and powerfully depict the illusions of love and the duality of each person. Main characters Nanda and Shridaman's friendship is grounded in their diversity; both fall in love with Sita and yet neither can do without the other. Ultimately, they lose their heads in the abandoned madness of spring as gods and goddesses come into play
OCA-Greater Chicago Offers Ten Scholarships to Asian Pacific American High School Seniors
Chicago , IL : OCA-Greater Chicago, one of the fifty chapters of OCA, a national nonprofit organization dedicated to advancing the social, political, and economic well-being of Asian Pacific Americans (APAs), is proud to offer six different types of scholarships for APA high school seniors.
Each scholarship is valued at $2,500 and a total of ten scholarships will be awarded. In order to be eligible; applicants must be permanent residents of the Chicagoland metropolitan area, current high school senior who identify as Asian Pacific Americans entering college or university in Fall 2011, demonstrate financial need, be permanent residents or US citizens, have a cumulative grade point average (GPA) of 3.0 or above (on a 4.0 scale), and have a strong history and intent of community service.
"OCA-Greater Chicago wishes to thank all of the donors who established these scholarships. Their generosity will help APA high school students overcome financial barriers and attain higher education," said George Mui, OCA-Greater Chicago chapter president.

The six types of scholarships are:
ADI Medical Scholarship (1)
Donated by ADI Medical
Preference for applicants interested in pursuing a pre-med major, with particular interest in neurology and focus on moving into medical research, especially as it relates to the development of new treatments for cognitive brain disorders such as Dementia or Alzheimer's.
Alex and Kitty Pon Scholarship (1)
Donated by Alex and Kitty Pon
Preference for applicants who study supply chains, logistics or transportation.
Chung Yan Mui Scholarship (4)
Donated by the Mui Family
CPI Solutions Scholarship (2)
Donated by Patrick Chew and Peggy Sim
Grace Lai Memorial Scholarship (1)
Donated by OCA-Greater Chicago
Preference for applicants who are passionate about visual or performing arts.
Sue An Yoon Memorial Scholarship (1)
Donated by OCA-Greater Chicago
To learn more and apply for these scholarships, please visit the OCA National website at www.ocanational.org. Scholarship information and application are under "Programs" > "Scholarships" > " OCA Chicago." All applications are due Monday, August 15, 2011 at 11:59 PM CST.