Chicago Roundup
Kiran Weds Imad . Mehbubia Reunion Brings back Memories of Yesteryear . Zahra Nadeem's Ameen . WBEZ's World View on US-Pakistan Relations . Pakistan Physician Society's Picnic . ICC Full Time School's International Festival . Sikh American Community Organizes Parade. Graffiti in Roger's Park
By Dr Mujahid GhazI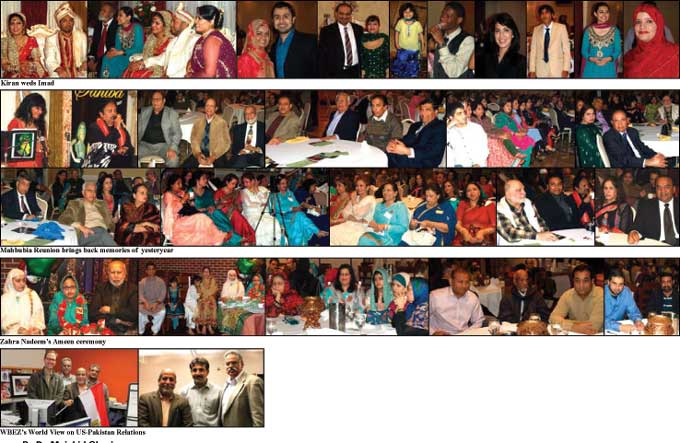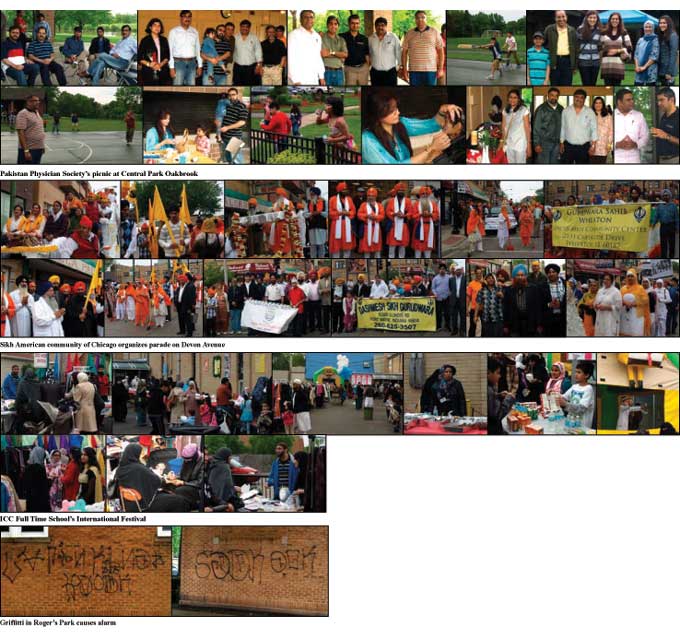 Kiran weds Imad
Chicago , May 28 th, 2011: Kiran Siddiq, an active Pakistani American Youth leader from DePaul University, was married last Saturday to Imad. A large number of DePaul PSA members and youth activists showed up to share the joyous occasion, including Maera Siddiqi, who came from Boston to attend the event. Kiran is the daughter of Jamal Siddiqi, a famous radio program host and local columnist.
Mehbubia Reunion brings back memories of yesteryear
Chicago , May 28 th, 2011: Mehbubia Girls School in Hyderabad has been a center of academic excellence. Girls from affluent families were sent to this school which became a status symbol besides being an excellent educational institute. This was evident from the attendees who came with their spouses and family to remember their alma mater. The good thing about such a reunion is that it is a show of old traditional Hydrabadi culture as well. The program started with the recitation of Qur'an by Sara Ali. The emcees - Shahid Ali Khan and Rafia Akbar -introduced the Alumni of Mahbubia in North America (AMINA). Zehra Amir Ali Khan welcomed the guests. Wajid Nadeem was invited by Laique Owaisi Khan to present a humorous poem. Mohsina Moolji and Sakina Ali Khan did a skit based on the poem of legendary Urdu poet from Hyderabad Maqdoom Mohiuddin. Sardar Saeed Younus thanked the audience and commended the work of the organizing committee. The alumni then sang the School song,
"Chalo Chalo Barho Barho Na Sust Hon Kabhi Khadam, Sharaf yeh Hum Ko Kiya Hai Kum, Mehbubia Key Gul Hain Hum"
Rest of the evening was enthralled by the singing of Bollywood performer Poonam Bhatia facilitated by Dr. Siraj of Deccan Cultural Academy. The grand sponsor of the event was Sahiba Boutique. Prominent Pakistanis like Mr. Muneer Akhtar of RNA Industries, Dr. Zaheer Khan, Tariq Siddiqi and Shahida Khan were also seen among the guests.
Zahra Nadeem's Ameen
Chicago , May 28 th, 2011: Dr. Amin Nadeem and his wife Farah Nadeem hosted a reception at Lal Qila Restaurant in Palatine to celebrate the Ameen of their daughter Zahra last Saturday. The event was attended by family, friends and prominent Pakistani American physicians and businessman. Mr. Syed Wahajuddin, a prominent Pakistani American activist, did the honor of reading the last verses of the Holy Qur'an to mark the completion of the Holy Book.
WBEZ's worldview on US-Pakistan relations
Chicago , May 26 th, 2011: This scribe and Pakistan Abroad columnist Javed Riaz were guests at NPR's WBEZ Chicago at the Navy Pier last week to participate in a discussion on "US Pakistan Relations" in the famous show Worldview, hosted by Jerome McDonald. It is scheduled to air sometime this week.
After the program Jerome McDonald gave the team a tour of the Studios and his office. It was very exciting to see an Egyptian flag from Tahreer Square. Executive Director of CAIR Chicago, Ahmed Rehab, had brought this flag from Cairo, as a souvenir, for Jerome McDonald. Adnan Rashid, a radio journalist from Swat, Pakistan was also in the production team. He was on a three-week internship sponsored by the State Department.
Pakistan Physician Society's picnic at Central Park Oakbrook
Chicago , May 30 th, 2011: Members of Pakistan Physician Society (PPS) participated in a picnic at the scenic Central Park in Oakbrook. It provided a much needed opportunity to the busy physicians to spend quality time with their family and friends. There was musical chair, Spoon and Potato race, basket ball and cricket. Sahil Travel Inc. sponsored the children activities including magic show, face painting, kite flying, bubble blowing. The games kept the children involved during the whole event. Licensed Cosmetologist Aesthetics Zahida Khan's face and hand tattooing was a hit among the children and parents as well. The food was great and of different varieties. Though the weather was not that ideal but everyone enjoyed a lot. Zubair Ahmad, President of PPS, Waseem Kagzi and Sajid Mehmood are to be commended for organizing such a successful event.
ICC Full Time School 's International Festival
Chicago , May 29 th, 2011: Strong wind and rain couldn't stop the supporters of ICC Full Time School to show up and feel the diversity of the school. At the festival held in the parking lot of the institution they tasted Latino, African, Middle Eastern and Indo-Pak food and shopped at the clothing booths. Main attraction was Kamani Clothing line with the punch line "Exclusivity has never been so inclusive." Their line of Abayas and other Islamic wear can be seen at www.kamanionline.com. There was a moon walk for the children and freshly grilled corn on the cob and hot dogs. Miss Athar, principal of the full-time school, was busy in welcoming the visitors and managing the festival. It was indeed a very good joint effort by the faculty and parents.
Sikh American community of Chicago organizes parade on Devon Avenue
Chicago , May 29 th, 2011: The Sikh community in Chicago and the Midwest organized a parade last Saturday. In addition to the members of the Sikh community a good number of dignitaries were also present on the occasion. Young Sikh men were displaying physical and gymnastic skills including sword fight and precision acts and were seen walking in front of the parade. They were followed by Sri Guru Garanth Sahib Float and Panj pyare sponsored by the Gurdwara Sahib of Chicago. There were groups representing the Punjabi Cultural Society, Gurdwara Sahib Wheaton, Dashmukh Sikh Gurdwara, Fort Wayne, Indiana, Gurdwara Shri Guru Hargobind Sahib Ji, Greenwood, Indiana with a float displaying banners and pictures showing contribution of the Sikh community in the World War. The marchers were chanting religious songs and slogans. The parade which started near Devon Avenue ended at the Gurdwara Sahib of Chicago. Lunch and refreshments were served. Balvinder Singh, a long time community activist, was instrumental in organizing the parade.
Graffiti in Roger's Park
Chicago , May 30 th, 2011: There is an increase in the gang activities in the eastern part of the 50 th Ward. Recently, graffiti representing gang signs and gang names, were seen on numerous building structures including west of Western Avenue between Devon and Pratt Avenues. In one such incident the city's graffiti cleaning squad failed to respond for more than four days. Local residents are restless and feel insecure with the fresh gang activity.