Connecting the Dots at OPEN Silicon Valley Forum 2011
By A.H. Cemendtaur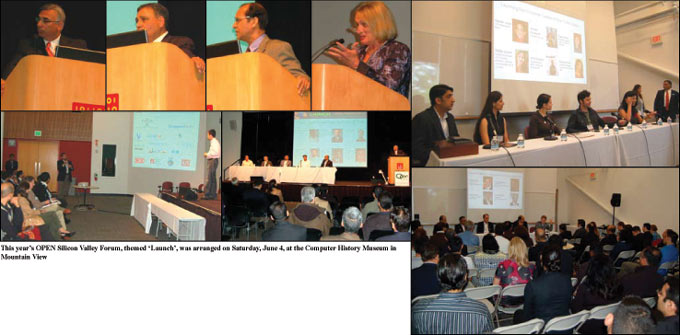 They are young, they are bold, they are confident, and they have put their best efforts pursuing their passions. They probably did not have any role models when they started charting their unique, individual course, but plenty of people consider them their role models. And every year OPEN (Organization of Pakistani Entrepreneurs and Professionals of North America) showcases a new lot of these successful people--most of them of Pakistani descent--and gives them a chance to feel smug and to look back and reflect on their lives and share the story of their journey with an attentive audience.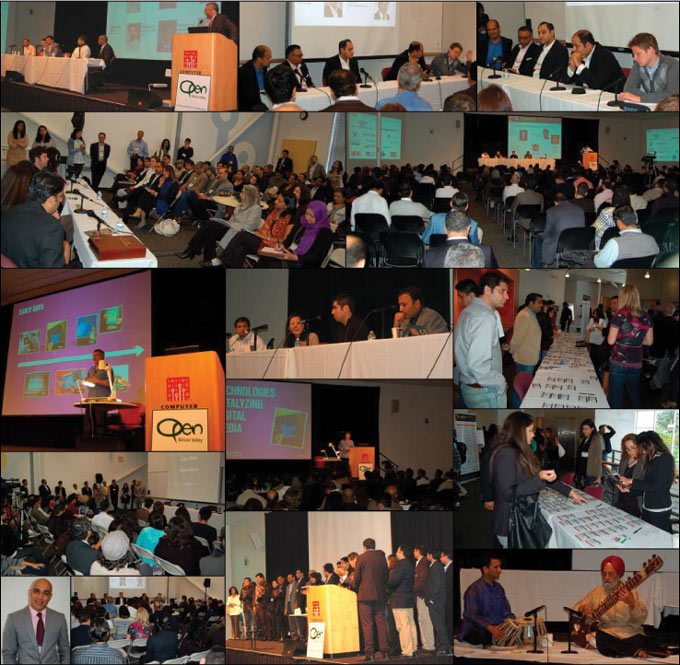 Every year OPEN (Organization of Pakistani Entrepreneurs and Professionals of North America) showcases a new lot of successful people - most of them of Pakistani descent - and gives them a chance to feel smug and to look back and reflect on their lives and share the story of their journey with an attentive audience
This year's OPEN Silicon Valley Forum, themed 'Launch', was arranged on Saturday, June 4, at the Computer History Museum in Mountain View. To repeat the cliché, learning from speakers at the OPEN Forum is like drinking from a fire hydrant. With at least two simultaneous presentations happening at the daylong event, and more than forty speakers recounting their hard-learned lessons, no matter how much you run around you are bound to miss a lot of the show. This correspondent too could only attend a small number of presentations at the OPEN Forum 2011. Besides firsthand information gathered at the programs attended by this scribe, this report contains information obtained from the program brochure.
Every year OPEN has to accommodate a number of very prominent people. Consequently, OPEN has a number of keynote speakers at its annual gathering. This year there was a morning keynote, an afternoon keynote, a youth keynote, and an evening keynote speech.
OPEN Forum 2011 morning keynote was given by Aaref Hilaly. The topic of his speech was "Zero to $400 million: Building an enterprise from scratch." Hilaly was introduced as the President and CEO of Clearwell, a provider of electronic discovery (euphemism for data mining) software. In his speech Hilaly described his personal journey through slides, but at the end of his speech told the audience that whereas the path of entrepreneurship appears appealing, it is in fact a tough road with a lot of hardship in the way and very little money during the struggling years of the entrepreneur.
The afternoon keynote speaker, Raymie Stata, Chief Technology Officer, Yahoo, spoke on 'Technologies catalyzing digital media." Stata was introduced as having a Ph.D. in Computer Science from MIT, and being the founder of Stata Laboratories, maker of the Bloomba search-based e-mail client--Stata Laboratories was acquired by Yahoo, in 2004.
Prominent Hollywood actor Faran Tahir who has acted in hit action movies like Iron Man and Star Trek, was the youth keynote speaker. Tahir spoke on "Paths Less Travelled--Conquering New Frontiers." While providing a background of his family Farah Tahir said he was a fourth generation artist, that initially he pursued studies in economics but found his heart to be in theatre, that he listened to his heart and finally things worked out for him.
Evening keynote by Wendy Chamberlin, former US ambassador to Pakistan, on "Pushing the reset button on US Pakistan relations — How business could lead the way" was all about commonsense stuff: that the US should help common people of Pakistan and not necessarily the establishment, that Pakistan should have better relations with India, that the Pakistan Army is not capable of dealing with security threats currently faced by the country (because these threats are internal, caused by bad governance and poor law and order situation), that the US should reevaluate its policy of appeasement towards Israel, etc. One wonders what retirement does to the corps diplomatique, or the army--at least the Pakistan army--top brass that makes these people reach the pinnacle of sapience as soon as they collect their last paycheck from their employers.
After the morning keynote speech, the Forum gathering split into Track I and Track II presentations. The first Track I panel discussion was on "The rise of the tablet: opportunities in gaming and digital media." Panelists included Faraz Hoodbhoy , Founder and Senior Vice President of Pixsense, Inc.; Shahid Khan, Chairman and Chief Strategist, MediaMorph, Inc.; Omar Javaid , Vice President, Product Management Motorola Mobility; and Shawn Foust, CEO of Illuminious, a mobile entertainment company. The panel was moderated by Riaz Karamali, an attorney dealing in corporate law, venture finance, and technology transactions in general. Here the consensus appeared to be that as tablet computers become more prevalent, new opportunities would present themselves to technologists to entertain (and profit from) this group of consumers.
While one panel discussed markets created by tablet computers the other panel discussed Cloud Computing. Panel on "Cloud--The next great opportunity in hi-tech" was moderated by Waqas Khan, Assistant General Manager at TowerJazz, an integrated circuit manufacturer. Specialists included Khalid Raza , author and currently Distinguished Technologist, HP; Hasan Rizvi, Senior Vice President, Oracle; Sendur Sellakumar of Morgan Stanley, Investment Banking Division; Shahed Latif , KPMG Partner, Executive Member of KPMG Global Cloud Computing Steering Committee; and Victor Moreno , Technical Leader, Cisco Systems.

The second set of presentations was on e-commerce and non-corporate careers. The discussion on "Innovation and Disruption in E-Commerce." was steered by Faisal Qureshi: Co-Founder & CEO of Offermatic. Speakers included Aileen Lee, Partner, Kleiner Perkins Caufield & Byers; Manish Chandra, Former CEO & Co-Founder Kaboodle; Vikas Gupta of Google; and Tomas Campos , VP of Mobile, Online and Emerging Technologies at Blackhawk Network .
"Launching non-corporate careers--it pays to be creative" was moderated by Nabeela Khan, Director of Business Development at Monsoon Ads, and Dr. Rafae Bhatti, software engineer, author, and part-time educator. Panelists included Manesh Judge, a table player par excellence, a musician who (along with Noorullah Lodhi) has undertaken the gigantic task of archiving the music of the Indus Valley; Malika Junaid, Founder and Principal of M. Designs Architects, an architect who, besides her US projects, is working on green architecture in Pakistan; Chef Brandon, Founder of Mission Minis, Contestant Food Network , who makes gourmet mini cupcakes in San Francisco; and Jennifer Anastasoff , President, EnCorps, who is working on providing career counseling services to students at an early age.
OPEN Forum is not just about good information, it is also about good food. As discussions on e-commerce and non-corporate careers started winding up, aromas of familiar desi delicacies started wafting through the venue of the forum. Only after paying their serious homage to the culinary expertise of Mehran Restaurant chefs, did the attendees reconvene to resume the Forum proceedings.
Approximately a month before OPEN Forum 2011, Omar Ahmad, a speaker at last year's OPEN Forum, and acting mayor of the City of San Carlos, died of a heart attack at the young age of 46. In a short memorial program, conducted by Moazzam Chaudhry, late Omar Ahmad was remembered through a screening of Ahmad's Ted Talk video.
Following the Omar Ahmad memorial, Ron Star, Partner at Howard Rice Law Firm, gave a workshop on " Building a strong business and legal foundation for your startup: secrets of founder arrangements, choosing the right legal structure, managing intellectual property, valuation and investor terms."
A parallel discussion on "The new face of funding: How the accelerators and incubators are changing the rules" was moderated by Rick Rasmussen, Founder and Principal of Rasmussen Consulting Group. Speakers included John McIntyre, Managing Director of the Citrix Startup Accelerator; David Weekly, Founding Director of HackerDojo; Mike Hodges, Managing Director of ATA Ventures; and Paul Bragiel, Co-Founder of i/o Ventures.
After the lunch the Forum was running three parallel tracks. Besides the two immediate presentations above, the third concurrent program was on Gen Y Entrepreneurs. Zahra Siddique, Founder eZahra.com, led the discussion in which Aisha Thiessen, Webcomic Creator; Jabez LeBret, entrepreneur ; Wajahat Ali, playwright and attorney; and Vikas Khanna, Managing Director, Zoovee Ventures, participated.
The second set of post-lunch presentations was on social media, essential skills to accelerate career, and the art of fundraising (youth track).
Panel discussion on "Social Media: New rules in mobilizing and driving impact" was steered by Dilawar Syed, former president of OPEN Silicon Valley, and currently the President of Yonja Media Group; Reza Aslan, President and CEO of Aslan Media, Inc.; Amra Tareen, Founder and CEO of Allvoices; Saad Khan, Partner at CMEA Capital; and Muhammad Sajid Farooq, Tech Producer and Lifestyle Editor for NBC.
A parallel workshop on "Eight essential skills to accelerate your career" was presented by Naeem Zafar, President of OPEN Silicon Valley.
A third parallel workshop on "Pitch to Win: The art of fundraising" was given by Brad Zielinski of Media Initiatives, Sprint Executive Center.
After the evening keynote speech--reported above--Naeem Zafar, President, OPEN SV, concluded the formal program with his final remarks and a vote of thanks to the OPEN volunteers. Besides the more visible OPEN administrators like Shahab Riazi, Gulrukh Ahmed, and Moazzam Chaudhry, a hardworking team of volunteers works for months to make the OPEN forum the most organized Pakistani program of the San Francisco Bay Area. These OPEN SV volunteers include Riyadh Abdullah, Nida J Adil, Sabrina Akhtar, Melanie Anantharam, Guneeta Singh Bhalla, Shahid Bhatti, Aziz Ghadiali, Ferman Haider, Maryam Haq, Alvaro illanas, Wasi Imam, Faraz Syed Jafri, Ameer Karim, Shama Khan, Nabeela Khan, Yasser Khan, Fitch Li, Tamara Lee Stover, Iram Nawaz, Fahima Rahmanzai, Fouzia Rafae, Omer Rana, Zainab Rana, Nabeha Shaukat, Farhan Shahab, Ayesha Sheikh, Saima S, Reza Sheikh, Wasim Sufi, Naziya Syed, Mercy Tan, and Rahul Vinay.
A raffle draw to win a free return air ticket was offered at OPEN Forum 2011 by Turkish Airlines, one of the many sponsors of the event. Attendees' business cards dropped in the raffle basket served as entries into the lottery. At the conclusion of the formal program a Turkish Airlines representative used the help of Gulrukh Ahmed to draw one card out of this pile and announce the winner.
The formal Forum program was followed by beautiful sitar music played by eminent Bay Area musician Ustad Surinder Mann.