Major Muslim Groups Condemn 'Religious McCarthyism'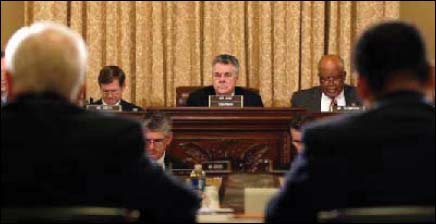 House Homeland Security Committee Chairman Peter King (R-NY) listens to witnesses during a hearing on "The Extent of Radicalization in the American Muslim Community and that Community's Response" on Capitol Hill in Washington
Washington, DC: The American Muslim Taskforce on Civil Rights and Elections (AMT***), a national coalition of major Muslim organizations, March13 repudiated Congressman Peter King's "religious McCarthyism" and expressed its "full support for and solidarity with the Council on American Islamic Relations (CAIR)."
Commenting on the observation made by a Washington Post staff writer that "If King's hearing was about anything, it was about trying to empower a different group of Muslim leaders," AMT Chair, Dr. Agha Saeed, said: "People can always tell who their real leaders are, even when Nelson Mandela is imprisoned on the charges of 'terrorism' and Chief Mangosthu Buthelezi is appointed as the chief minister of the Bantustan of KwaZulu."
AMT said in a statement: "It is obvious that Congressman King's hearing was intended to malign CAIR. We repudiate all such attempts and stand in solidarity with CAIR.
"We thank fellow Americans, notably Los Angeles County Sheriff Leroy Baca, Rep. Bennie Thompson, Rep. Sheila Jackson Lee, Rep. Loretta Sanchez, Rep. Laura Richardson, Rep. Al Green, Rep. John Dingell, and Rep. Danny Davis, for their courage of conviction in rejecting Congressman King's religious McCarthyism. His agenda-driven hearing was a planned assault on the US Constitution that failed.
"While the vacuity of these hearings has been summed up by the Washington Post in its headline: 'Rep Peter King's Muslim hearing: Plenty of drama, less substance,' the discriminatory nature of these hearings was highlighted by the New York Times as 'Terror Hearing Puts Lawmakers in Harsh Light.'
"It was pointed out by several members of congress that these hearings were not based on any independent scholarly research on the subject and the witnesses did not possess any expertise to qualify their generalizations.
"Past efforts to marginalize target groups have always included a number of key elements, including seeking to replace authentic leadership with handpicked individuals, undermining legitimate major institutions and organizations, controlling agendas, promoting internal divisions, and denying access to mainstream media and government institutions.
"While we reaffirm our opposition to all forms of individual, group and state terrorism, and while we reiterate our commitment to help keep America safe, we also want to unequivocally state that it is for Muslim Americans to decide who their leaders are. No one else -- neither the US Congress nor the FBI -- has the legal or moral right to make those decisions for us."
CONGRESSMAN KING: Representative Peter King, the Republican who chairs the House Homeland Security Committee, has promised a thorough probe, setting the stage for one of the most controversial congressional debates since the 2001 attacks.
"I want (Americans) to realize the extent to which Al-Qaeda is attempting to radicalize within the Muslim-American community," King said Wednesday in summing up his intent.
King has said that Muslim leaders and mosque imams are doing too little to stop the radicalization of young Americans and are not cooperating with law enforcement. He has also said most US mosques are controlled by extremists.
The charges have alarmed US Muslim communities, the very ones President Barack Obama's administration insists have been crucial to helping reduce the extremist threat.
Obama's Attorney General Eric Holder shot down King's assessment that Muslim leaders have not helped law enforcement, stressing that they "have contributed significantly" to thwarting attacks.
"We don't want to stigmatize, we don't want to alienate entire communities," Holder said.
Imam Johari Abdul-Malik of the Coordinating Council of Muslim Organizations insisted that King was launching a modern-day "witch-hunt."
But he and others acknowledged that some American Muslims, while the numbers are small, had indeed been radicalized in the United States.
"We're not in denial as a community that something is going on," he said. King is "on to something, but he's moving in the wrong direction," he said, voicing the same frustration held by many Muslim leaders, who say they are still viewed with suspicion despite the help they provide to law enforcement.
Several rights groups, including the American Civil Liberties Union, insist the probe should be broadened to include all extremist violence, though not extremist thought, which they insist is protected by the US Constitution.
With the battle lines drawn, the congressman at the center of the storm has vowed he "will not back down" on his investigation, which has divided fellow lawmakers.