Chicago Roundup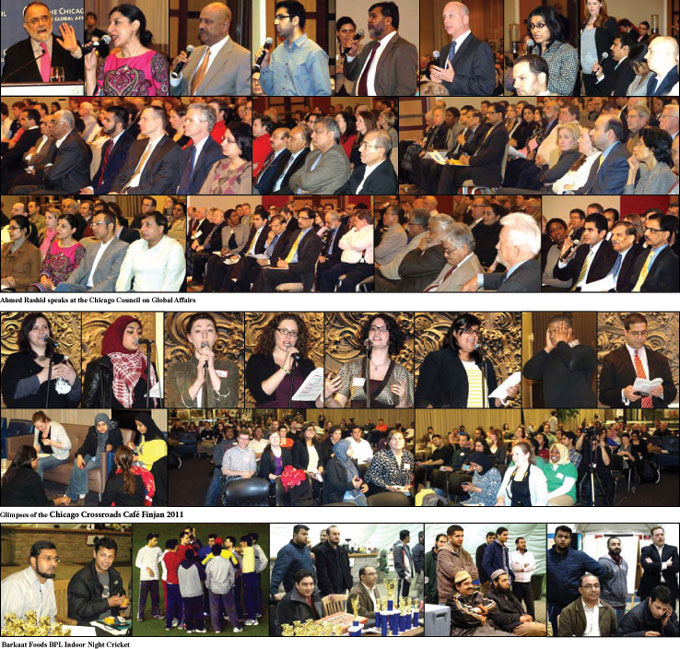 Talat Rashid Receives Life Time Achievement Award at Bolingbrook Businesses Award Night . Cougars Become the Champions of Barkaat Foods BPL 12/12 Indoor Night Cricket . Ahmed Rashid Speaks at the Chicago Council on Global Affairs . "Chicago Crossroads" Café Finjan 2011
By Dr Mujahid Ghazi
Ahmed Rashid Speaks at the Chicago Council on Global Affairs
"Is there a Pakistani nation and Afghan nation?" was one of the questions asked after Pakistani journalist Ahmed Rashid spoke for 40 minutes on the geopolitical situation in Afghanistan and Pakistan. Giving his perspective on the present crisis in the region he almost fell short of declaring Pakistan a failed state. His speech was critical of the role of the military and ISI in Pakistan and Afghanistan. He criticized the right wing religious groups for spreading hate and terror in Pakistan. Responding to the question of foreign intervention in Pakistan, he blamed the Pakistani Government and the people and declared that this intervention is there because we allowed it to be there. After his speech a young Pakistani Americans asked him, "Is there any good of Pakistan we can talk about?"
Ahmed Rashid is a Pakistani journalist based in Lahore. He presently writes for the Financial Times, the International Herald Tribune, the New York Review of Books, BBC Online, The National Interest, and several other academic and foreign affairs journals. Earlier, Rashid was the Pakistan, Afghanistan, and Central Asia correspondent for the Far Eastern Economic Review for 22 years. He is also the author of four books, including the recently updated second edition of the best-selling Taliban. Rashid was educated at Malvern College in England, Government College in Lahore, and Fitzwilliam College, Cambridge University.
His book, Descent into Chaos: The United States and the Failure of Nation Building in Pakistan, Afghanistan, and Central Asia was available at the event.
"Chicago Crossroads" Café Finjan 2011
As in the past this year's Café Finjan attracted a large number of people from different faiths at the Student Center East in the UIC. There were poems, skits and group discussions and a nice Middle Eastern dinner.
Café Finjan is an annual event which provides a common space that fosters relationships between Jews and Muslims through art.
The goal of Café Finjan is to nurture greater understanding and points of contact between Jews and Muslims of Chicago by providing a common forum for the Jewish and Muslim communities, in this area and beyond. The goals of the organizers are to explore our experiences as minorities, immigrants, and/or people of faith, and to develop a shared agenda of pluralism, respect, and civil rights in a domestic context. We believe that our communities and the relationships between them are shaped by much more than the Israeli-Palestinian conflict. We encourage activities that creatively engage the Jewish and Muslim communities in Chicago and North America to foster greater relationship-building.
Café Finjan is sponsored by JCUA, the Chicago chapter of the Council for the Advancement of Muslim Professionals, Mitziut Jewish Community, the Chicago chapter of the Council on American-Islamic Relations, KFAR Jewish Arts Center, American Muslims for Activism and Learning, United Muslims Moving Ahead, Interfaith Youth Core, Inner-City Muslim Action Network and Hebrew Meetup.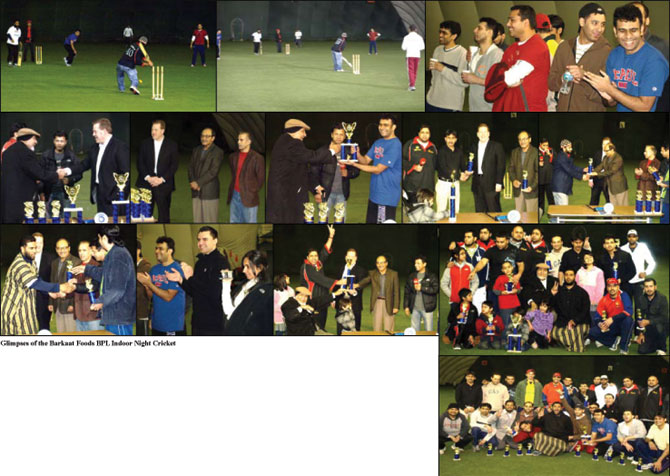 Cougars Become the Champions of Barkaat Foods BPL 12/12 Indoor Night Cricket
The final best of three of Barkaat Foods BPL 12/12 Indoor Night between Cougars and Depaul met an uneventful end when strong Crougars beat underdog Depaul by winning straight the first two games of the best of three. Cougars team consists of big names from the American Cricket Conference like Waseem Khan, Airaj Wahab and Salman Khan. They played with great composure and skill under the captaincy of Hashim Raza. Depaul had passion but lacked the experience and skill to stand up to a strong team as Cougars who have been continuously winning this tournament for the last three years. The tournament was organized by Barkaat Foods and Bolingbrook Premier League and was sponsored in part by Bismillah Grocery.
Talat Rashid Receives Life Time Achievement Award at Bolingbrook Businesses Award Night
Talat Rashid, a long time Pakistani American community activist, was recognized at a well-attended BOBB Awards Night. He received the prestigious Life Time Achievement Award.
He is one of the very few Pakistani Americans in the Greater Chicago area who made a positive and visible change in the community he lives in. Since 1993, when he gathered a handful of Pakistanis living in Bolingbrook to organize a Flag Hoisting Ceremony on 14th August, the Pakistani American community has increased in exponential number in the thriving Village of Bolingbrook, in the Southwest of the Windy City.
The events in Bolingbrook now attracts thousand of Pakistani Americans from all over the metropolis. The Independence Day Festival last year attracted approximately 10,000 Pakistanis from every nook and cranny of Greater Chicago. He was also instrumental in organizing Bolingbrook Premier Cricket League which allows the youth of Pakistani heritage to revive this game in the US. With his proactive and positive approach he was able to be nominated as Planning Commissioner at the Village of Bolingbrook's Planning Commission. In recognition of his services he also received Citizen of the Year Award in 2003. Talat Rashid last year helped Republican Senator Mark Kirk in his campaign and is a member of his advisory committee. Through his political activism he was able to introduce Pakistani American community to a number of Republican elected officials in the past.
"Bolingbrook would not be continually ranked among Money Magazine's Top 100 Places to Live if it were not for citizens such as Talat Rashid", said Mike Evans, executive director for the Bolingbrook Chamber of Commerce.
" I'd like to say that I'm very humbled to receive an award. It is not the award itself that touches my heart, but the community that has deemed me worthy of such an award," said Talat in his acceptance speech.
He was also awarded during this event by Bolingbrook Association of Pakistani Americans for his selfless community service.
Among the notables who were present at the ceremony were Mayor of Bolingbrook Roger C. Claar and the Consul General of Pakistan Hon. Zaheer Pervez Khan.