Muslim Leaders Hope for a New Beginning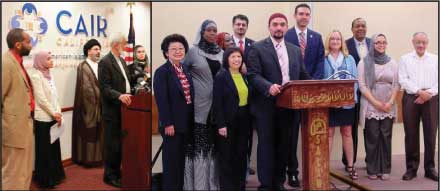 With close to a decade of difficult times, there was little surprise here that the news about the elimination of Osama bin Laden was received quite favorably, writes Ras H. Siddiqui, Pakistan Link's Representative in Sacramento, in his report below. Above (left): Dr Muzammil Siddiqi addresses the media in Anaheim and (right) a glimpse of the Sacramento Press Conference
Anaheim, CA: Southern California Muslim leaders May 2 offered their reaction at a news conference to the killing of Osama bin Laden a day earlier by American Forces. The news conference was organized by the Greater Los Angeles Area office of the Council on American-Islamic Relations (CAIR-LA).
At the news conference, Dr. Muzammil Siddiqi, Religious Director of Islamic Society of Orange County stated: "[Bin Laden] was a leader of a terrorist organization that has done a lot of harm to innocent people. . .We hope that this chapter that started 10 years ago is closed and a new beginning will come, and better understanding between the people living together in peace and harmony."
Imam Sayed Moustafa al-Qazwini , Founder and Religious Director of the Islamic Educational Center of Orange County, said, "The main mastermind of global terrorism Osama bin Laden has eventually met his fate. This is the fulfillment of a divine promise. God teaches us in the Holy Qur'an that such perpetrators of crimes against humanity can't escape the punishment and divine justice."
"We strongly stand by our fellow citizens, and by our own principles and values that in the face of terrorism, a place or position of neutrality will never be accepted," added Shaykh Yasir Fazaga, Religious Director of Orange County Islamic Foundation, Mission Viejo.
Ameena Mirza Qazi , Deputy Executive Director & Staff Attorney of CAIR-LA shared the following message: "We are deeply relieved that justice has been partially served, although no measure of justice can bring back the victims of the 9/11 horrific attacks. We continue to pray for the victims of al-Qaeda's terrorist attacks and their families, for our troops abroad, and for the millions around the world who are fighting for democracy and freedom."
Previously, CAIR coordinated one of the first joint American Muslim statements condemning the 9/11 terror attacks, issued just hours after they occurred.
To read about CAIR's anti-terror initiatives, go here.
Ras H. Siddiqui adds:
SACRAMENTO AREA MUSLIMS HOLD PRESS CONFERENCE
Sacramento Muslim leaders held a news conference on Monday, May 2, at the new SALAM Center auditorium to share their reactions after hearing of the killing of Osama Bin Laden. Several thousand Muslims live in and around California's capital city represented by a host of organizations, the leaders of which have had to deal with some trying moments after 9/11. But one cannot forget that during those times they had support from a number of other minority and faith groups along with local elected officials. With close to a decade of difficult times, there was little surprise here that the news about the elimination of Osama bin Laden was received quite favorably.
Speakers at this news conference in order of appearance were Basim Elkarra, Executive Director, Council on American-Islamic Relations-Sacramento Valley (CAIR-SV); Imam M.A. Azeez, SALAM Center; Susan McKee, District Director, Office of Senator Darrell Steinberg; Sarah Moussa, Office of Assemblymember Roger Dickinson/Vice Chair of the CA Democratic Party's Arab American Caucus; Linda Ng, OCA Sacramento; Marielle Tsukamoto, President, Japanese American Citizens League (Florin-JACL Chapter) and Metwalli Amer, Executive Director, SALAM Center. Several local TV news channels and some print media were present.
"CAIR and the American Muslim community welcome this news," said Elkarra. "Bin Laden never represented Muslims or Islam." Imam Azeez added, "On behalf of the Muslim community, I wanted to share with you a sigh of relief… A great threat has been eliminated. As a Muslim community we are willing to put this chapter behind our backs and move forward…"
"While we must maintain our vigilance, we will not allow those who are bent on our destruction to hinder us from carrying on with our lives," said Susan McKee. Sarah Moussa added her sentiments while support from the local Asian community followed. "Today we stand shoulder to shoulder with our Muslim brothers and sisters," said Linda Ng. "Let us gather together all as Americans," added Marielle Tsukamoto. And Dr. Metwalli Amer ended the presentations on a philosophical note as the forum was opened up to questions.
If one puts on the hat of an optimist, some kind of closure might be near for Muslims all over the United States and worldwide as the Osama saga ends after a very long and difficult time when extremists tried to take over. Maybe the recent and ongoing 'Arab Spring' will lead many to better days ahead? In the meantime, we will all keep our fingers crossed.