Chicago Roundup
The Unbroken Chain--- Father and Sons' Dream Comes True . Zindagi Trust Raises Funds to Promote Literacy in Pakistan . Asian Human Services and Public Health Officials Seek to Raise Awareness. Night of 1,000 Stars at Indo-American Center . Falak Fashion's Bazaar Attracts Hundreds of Indo-Pak Americans . Khalid Indo-Pak's Bazaar at Shamiana Banquet . Al-Shifa Trust Chicago Chapter Meets . Memon Community Brunch at Usmania Restaurant
By Dr. Mujahid Ghazi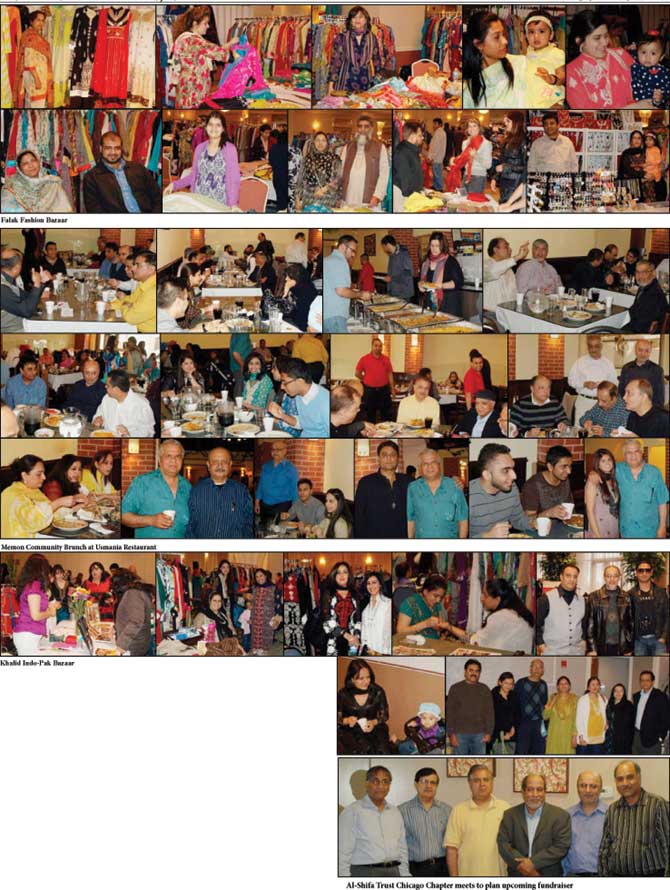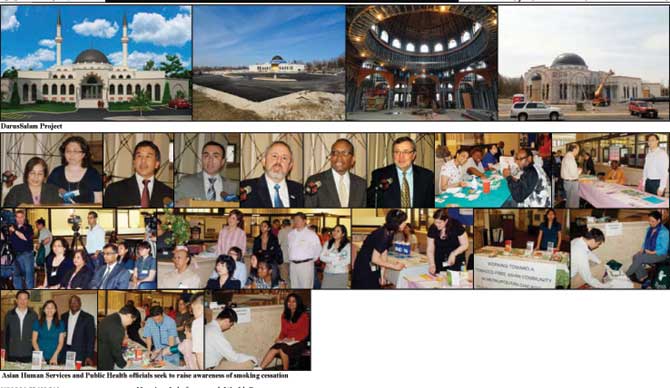 The unbroken chain --- Father and sons' dream comes true
Just few years back Dr. Misbahuddin Ahmed and his freshly graduated sons - Mufti Minhajuddin Ahmed and Mufti Azeemuddin Ahmed - from South Africa's religious schools dreamt of a religious school which could prepare young Muslims to be scholars and Imams to meet the growing needs of the community in the US. They acquired a land in Lombard Illinois and travelled the country to get support for their project. Without any major fundraiser they were able to start building the institution. Just when they were few months away from completion they called the Chicago Muslim community for support. History was made last week at Monty's Elegant Banquets when more than 1200 Muslims showed up to raise more than a million dollars needed to complete the last lap of the project.
Mufti Minhajuddin Ahmed in his welcoming speech thanked the attendees. Dr. Misbahuddin Ahmed shed light on project DarusSalam. He said the institution will produce religious scholars, hufaz, qaris and imams who will move in the US to spread the peaceful message of Islam. Keynote speaker Professor Ziyad Motala, Professor of Law at Harvard University School of Law, spoke on "The Unbroken Chain, Nurturing Our Leaders by Connecting with our Scholarly Heritage." He gave an overview of the tradition of education in Islam and stressed the importance of incorporating it in our society. With the help of a video presentation Mufti Azeemuddin Ahmed talked about the DarusSalam project. He also projected the lineage, the unbroken chain, of his teacher and his teacher leading to Prophet Muhammad (SAW), Arch Angel Jibreel and Allah (SWT). Sheikh Omar Suleiman, young vibrant Imam from New Orleans managed to raise a little more than a million dollars for the project.
Azhar Usman, famous Muslim comedian, community activist and co-founder of Nawawi Foundation emceed the event and with his witty responses entertained the audience.
Zindagi Trust raises funds to promote literacy in Pakistan
Zindagi Trust, the charity which started to promote education in the poor and needy children of Pakistan, held a fundraiser at a local banquet facility in Chicago. The founder of ZT Shehzad Roy and his wife Salma came from Pakistan to join the local chapter led by Sadia and Tawheed. A large number of affluent Pakistani Americans attended the event. Famous comedian Aron Kader (Comedy Central and Axis of Evil fame) conducted the event and entertained the audience with his lively jokes. Mona, another Muslim comedian and cofounder of Arab-issh, also made the audience laugh with her standup comedy. The legendry Pakistani actor and presenter Bushra Ansari helped raise funds by auctioning jewelry. ABN's Jibran Ilyas surprised Bushra Ansari by presenting clips of her famous shows.
Shehzad Roy informed the audience of the achievements of ZT and its school reform project. He asked the attendees to support efforts of reforming the Pakistani Government schools so that the poor would not feel neglected.
The Consul General of Pakistan commended Zindagi Trust on its zeal to improve the education system in Pakistan. Earlier Sadia Ashraf welcomed the guests. Tawheed Ashraf auctioned a bat signed by members of Pakistan's team 2011. Later, in the evening Shehzad Roy sang for the audience.
Asian Human Services and public health officials seek to raise awareness of new smoking cessation
On May 12, Asian Human Services hosted a press conference. Community leaders, health advocates and state and local public health officials addressed the growing problem of tobacco use in Chicago's Asian-American community and local smoking cessation initiatives designed to combat the menace. The conference coincided with a community resource fair that featured information about social services, community groups, employment, and health services including free health screenings.
This event marked a groundbreaking achievement for Asian Human Services as the organization was recently awarded two grants: one from the Chicago Tobacco Prevention Project, a joint initiative led by Respiratory Health Association of Metropolitan Chicago and the Chicago Department of Public Health,
and the other from the Illinois Department of Public Health (IDPH).
"By increasing access to smoking cessation resources in an ethnic community frequently estranged from health services, the combined effort of these state and local programs exhibits tremendous progress in the united commitment to build a healthier, smoke-free environment for everyone," said Abha Pandya, CEO of Asian Human Services.
Through its partnership with the Chicago Tobacco Prevention Project, Asian Human Services is currently implementing smoking cessation workshops, an anti-tobacco media campaign and Operation Storefront – a special curriculum designed to teach youth about the targeted marketing tactics of "big tobacco."
Night of 1,000 Stars at Indo-American Center
Night of 1,000 Stars is an annual student performance event, coordinated by members of the North Side Literacy Coalition. Students from member agencies come together to celebrate their achievements and receive appreciation from the broader adult literacy community. The NSLC operates to encourage collaboration among adult education providers on Chicago's north side, to plan annual events, and to enhance effectiveness for all participating members through mentorship and information-sharing.
This year the event was organized by the Indo-American Center and the North Side Literacy Coalition members that included Albany Park Community Center, Chinese Mutual Aid Association, Howard Area Community Center, Jane Addams Resource Corporation, Midwest Asian America n Center, Mercy Housing Lakefront, and World Relief, and most prominently, Secretary of State Literacy Office.
Among the guests were Ms. Dorothy Whitney and Ms. Saroja Reddy. Zahra Somani represented Congresswoman Jan Schakowsky. Long-time Indian American journalist and activist Nand Kapoor graced the occasion with his presence while prominent Indian Muslim activist Sher Rajput represented the Board of Directors of Indo-American Center.
The keynote speaker, the Honorable Jesse White, Secretary of State and Chief Librarian for the State of Illinois, appreciated the efforts of the Indo-American Center and other organizations for promoting literacy among immigrants, seniors, and others.
The Secretary of State handed out Certificate of Participation to the learners who performed at the Night of 1,000 Stars. 50 th ward Alderman, Ms. Debra Silverstein, in her address commended NSLC and Indo-American Center for promoting literacy among the adults.
Students read their short stories. They included:
Nicolas Guerra – Jane Addams Resource Corporation, Sarwari Begum, Iffat Shaheen, Zahra Zafar, Mushkurah Puthawala, and Nusrat Akraham – Midwest Asian American Center, Miquero, Jempson, Monsurat Huthman and Franz St. Fort – Indo-American Center , Luz Higareda and Maria Carmen Espinoza – St. Joseph Services, Blanca Martinez – Dominican Literacy Center, Christopher Sanders – Anixter Center , John Bora – Albany Park Community Center , Day Wah – Howard Area Community Center, and Ismaa Hassan – Asian Human Services.
Refreshments served were donated by Tahoora Sweets and Bakery and Uru-Swati Restaurants on Devon Ave. The event was efficiently and ably conducted by Renuka Sharma, Jai Ramos, Susan Chaudhri, and Chirag Shah of the Indo-American Center.
Falak Fashion's Bazaar attracts hundreds of Indo-Pak Americans
Falak Fashion's Bazaar at the Ramada Inn Glendale Heights attracted hundreds of Pakistani and Indian Americans to visit a great collection of boutiques, jewelry shops and food vendors last Sunday. The banquet hall was packed with shoppers. Anwar and Zainab of Falak Fashions were successful in attracting diverse groups of community and showcasing businesses of people of Indian and Pakistani heritage.
Apart from their regular Eid Bazaars it was another great event that they successfully organized. People were able to shop dresses and jewelry from latest fashions to traditional wear, all under one roof. Gifts were also raffled provided by RK Travel and other vendors. The food court was also remarkable and attendees enjoyed the desi food.
Khalid Indo-Pak's Bazaar at Shamiana Banquet
Famous grocers in Glendale Heights Khalid Indo-Pak organized a bazaar at Shamiana Banquets in Downers Grove. Besides clothing, the Bazaar had for sale jewelry and food items. It also served as the venue of a fashion show and musical program. Shehzad Ahmed performed his famous numbers. There were also booths of Ayaan TV and Radio Apna Geet.
Al-Shifa Trust Chicago Chapter meets to plan upcoming fundraiser
Members of the Al-Shifa Trust USA Chicago Chapter met at Salt N Pepper Restaurant to chalk out arrangements for the upcoming fundraiser. Al-Shifa Trust Eye Hospitals provide eye treatments to the poor and needy through their hospitals in all the provinces of Pakistan. It will be the first fundraiser after the demise of the great visionary, founder of Al-Shifa, late General Jehandad Khan few months ago. During the meeting Akbar Hussain was elected as the new president of local chapter.
Memon Community Brunch at Usmania Restaurant
The Memon community of Chicago attended a brunch last Sunday at Usmania Restaurant Chicago. A large number of families from the local Memon business community were present on the occasion. The event was a get-together and a reunion to meet and share concerns and joys.
Rafiq Mota, organizer of the event, told this scribe that it marks an effort to keep relationships alive. He said by organizing such parties at local Pakistani restaurants we avail opportunities to promote such businesses.
Usmania Restaurant has just launched "All you can eat Sunday Brunch" for just $ 9.99. They offer multiple items including nihari, paya, halwa puri, chicken and vegetable dishes along with dessert. Noor Muhammed, one of the owner's of Usmania said, "Our goal is to provide quality food at a reasonable price."