Niswa Association Is Helping Muslim Families in Crisis since 1990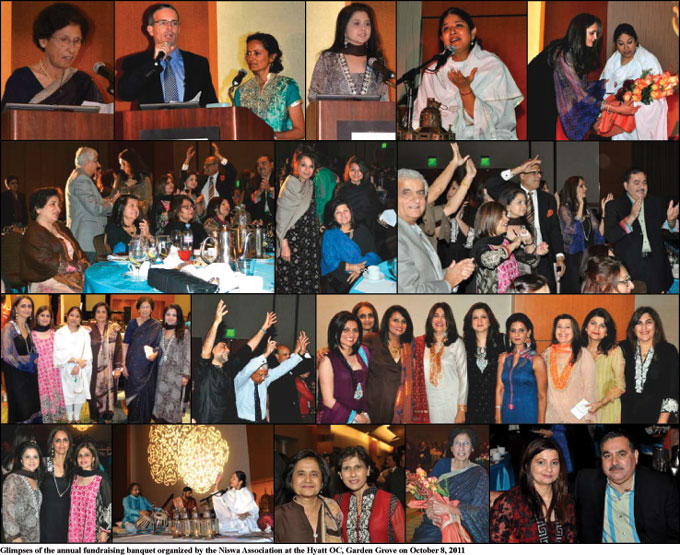 Garden Grove , CA : Niswa Association held its Annual Gala and Dinner on Saturday, October 8 th at the Hyatt OC in Garden Grove, CA. The evening offered Sufi-themed ambience and entertainment by renowned singer Ustade Maa Zila Khan. Ms. Khan is recognized as one of the most powerful Sufi singers in the world.
Niswa Association is a non-profit social service organization which was founded by a group of South Asian women and has been helping families in crisis for over 20 years. Niswa runs a Muslim women's shelter for victims of domestic violence, the first of its kind in the United States. They also provide a 24-hour hotline, counseling, legal assistance, job training, financial aid, health seminars, case management, referral services and housing assistance to help women and children in need.
The audience of 350 guests enjoyed a scrumptious Middle Eastern dinner and were entertained by comedy and impersonations by the emcees, Zishan and Naseem Qader. Then Niswa Vice-President Arshia Ghani told a compelling story about one of Niswa's clients and explained the services which Niswa offers. The presentation ended with Niswa's founder Dr. Shamim Ibrahim talking about the challenges women face and her hopes for the next generation of young women.
The successful fundraiser effort resulted in providing Niswa with much needed funds to complete construction on a new building which will be used as a rental property and transitional housing facility for Niswa clients.
The music lovers in attendance were mesmerized by the voice of Ustade Maa Zila Khan, who sang until late into the night. With an impeccable lineage, representing the seventh generation of legendary Hindustani classical musicians and now India's most celebrated Sufi singer, Zila Khan is also one of the most powerful Sufi singers in the world. She is the daughter of sitar maestro Ustad Vilayat Khan. The enthusiastic guests were on their feet to show Ms. Khan their appreciation and love of her music.
Please visit www.niswainc.org for more information.
-------------------------------------------------------------------------------------