An Evening of Fun and Fundraising in Sacramento
By Ras H. Siddiqui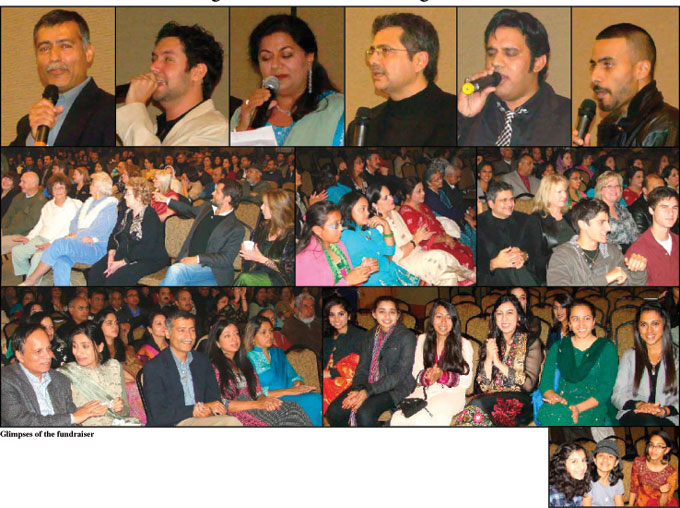 The date was auspicious as 11-11-11 will not be revisited again in our lifetimes. It was also the evening of Veterans Day here in the United States, a holiday for many and an opportunity for some to gather at the Citrus Heights Community Center in the Sacramento, California region for a fine musical evening where a majority of Pakistani-Americans plus other South Asians along with a sizeable representation of locals (goras if one wants to be politically incorrect) gathered for both an Eid Milan and a good cause.
Eid al adha fell on Sunday, November 6 th this year. Pakistan earlier had been hit badly by floods for the second consecutive year. In Sacramento, a handful of organizers decided to take the high road and combine an evening of fun and low key fundraising ($10.00 for every ticket sold went to the Edhi Foundation) to the delight of the more than 200 people present.
The evening started with a social mixer during which many took the opportunity to purchase dinner from SHAZ Restaurant. Soon after Dr. Aslam Godil welcomed everyone and pointed out to the observance of Veterans Day and added that the evening was planned for the dual purpose of community entertainment and flood relief. He next invited Tariq Abbasi to take charge of the event as Master of Ceremonies.
Emcee Abbasi started off on a humorous note, giving a background of how he was roped into performing this task by Aslam. His noteworthy delivery was interspersed with Urdu couplets and attempts at translating them, parts of which (according to him) just could not be translated into English. On the flood situation in Pakistan he described the scene as misery beyond what we can imagine.
Local rapper Zaki Syed started the entertainment segment on a pensive note. He spoke-sang about the suffering common people of Pakistan in his "Pakistan Zindabad" delivery which included lines like "Take me back to the Motherland" and "Flood victims ko Bachao". Zaki has been involved in rap for quite some time now and his performances are getting better and better. His proud parents Naeem and Durriya Syed were on hand to offer their support.
The first singing act brought to the Sacramento area once again Zaheer Abbas from Pakistan who reached the highest level of the "SaReGaMaPa Challenge" in India during 2009. Zaheer has a powerful voice which he ably used during his opening song "Wohi Khuda Hai". The follow-up Punjabi ballad made famous by the late Nusrat Fateh Ali Khan (NFAK) "Sajna Terey Bina" was also performed very well by him. Zaheer followed with "Dholna" and Shafqat Amanat Ali's "Bin Terey" and a number of other terrific Urdu and Punjabi language hits. It is interesting how many Urdu songs make one reflect and Punjabi ones encourage movement. Zaheer ended his segment with the Dhamal number "Dama Dum Mast Qalandar" which gave many in the audience an opportunity to dance.
Local talent was once again well represented by Dr. Sima Minhaj who slowed down the tempo with a couple of popular Bollywood hits. Her singing of "Kabhi Alvida Na Kehna" was plain excellent.
The main act and final performance was by the very versatile Jeffrey Iqbal who already has an established fan and relative base in the Sacramento area. His starting number "Allah Hu," the signature song of the late NFAK ,was superb and set the tone for many more fine songs to come. His tribute to many Indian, Pakistani singing legends including Mohd. Rafi, Ustad Mehdi Hassan along with a bouquet of Bollywood hits including "Pretty Woman" really won the hearts (and feet) of people in the audience. Besides his opening song, this scribe thinks that Jeffrey's rendition of "Zohra Jabeen" with its catchy Pashtun/Pathan beat really stood out. The Punjabi song "Sohni Lagdi" really got people motivated and his rich duet with Dr. Sima Minhaj set the stage for his final "Shahbaz Qalandar" number which remains one of the most widely performed songs originating from Pakistan yet. This ode to the Qalandar minstrel incorporates both the mystical and rhythmic realms. And Jeffrey Iqbal certainly did a fine rendition of it.
To conclude, when we participate in an event with almost three hours of great entertainment one has to give credit where it is due. Wonderful performances and seeing good friends and family do make for a nice evening. But a renewed admiration for the locals whom I so callously referred to as "goras" earlier in this report is warranted now. For sitting through the entire event while understanding almost none of the words, a huge "Thank You" to them is warranted here. And from under two flags which were prominently flying at this event, the Stars and Stripes and the Green and White Eid Mubarak from Sacramento, California.
-------------------------------------------------------------------------------------