LA Consulate General to Organize Eid Mela/Fundraiser in Collaboration with Pakistan Link & Urdu Link
By Link Staff Reporter
Pictures by Anwar Khawaja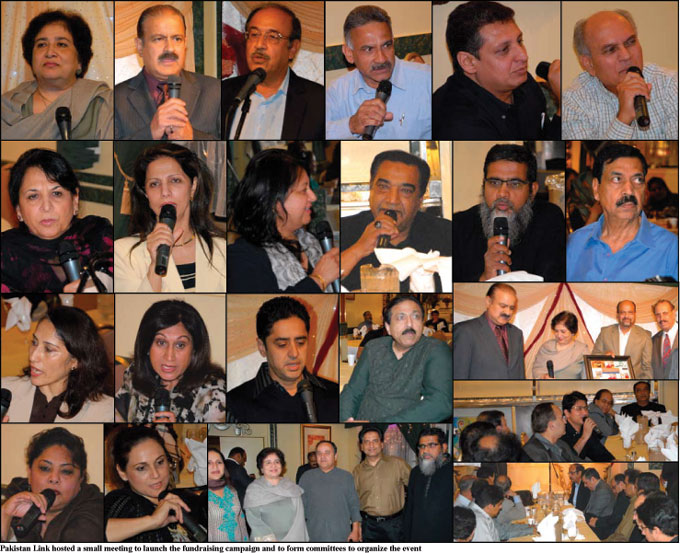 Anaheim, CA: A Fundraiser/Eid Mela is being organized by the Consulate General of Pakistan, Los Angeles, in collaboration with Pakistan Link/Urdu Link, to raise funds for flood victims in Pakistan and to increase awareness of the extent of the tragedy.
The Fundraiser/Eid Mela will be held on Saturday, November 12 at the Phoenix Club (1340 S. Sanderson Avenue, Anaheim, CA 92806.)
Pakistan Link hosted a small meeting on Wednesday, October 5, 2011 to launch the fundraising campaign and to form committees to organize the event. The 'kickoff meeting' was held at the Anaheim Mughal Halal Tandoori Restaurant and attended by almost everyone who brings the community together. Consul General Mrs. Riffat Masood briefed the gathering on the flood situation in Pakistan and the pressing need to organize the fundraiser. Two prominent community activists – Mr Arif Mansuri and Mr Sameen Faruqi – also addressed the gathering. Necessary spadework was subsequently done and preliminaries worked out for organizing the mela/fundraiser.
Since the Pakistan Independence Day celebrations were not held this year owing to Ramadan it is hoped the Eid Mela/Fundraiser would provide the much needed opportunity to the community to engage in the annual festivities and family fun. There will be live entertainment, kids' rides, and raffle draws. For tickets, booth information and more details please see the Fundraiser/Eid Mela advertisement on Page 5.
-------------------------------------------------------------------------------------