Pakistani-American Businesses Destroyed in Cerritos Fire
A Pakistan Link Report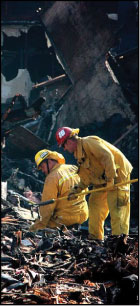 Cerritos, CA: The Marhaba Chinese Halal Restaurant and International Travel Center, two Pakistani-American businesses housed in the Cerritos strip mall that caught fire on Sunday, have suffered huge losses. Several media reports, quoting officials responsible for the rescue operations, claim the shopping center has been "nearly destroyed."
But the businesses have spiritedly responded to the unforeseen tragedy. Anjum Ejaz, proprietor, International Travel Center, told Pakistan Link, "Sari kahani khatam ho gaee magar koshish kar raha hoon ke logon ko parishani na ho." Anjum continues to respond to his clients' calls and is trying to run the company as usual. The call-forwarding arrangement is effective and International Travel Center continues to serve the community.
Anjum, however, deeply laments his losses. He had his offices in the building for the last 14 years and has lost valuable certificates, pictures, and awards that cannot be replaced. He particularly feels the loss of a 1988 Malaysian Airlines Top Serving Award and numerous certificates, testimonials and related documents that he had earned through unfailing zest and years of hard work.
Marhaba Restaurant with its spacious dining halls has been the venue of large community functions since its inception. Its management feels "sorry for the inconvenience" caused to the clients because of the suspension in the service and has pledged to "provide excellent service to the community on moving to a new location soon."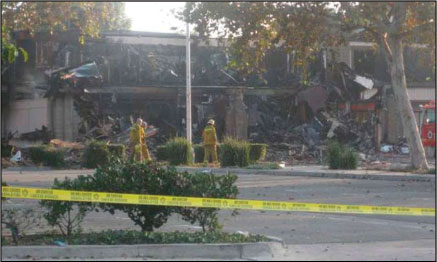 According to a report, Matt Levesque, an inspector and spokesman for the Los Angeles County Fire Department, said that fire investigators were working Monday morning to determine what caused a three-alarm fire at the popular strip mall in Cerritos early Sunday morning.
The entire back building, which housed several small businesses, including the Imperial Mandarin Palace Chinese restaurant, where the fire began, is likely a complete loss, said Levesque.
"More than likely they'll have to level the entire building," Levesque is reported to have said.
The official condition of the building will have to be determined by the City of Cerritos, according to Los Angeles County Fire Capt. Mark Savage.
Firefighters remained on the scene Sunday and Monday to assist business owners who showed up to survey the damage and gather any salvageable items, Savage said.
Savage, according to a repot, could not confirm the names of all the businesses that were destroyed at the mall but he said people from a dental office and a bank were among the business owners who were getting help gathering their belongings.
Damages were estimated at $5.5 million -- $4 million for the building and $1.5 million for its contents, according to fire officials.
Firefighters were called at about 2 a.m. Sunday to respond to the blaze, but it was too late to save the building, said Savage.
"It started collapsing when we were here so we had to pull out," he said.
-------------------------------------------------------------------------------------