Two Eids Celebrated in North America
By Abdus Sattar Ghazali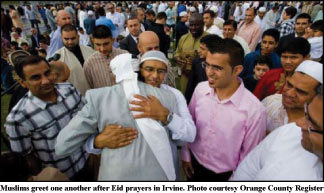 Los Angeles , CA : The fasting month of Ramadan began in North America on the same day - August 1 - and it was expected that Muslims will celebrate Eid ul Fitr or the beginning of the month of Shawwal the same day. According to ISNA's Islamic calendar, the first of Shawwal was projected on Tuesday, August 30. However, many of the local mosques in America and Canada declined to follow the ISNA calendar and decided to celebrate Eid ul Fitr on Wednesday August 31 st.
In the Silicon Valley, the Muslim Community Association (MCA) mosque in Santa Clara celebrated Eid on Tuesday while a number of mosques in Fremont and San Jose celebrated Eid on Wednesday.
In Sacramento, Al Salam and Al Noor mosques celebrated Eid Tuesday while the historic Down Town Mosque in Sacramento joined Lodi, Stockton, Woodland and Yuba City mosques in celebrating Eid on Wednesday.
Muslims from around America's capital poured Tuesday into the Islamic Center of Washington in one of the most elegant parts of the city, known as Embassy Row.
In Houston, thousands of Muslims offered Eid prayer at the George R. Brown Convention Center. Houston has one of the largest Muslim populations in America.
In Canada, the Hilal Committee of Metropolitan Toronto & Vicinity with more than 90 member mosques and Islamic associations, declared that the 1st of Shawwal/Eid ul Fitr 1432 will be on Wednesday August 31 st. However, ISNA Mosque and ICNA Mosque in Mississauga and many other Greater Toronto mosques celebrated Eid on Tuesday.
Eid ul Fitr was celebrated in Saudi Arabia and at least a dozen Middle Eastern countries on Tuesday. In Pakistan and India the Eid was celebrated on Wednesday.
Due to the doubts raised about the decision of the Fiqh Council of North America about the date of Eid ul Fitr this year on August 30, 2011, the Council, in a statement, said it uses Makkah al-Mukarram as a conventional point and takes the position that the conjunction must take place before sunset in Makkah and moon must set after sunset in Makkah. A lunar conjunction is the event when the earth, moon and sun, in that order, are approximately in a straight line.
The FCNA statement said on Monday, August 29 the Crescent should be visible in Hawaii by binoculars and telescope and in South America by naked eye. "The Shawwal Crescent of Monday, August 29 is acceptable according to Shari'ah for those who recognize the global sighting as it is also acceptable according to the criteria adopted by the Fiqh Council of North America."