Pakistan Consulate Hosts Dinner in Honor of DCM Iffat Imran Gardezi
A Pakistan Link Report
Pictures by Anwar Khawaja and YKKB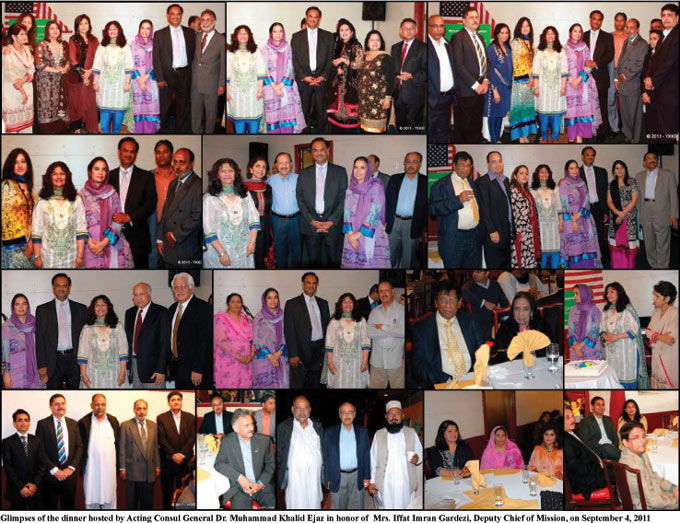 Cerritos, CA: Acting Consul General Dr. Muhammad Khalid Ejaz hosted a dinner at the Marhaba Chinese Palace on September 4 to 'meet and greet' Mrs. Iffat Imran Gardezi, Deputy Chief of Mission, Embassy of Pakistan, Washington DC.
The dinner was largely attended and almost every one who matters in the Pakistani-American community in Los Angeles was present in the hotel's glittering hall to hear Mrs Gardezi and prominent community members air their views on pressing current issues.
A career officer in the Pakistani Foreign Service, Mrs Gardezi impressed all and sundry with her candor and forthright views on a variety of subjects that have a close bearing on Pakistan-US relations. She emphasized the important role that the Pakistani-American community could play by dispelling misperceptions currently plaguing Pak-US ties in Washington and Islamabad. She informed the gathering that the Embassy would shortly convene a conference of young Pakistani-Americans who could play a catalytic role in forging closer Pakistan-US ties. It was the Embassy's endeavor to project the image of a progressive, enlightened Pakistan in the United States, she said.
A career diplomat, Mrs Gardezi joined the Foreign Service of Pakistan in 1987 and has held several important assignments in the intervening period. She was posted as Vice Consul in Hong Kong (1993-1998) and First Secretary in the Embassy to the United Nations in Vienna (1998-2000). She returned to Islamabad (2001-2005) as Director in the Security Council, Human Rights, Central Asia, and Policy Planning Divisions. Later, she was posted as Counselor and promoted to the rank of Minister in the Embassy in Berlin (2005-2009). She joined the Embassy in Washington in July 2009 and was recently promoted as Minister. With her winsome smile and candid observations she endeared herself to the gathering.
Prominent community members, including Nayaar Apa, Arif Mansuri, and Sameen Faruqi, also addressed the gathering. Each one of them appeared appreciative of the services and working of the Pakistan Consulate in Los Angeles. Vividly demonstrating his characteristic witticism, Mansuri remarked, "Mujhey Consulate se bohat shikayat hae. Mere moun se tareef ke siva dosre alfaaz nahin nikalte…"
Mansuri strongly refuted the impression that Pakistan was a failed state. He cited the example of a highly successful Pakistani in Los Angeles who was prepared to return to Pakistan in view of the country's potential and promise for growth and development. What Pakistan needed was not American aid but gainful opportunities to trade with American businesses and corporate sector, he emphasized.
Acting Consul General Dr. Muhammad Khalid Ejaz thanked the gathering for attending the dinner. Dr Irum Khalid Ejaz emceed the proceedings.