Bay Area Pakistan Community Celebrates 64 th
Jashn-e-Azadi
By Abdus Sattar Ghazali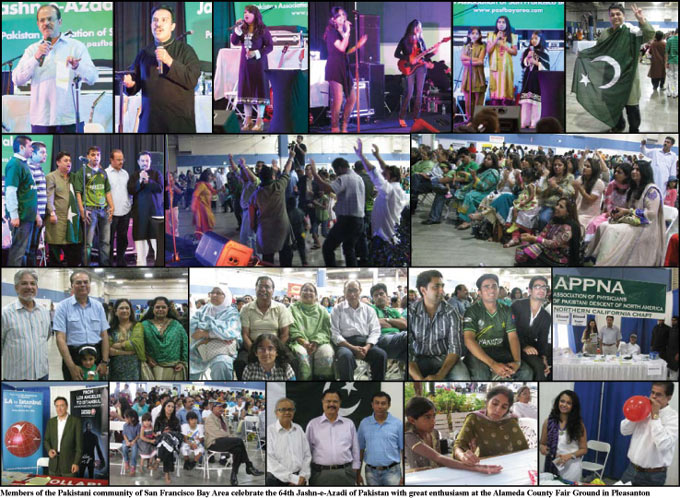 The Pakistani community of San Francisco Bay Area celebrated the 64 th Jashn-e-Azadi of Pakistan with great enthusiasm and fervor. The celebration on September 24 at the Alameda County Fair Ground in Pleasanton was sponsored by the Pakistan Association of San Francisco Bay Area and supported by many commercial enterprises and philanthropists.
The program began with the recitation of the Holy Qur'an by Laeeq Ahmed. The American national anthem was presented by Neiha Khan while the Pakistani national anthem was presented by Syed Nusrat, Laeeq Ahmed, Idress Shah, Arsalan Naseer and Wiqar Khan.
After the national anthems, three little girls - Ifrah Ahmed, Sidrah Ahmed and Manal Ahmed – thrilled the audience with their presentation of a very popular poem - Lab Pe Aati Hai Dua Banke Tamanna Meree.
Waqar Ahmed Khan, a prominent Bay Area social activist and an official of the PASF, was MC of the program which began at 3.00 p.m. and continued till 6.30 p.m.
The main attraction of the event was almost a three-hour live music. A number of artists captivated the audience with their solo, duo and chorus presentations. Umair Khan began the musical show with his melodious voice. He was followed by Imran Rehman.
Desi Michael Jackson Umer Rakputte's performance thrilled the audience and drew wide applause.
Kraze Music, an all-girl Pakistani pop rock band with Ambreen and Savera as leaders, entertained the packed audience with beautiful compositions which were a blend of ethnic pop, rock and techno, while maintaining the Pakistani roots. Their unique composing style has perhaps created its own class since it is considered the first all-girl Pakistani band. Ambreen, with her dynamic and powerful vocals, enticed the audience of all ages while teenager Savera appeared as the first Pakistani female rock guitar virtuoso.
Musical renditions by Kamijee (aka Kamran Khan) of My Space Music also captivated the audience. Kamijee is a multi-talented artist. He is a music composer, photographer, director and editor.
Men, women, boys, girls, old and young, everybody was in a festive mood. Many ladies and gents were wearing green dresses to express solidarity with their native homeland. One youth had engraved 'PAKISTAN' on his haircut. Others were wearing T-shirts with 'PAKISTAN' embossed in front and back. Many were waving the green and white flag to express their feelings for Pakistan.
The gathering of around 1,000 people of all ages at the indoor stadium of Pleasanton Fair Ground created the atmosphere of a traditional Meena Bazaar where traditional Pakistani dresses and jewelry were also on sale.
South Asian festivities are not complete without henna (mehdi) that has been used as a cosmetic hair dye for around 6,000 years. It was used for many centuries in areas of India, the Middle East, and Africa. In Ancient Egypt, Cleopatra and Nefertiti were known to have used it. Naheed of Mehendi Palace exhibited her talent in henna cosmetics with beautiful designs on the palms of lades and young girls.
The Association of Physicians of Pakistani Descent of North America ( APPNA ) had established a medical clinic to offer free testing of blood pressure and sugar level.
Turkish Airlines offered two comfort class tickets from Los Angeles to Pakistan to support the event. The tickets were auctioned for $2,000 and the proceeds will go to meet the expenses of the program. Marc Newll, Senior Manager of the Turkish Airlines, flew from Los Angeles to personally offer this generous donation.
Major sponsors of the program were: Emirates Airlines, Turkish Airlines, Tri City Travel and Western Union. Among others who supported this colorful event included: Best Tire Wheel (Richmond City), Bosini, Chandni Restaurant, Ellahi & Farooqi LLP (Attorney), Farmers Insurance, Java Security, Mehran Restaurant, Pak Auto (San Francisco City) and Total Wealth Solutions.
The philanthropists, who contributed to make this event successful, included: Akhtar Sheikh, Khalid Khokar of KK Builders, Mirza Siddique Realter, Nafees Subedar, Dr. Mubasher Rana and Shiraz Akadin-CPA.
At the end Syed Nusrat, President of the Pakistan Association of San Francisco Bay Area, thanked all the individuals and business enterprises for their whole-hearted support to make the event successful.