South Asian Community Holds Punjabi Night in Sacramento
By Ras H. Siddiqui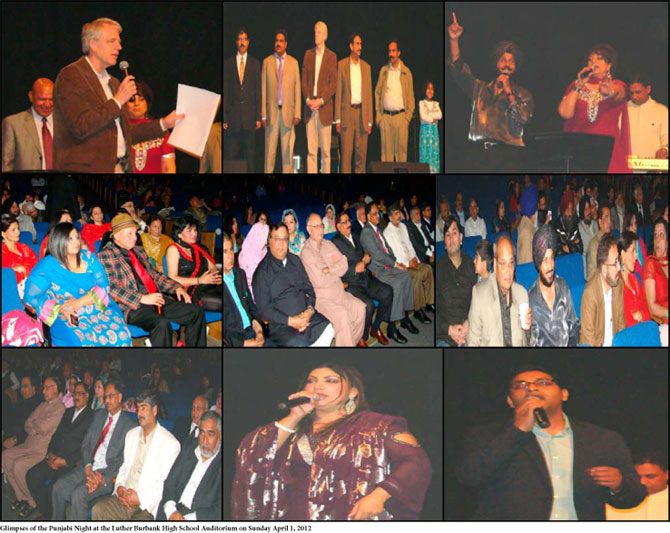 The local Sacramento, California South Asian community held a colorful event termed "Punjabi Night" at the Luther Burbank High School Auditorium on Sunday April 1 st featuring renowned Pakistani film singer Saira Naseem. Although the audience was limited in number, the diehards from both sides of the Punjab border were determined not to let old relationships be forgotten as local performers of both Indian and Pakistani origin and representatives of The Indus Valley American Chamber of Commerce (http://www.induschamber.com/ ) took to the stage and showed their enthusiasm.
Amongst the dignitaries on hand to show their support was State Assembly Member Roger Dickinson of the 9 th District. From his website "A strong advocate for youth, the environment and job creation, Roger has been at the forefront of reform in California. He believes in working together to create lasting solutions. With a history of bipartisan cooperation, he won't sacrifice his principles and will make sure that the state balances its budget, but not on the backs of hard working families." What one can add here is that Roger is also a huge admirer of Sacramento's ethnic diversity and elaborated on that fact as he presented a token of appreciation to local leadership. He in turn was also honored by the same and we hope that the Sacramento South Asian voting population will show their support for him during the coming elections.
Punam Malhotra and Mr. Mann opened the show with their high energy performances. Shahid Hussain from Lahore also put in his contribution before the very stylish Saira Naseem took to the stage starting off with Urdu poet Faiz Ahmed Faiz's "Mujh Se Pehli Si Mohabbat" made famous by the late great Noor Jehan (1926 to 2000). Saira then proceeded to belt out one Punjabi number after another, the favorites being from the movie "Choorian" (Glass Bangles) released in 1998. Reportedly at the end she closed the show with a Dhamaal or ode to the wandering minstrel with a dazzling "Mast Qalandar".
-------------------------------------------------------------------------------------