Mashal Projects the Best of Pakistan with Josh (Passion)
By Ras H. Siddiqui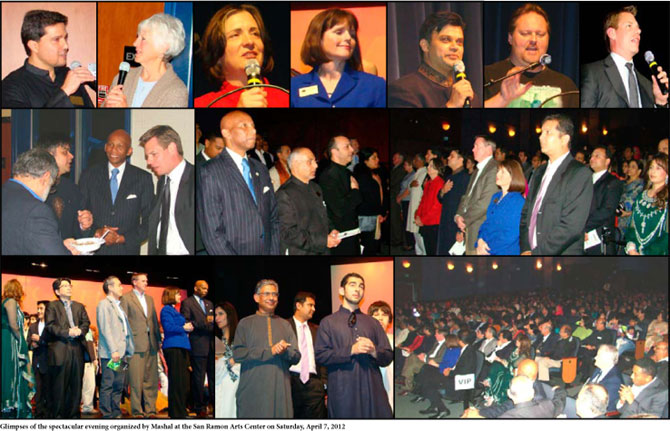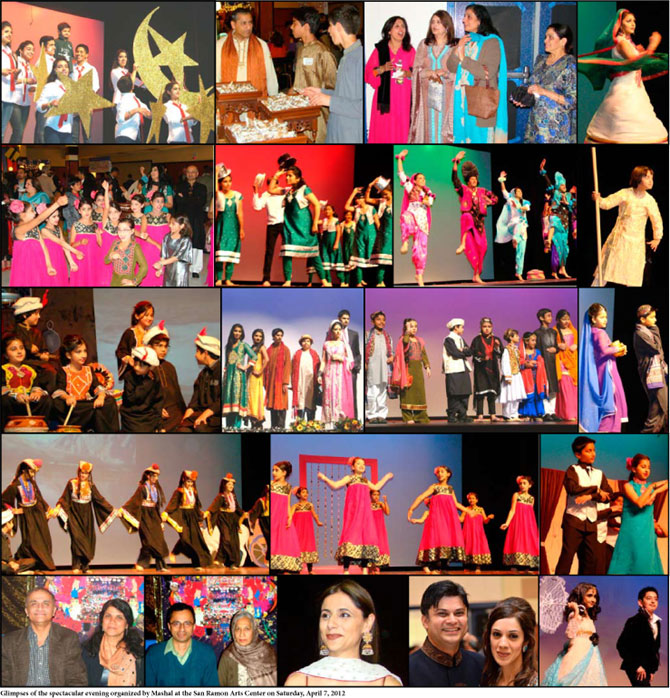 The Mashal organization based in the San Francisco Bay Area cities of Danville, Dublin and San Ramon (but reaching far beyond) once again impressed everyone, including many of its neighbors and local dignitaries, with their josh (passion) and a spectacular evening highlighting the best of our cultural heritage at the San Ramon Arts Center on Saturday, April 7, 2012.
So right off the bat (since many in the group are huge cricket fans) kudos are in order for the event organizing committee comprising Abid Farooq, Amjad Masood, Anwar Mirza, Azhar Mahmood, Fatima Afzal, Faraz Sattar, Jafar Safdar, Muhammed Jawaid, Omar Khan, Shahid Saghir and Tanvir Sattar along with program directors Rasim Bokhari and Sonya Bokhari and Food Street director Ayesha Omar Khan (and all of the team) for making this evening a truly memorable one.


Every year Mashal, whose motto is "Together we can make a difference," is known for pushing the festive envelope and comes up with new ideas for their annual event. This time was no different since one of the best projections of Pakistani culture is its cuisine and the "Food Street" concept borrowed right out of Lahore and Karachi made not only a colorful and tasty first appearance in the Bay Area but succeeded so well that the it may have to be duplicated and adopted by other Pakistani organizations in this country as well. Where Biryani, Chaat, Haleem and Kababs are topped off with Mithai or chased with Pakola (Green) Ice Cream Soda and Lassi and last but not least Paan, little can go wrong.
But that was just the food. The décor complete with a huge backdrop of old Lahore and the kites in the air added something special. For our amusement, Food Street also came with its own Pakistani police officer. It was a bit tiresome for older people but the atmosphere created by guests eating and socializing on their feet, with "Radio Pakistan" playing many popular South Asian hits in the background worked quite well. The trivia contest conducted by Omar Khan on Pakistani Television, film and radio entertainment that many of us grew up with, was something that just had to be experienced by being there. And little did we know that Pakistan's first Prime Minister Liaquat Ali Khan had actually visited San Ramon in 1950 and a local family that hosted a part of the visit was nice enough to bring some photographs to share with everyone.
The formal event began with the playing and singing of the American and Pakistani national anthems. Emcee for the evening Malika Junaid from Los Altos did a really impressive job throughout the evening especially with so many different facets of American and Pakistani lives covered during the show. The first person introduced was Mashal President Faraz Sattar who in his speech introduced many of the local area dignitaries present from the political, social and business realm (Fujitsu of America was a major sponsor of this event). "I say that josh (passion) is in our DNA," said Faraz. He added that josh was in our food and a part of our life in Pakistan. He commended all of the participants who had put more than 2000 man-hours preparing for this show. He said that Mashal was all about building bridges with our neighbors in the community.
Next, Assemblywoman Joan Buchanan from California's 15 th District gave the audience an update on Sacramento and urged all in attendance to strongly support California Governor Jerry Brown's upcoming budget measure in November, especially to help our school system. She said that in many respects we are privatizing public education at every level in this state, especially at the college and university level. She also presented a California Assembly resolution to Mashal on this, their 4 th annual event.
Mayor Candace Andersen of Danville spoke next. She congratulated everyone for holding this event and said that she loved the "josh" here and added that it was something that we all need in our community. She highlighted the diversity present in the region through which a great deal can be learnt. She said that Mashal's community service is truly appreciated in the Danville-San Ramon area (Mashal held a walk last year for Fallen Heroes amongst the local support services. Area Fire Department and Police officials were present at this event to show their support).
Humanitarian and musician Todd Shea from the Shine Humanity organization next both informed and entertained everyone with his deep and very different insights on Pakistan. He said that there are people in both America and Pakistan who think that he is a little crazy for doing what he does. Todd's community disaster efforts began in America immediately after 9/11 and continued into Pakistan in the aftermath of the earthquake there in 2005 and the recent bouts of floods have kept him there. He praised the efforts of Sattar Edhi and was happy to note that he was being considered for the Nobel Prize, since nobody on the planet deserved it more. Todd said that in America you hear 2% of the truth about Pakistan 100% of the time. On reviving his musical background Shea spoke of a 4 CD collection with numerous musical artists in Pakistan titled "Sonic Peacemakers - The Sounds of Pakistan and Beyond" which will be available for purchase in America soon (this scribe obtained an advance copy which will be reviewed soon).
Before moving on here, amongst the others who spoke at the event was Eric Swalwell ( www.swalwellforcongress.com) from Dublin who is a Democratic candidate running for US Congress. Eric currently works as a prosecutor for the Alameda County District Attorney's office and has been an elected City Councilman. He grew up in this area and said that much has changed in Dublin and San Ramon and that the new diversity has made the region better. He added that we should never stop learning from each other. A vote for Eric Swalwell for US Congress, California's new 15th Congressional District, could be a wise decision for the local South Asian community.
Due to article length constraints here the cultural program by our community youth is getting shortchanged here but once again they excelled in all areas. From the first segment "Josh-The Rising Tide" all the way to "Jazba Junoon" at the very end this over two-hour extravaganza melded the colors and talents of Pakistani-American cultural experience in a wonderful way. In between these two segments there were fashion shows, dances, comedy, Sufi-inspired vocals (great job Faraz Syed), drama and even a segment on marriage arrangement.
Once again, Mashal has outdone itself with its cultural show and for that the community kids and their mentors deserve a great deal of praise.
To conclude Mashal ( http://www.mymashal.org/ ) is one Pakistani-American organization that has kept the josh alive for their country of origin in America. And they have once again done it in a befitting manner.
-------------------------------------------------------------------------------------