Urdu Academy's Grand Mushaira Draws Large Crowd
By Abdus Sattar Ghazali
Pictures by Naheed Zaheer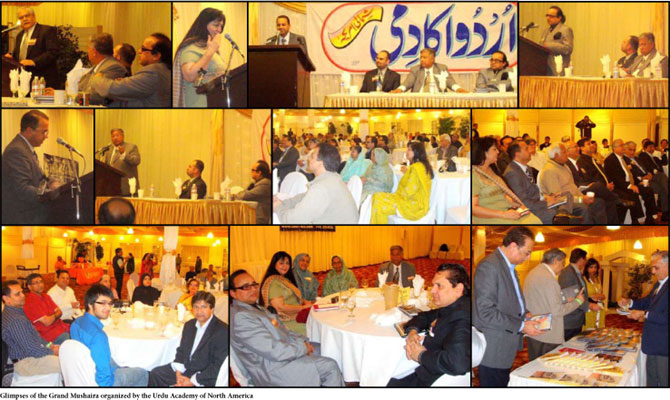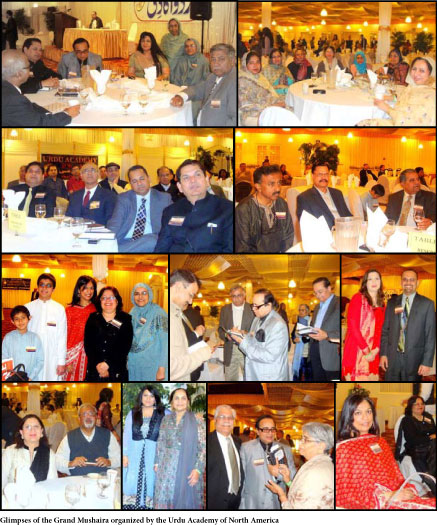 The Urdu Academy of North America held its second successful North America Mushaira on April 1, 2012. It was chaired by well-known poet Sarfraz Abd, who had specially flown from Texas to attend the event. Poet Muqsit Nadeem from New York was the chief guest while poet Ahmad Shawar was the Master of Ceremony of the Grand Mushaira held at the ornate banquet hall of the Chandni Restaurant in Fremont/Newark, California.
Incidentally, the Grand Mushaira coincided with the US National Poetry Month launched by the Academy of American Poets in 1996 which is now held every April. During the month-long celebrations the publishers, booksellers, literary organizations, libraries, schools and poets around the country band together to celebrate poetry which has been described by William Hazlitt as a universal language which the heart holds with nature and itself.
The importance of poetry has been befittingly stressed by John Keating in the movie Dead Poet's Society: "We don't read and write poetry because it's cute. We read and write poetry because we are members of the human race. And the human race is filled with passion. And medicine, law, business, engineering, these are noble pursuits and necessary to sustain life. But poetry, beauty, romance, love, these are what we stay alive for."
The Mushaira event was divided into two sessions. The first session was dedicated to the inauguration of Muqsit Nadeem's new diwan "Maa Ba'ad." Prof. Abdul Jabbar of the City College of San Francisco wrote an exhaustive paper in English on the poetry of Muqsit Nadeem who is the author of three diwans. Since Prof. Jabbar was abroad, his paper was translated in Urdu and read by Tashie Zaheer, President of the Urdu Academy of North America.
In his paper, Prof. Abdul Jabbar said sometime we can gain an insight into the mind of a poet and understand his manifesto from the dedications of his work and "Muqsit Nadeem has made our task quite easy by dedicating all three volumes of his poems with meticulous care."
His first volume -- "Khuda bhi roya" -- is dedicated to "the poorest person in the world."
His second collection of poems -- "Gudaz" -- is dedicated to "that crumb of barley bread that enabled us to distinguish between momin and amir-ul-momineen.
With his third volume of poems -- "Maba'ad" -- Nadeem chose to honor two individuals -- the inventor of paper TSai Lun and the famous physicist and author of A Brief History of Time, Stephen Hawking.
These dedications make us aware of some of the concerns that are central to the poet. Nadeem's compassion for the victims of societal evils is apparent from many of his poems, and, for a wordsmith, what could be more appropriate than honoring the inventor of paper. However, the allusion to Hawking is not as self-evident. An important poem "Murshid" from the third volume sheds some light on this reference.
Besides a poet's dedication, another angle of approach to understand the evolution of his thought is the recurrent themes and the poet's variations on those themes, Prof Abdul Jabbar said, adding: One such important theme is that of the necessity of self-reliance to avoid the trap of fatalism:
"soachta tha maiN jab, ye khuda ne kiya, wo khuda ne kiya
doosroN per mujhay apne ilzam dharne ki aadat pari.
ay meray charagar! teray dhokay nay dunya badal thi meri
besahara hua, apne qadmoN per chalnay ki aadat pari."
Prof Abdul Jabbar quoted the poet himself about the craft of poetry. In "haraf ki taqat," an essay that introduces his third book of poems, Nadeem says:
"Sher kehna ya likhna apne bas ki baat nahiN, magar achha sher likhna ya kehna kisi had tak apne bas maiN hai. Ba'z auqaat lottery ke tarah har shaair se aik aadh achha sher sarzad ho jata hai. Magar aap lottery maiN niklay huay inamaat per poori zindagi nahiN guzar sakte. uske liya mustaqil mutalea or kaam karna parta hai. Baqaeda mehnat karni parti hai."
There is no doubt that Nadeem's above-stated poetics have served him well in creating a body of work that is worthy of serious attention.
Sarfraz Abd also spoke about the poetry of Muqsit Nadeem.
Don Marquis believes that writing a book of poetry is like dropping a rose petal down the Grand Canyon and waiting for the echo. Muqsit Nadeem has dropped a new rose petal down the Grand Canyon and is now waiting for the echo.
Mushaira session
The second session was dedicated to the Mushaira. North America is now self-sufficient in catering the literary needs of the Urdu-speaking and Urdu-loving Diaspora with outstanding and renowned literary personalities and the Grand Mushaera was an affirmation of this conviction.
The Mushaira attracted prominent poets from Texas (Sarfraz Abd and Farha Iqbal), New York (Muqsit Nadeem and Shokat Fehmi), Maryland (Fayyaz Uddin Saieb and Naseem Farogh) and New Jersey (Iqbal Danish).
Local poets who amused the audience included Tashie Zaheer, Ahmar Shehwar, Farooq Taraz, Urooj Awan, Lubna Manzar, Naseer Humayun, Arshad Rashid and Misbah Rehman.
At the beginning of the Mushaira, Misbah Rehman, a young emerging poet of the Bay Area, amused the audience with his thoughtful verses. He was followed by another young emerging poet, Arshad Rashid.
Prof Lubna Manzar thrilled the audience with her reflective poetry:
Ham gaey waqt kee rodaad sunaeN kaisay
Apnay Aaeenay to Aaeena dikhaeN kaisay
Koee tha jo meree dastak ko dua kehta tha
Ab wahaN koee naheeN hay wahaN jaeN kaisay
Ahmad Shawar, a grandson of renowned poet Sabah Lakhnavi, was next to recite.
Woh gham-e-Aashnaee kab day ga
dil ko daagh-e-judaee kab day ga
raat kaTtee naheeN kisi soorat
janay sooraj dikhaee kab day ga
bas mujhay aik Harf likhna hay
woh mujhay roshnaee kab day ga
Another prominent poet of California, Farooq Taraz, captivated the audience:
Bay saro-samaan apnay qaflay chaltay rahay
Ham say ziada is safar maiN faslay chaltay rahay
Raabta dar raabta bantay rahay sab raabtay
Sisila dar sisila sab silsilay chaltay rahay
The audience was also delighted by the style of Naseer Humayoun:
Hijr ka phool sada khwab sara maiN rakkha
Us kee khushboo nay mujhay apnee hawa maiN rakkha
Rizq manga hay magar ishq say kam maNga hay
Fasla maiN nay talab aur dua maiN rakkha
Tashie Zaheer was the last among the local poets who thrilled the audience with his introspective poetry. Another interesting feature of Tashie Zaheer's presentation was his successful attempt to amuse the audience with his unique taranum.
Rehaee gar naheeN mumkin to phir saza hee milay
Kisee tarah to hamaiN dad-e-be-gunahee milay
Hamara jurm to sabit na ho saka laikin
Hamaray qatl kay ahkaam badshahee milay
Farah Iqbal from Texas was the first guest poetess who drew wide applause with her musical delivery style.
Meree Aansoo bharee muskaan pay Hairan ho tum
Kia kabhee dhoop maiN barsaat naheeN dekhee hay
Meray bheegay huway kajal say pareshaan ho tum
Kia sitaroN say bharee raat naheen dekhee hay
Naseem Farogh from Maryland excited the audience with his popular verses:
kab tak Aazadee kee qeemat ham ada kartay rahaiN
aur sadqa kitnee nasloN ka utara jaega
bethay haiN hijrat kee kashtee maiN gham kuch bhee naheeN
ya to kashtee jaegee warna kinara jaega
Shaukat Fehmee from New York also drew wide applause:
Bas yeh naheeN keh arsh-e-bareeN kay naheeN rahay
TooTay huway sitaray kaheeN kay naheeN rahay
Ab kia kareN gay saree khudaee ko lay kay, jab
Ham log thay jahaN kay waheeN kay naheeN rahay
Fayyaz-ud-din Sahib from Maryland elated the audience with his penetrating verses:
maiN qatl ho kay bhee zinda hooN tumhaiN Hairat hay
tumhaiN khabar hee naheeN sach mara naheeN karta
kuch ikhtiyar diya hay tumhaiN bhee duniya maiN
har aik kaam to saeb khuda naheeN karta
Muqsit Nadeem from New York presented his kalam:
Fana kee qaid maiN say ik din farar hona hay
Ay Aadmee! tujhay parwardigar hona hay
maiN teray sath kinaroN pay chal naheeN sakta
ay mauj-e-waqt mujhay bhee-kinaar hona hay
The last poet was Sarfaraz Abad from Texas who captivated the audience with his unique tarranum:
Sabza zaroN maiN ja kay kia hoga
Zakhm-e-dil aur bhee hara hoga
Aaj izhaar-e-mudda'aa hoga
Jaan jaegee aur kia hoga
Tum jab aaeena dekhtay hogay
Tum ko aaeena dekhta hoga
Surkh-roo hogee taigh ya gardan
Qarz hijrat ka kab ada hoga
At the beginning of the Mushaira, Tashie Zaheer, President of the Urdu Academy of North America welcomed the Urdu lovers on behalf of the Academy. He also dwelled on the history of the Academy and informed that it holds monthly literary gatherings regularly. He thanked all the active members of the Academy who make the gatherings possible. He particularly thanked Khalid Rana, the Operations Director of the Academy, for his efforts in making the Grand Mushaira event possible. Tashie Zaheer also thanked the following Academy members and supporters:
Ahmad Shawar, Arshan Naseer, Naheed Zaheer, Farzana Siddiqui, Arshad Rashid, Zafar Naqvi, Meraj Sultana Ghazali, Abdus Sattar Ghazali, Misbah Rehman, Farkhuna Rehman, Sumayya Rehman, Usman Rashid and Samiur-Rehman.
Besides, he thanked Syed Sarwat, owner of the Chandni Restrautant for hosting the Urdu Academy literary gatherings and patronizing Urdu in the Bay Area. He also thanked Pakistan Link, a leading Urdu/English American newspaper, for giving frequent coverage to the Urdu Academy events.
-------------------------------------------------------------------------------------