Dr Alam's Dhanak Ka Athwan Rang Launched at Impressive Ceremony
By Akhtar Mahmud Faruqui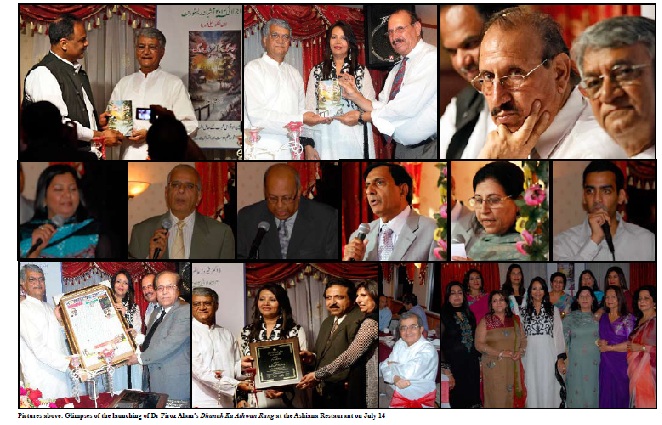 Physicians and medical doctors don't write for Lancet or Nature alone to furnish clue to dreadful diseases. They also excel as expressive fiction writers to portray the agony and elation of life.
Testifying to this unmistakable trend, Andrea Crawford provides convincing proof in an illuminating article For Writers, the Doctor's Definitely in: The literary lineage of those who pursue medicine and also write is long with Anton Chekhov, Sir Arthur Conan Doyle, William Carlos Williams, Mikhail Bulgakov, John Keats, and W. Somerset Maugham as standouts through history. Even among contemporary writers, doctors continue to hold their own. Today's most celebrated examples include Khaled Hosseini and Daniel Mason — who followed up his best-selling debut novel, The Piano Tuner (Knopf, 2002), published while he was still in medical school, with A Far Country (Knopf, 2007).
This is also true for a select group of writers in Urdu literature who have been as consistent and prolific as others in painting man as a mortal with all his frailties and follies. Dr Shafiqur Rehman's entrancing characters – Roofi, Hookomat Apa, Razia, Shaffoo Bhai, Rustam, and Shaetan - indisputably cast a spell on the readers. They still do. Kirnain, Shagoofay, Maddo Jazar, Himaqaten and Pachtaway, written more than half a century ago, are deeply etched on our memory.
Blissfully we have a new breed of writers today who continue the wholesome tradition. Dr Firoz Alam is one of them. A physician from Pakistan, Dr Alam has made his mark as a short-story writer in North America. In the words of novelist and short story writer Anwar Khawaja, he is "the best contemporary afsana nigar of India and Pakistan".
The launching of Dhanak Ka Athwan Rang, Dr Alam's latest collection, at the Ashiana Restaurant in Diamond Bar on July 14 demonstrated the physician's forceful depiction of life, and the appreciation his work has won from leading literati. Prominent short story writer Anwar Khawaja chaired the proceedings. Consul Dr Khalid Ejaz was the chief guest. Well-known writers - Majeed Akhtar, Tasnim Sana Khan and Zia Khan - presented papers highlighting Dr Alam's literary work. Mrs Farhat Khwaja presented a poem and Tabish Khanzada emceed the proceedings. Dr Alam won standing ovation as he read Qatra qatra zindagi, a short story based on his real life experience of treating a young patient of muscular dystrophy. The physician was forced to end her life by administering a dose of seconal. It was an absorbing, moving account. Many in the audience fought tears as the story, a real life tragedy, came to an end.
Consul Khalid Ejaz, who has read Dr Alam's afsanas, lauded the writer. "Dr Sahib kuch kehne ki himmat rakhte hain… Khari khari baten karte haen… Such kehne ka hosla rakhtae hain…Dosre das hazar doctors inhi ehsasat sae guzartae haen magar woh yae nahin karte…" He strongly felt that Dr Alam's short stories should be translated in English for the enlightenment of mainstream Americans. Afsanas like Dahshat gard would help to understand Pakistan's perspective on the war on terror better.
The Alams provided proof of being a closely knit family on the memorable evening. Shaista Alam sat sedately besides her husband and son Hamad recounted his childhood experiences, "Abboo kahani sunane maen mahir haen aur unki khush kismati hae kae ham sunne ko bhi tayyar haen," as the book-launching proceedings continued. Daughter Hira Alam becomingly presented bouquets to Mr Anwar Khawaja and Dr Khalid Ejaz. Plaques were also presented to Dr Alam by Akhtar Mahmud Faruqui and Anwar Khawaja on behalf of PL Publications (publishers of Pakistan Link and Urdu Link), and Irfan Murtaza and Nasreen Afshan on behalf of Urdu Writers Society.
-------------------------------------------------------------------------------------