Pakistan Still in the Front Line
By Akhtar Mahmud Faruqui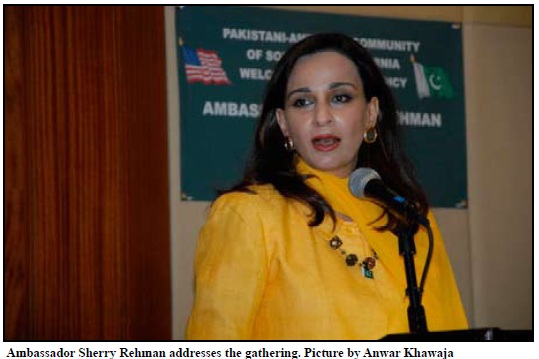 Long Beach, CA: A forceful reiteration of Pakistan's commitment to the war on terror was made by Ambassador Sherry Rehman at a luncheon hosted in her honor by Consul General Riffat Masood at the Long Beach Marriott on August 26.
Addressing Pakistani Americans, city officials and mainstream Americans drawn from various backgrounds the ambassador categorically stated that "Pakistan is still in the frontline in the fight against terrorism" and referred to the "heavy lifting" that the country has done in this arduous undertaking. She described the past few months as "extremely difficult times" but assured the gathering that we "have overcome many of our differences and narrowed them down." These are important developments for the US, Pakistan and the world.
Avoiding insipid diplomatic rambling, Ambassador Rehman's remarks were succinct and scintillating, studded with bursts of brilliance at times. She enumerated the hallmarks of Pakistani society – tolerant, progressive, and inclusive. She talked of the Founder's vision and befittingly mentioned Mr Jinnah's August 11 speech: "You are free – you are free to go to your temples, mosques, or any other place of worship in this state of Pakistan. You may belong to any religion, caste or creed; that has nothing to do with the business of the state --- in due course of time Hindus will cease to be Hindus and Muslims will cease to be Muslims – not in a religious sense for that is the personal faith of an individual - but in a political sense as citizens of one state."
Pakistan, she affirmed, is a country on the march. And in this forward surge, women's role is catalytic as academics, researchers, diplomats, doctors, editors, lawyers, etc. To the applause and glee of the audience comprising many pretty faces, she remarked, "Many parts of Pakistan are shining" because of women's strivings.
Ambassador Rehman went on to say that "women victimization per square mile" in Pakistan was appreciably less compared to other countries but this was seldom reported in the international media.
Radiating optimism, the ambassador said that Pakistan was poised "to go through a historic transition" – the first peaceful constitutional change of power is due to take place. The consensus on the selection of the election commissioner is a good omen for the country's political future.
She opined the coming elections in Pakistan would be a bruising contest. So would the Presidential elections in the US later this year. Both would be keenly contested. "Ensure that your voice is heard in the coming US elections. US respects people who ask," she told the audience.
Looking debonair in the national dress - a bright yellow shalwar kameez and dupatta – the ambassador won admiration for her deportment and demeanor. Said an American guest seated next to this scribe, "She is lovely. And young. How old is she? Thirty-five?" The compliments were well deserved.
The ambassador also complimented Consul General Riffat Masood on her zest and services. She has been "a uniting force" and under her "outstanding leadership we are able to achieve".
Erum Parveen Bilal, emcee of the program, ably conducted the proceedings. The Consulate staff acted with due diligence.
(Pictures of the luncheon party will appear in the next issue of Pakistan Link)
-------------------------------------------------------------------------------------