Pakistani American Youth Conference Empowers Future Leaders
By Alnas Zia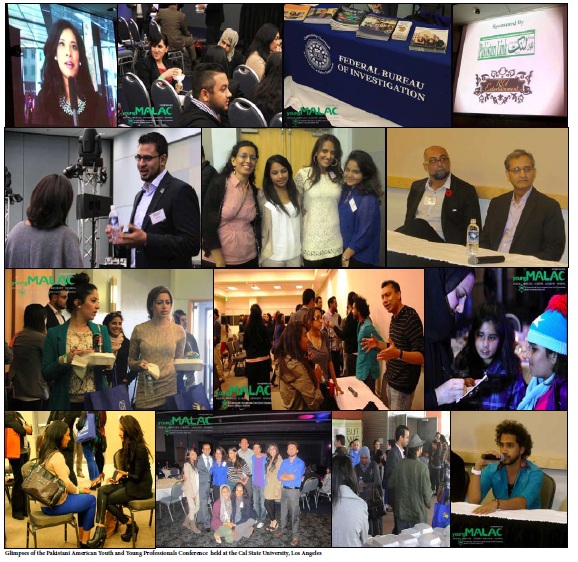 Los Angeles, CA: Youth and minority groups are significant parts of America's social fabric. Their impact has been felt, especially in recent years, within the political arena where their participation has been hailed as one of the success stories of the 2008 presidential election. In an effort to foster continued engagement of youth minority groups, the first annual Pakistani American Youth Conference: Future Leaders Coming Together event united Pakistani American youth from different backgrounds to discuss leadership and community issues.
The event was the vision of Consulate General of Pakistan and YoungMALAC (Young Muslim American Leadership Advisory Council of Los Angeles County Sheriff's Department). And its realization and success was thanks to the efforts of South Asian and Middle Eastern promotions company RU Entertainment , the youth-driven organization promoting Pakistani culture 8fourteen , Pakistani Student Associations of Southern California, and many other charity and youth organizations.
After two gruelling months of preparation and promotion, the conference took place on November 10th at the Cal State University in Los Angeles. The day-long event was divided into four sessions: Exploring the Pakistani American Identity and Community Relations, Tap Into Your Own Potential Workshop, Civic Empowerment: Internships and Resources Connection, and Networking Breakout discussions, with each session aimed at stirring meaningful discourse amongst Pakistani American youth while also encouraging individual voices to be heard across America.
Rumaisa Rehman, a young MALAC board member, and the CEO and founder of RU Entertainment, welcomed the attendees and panelists. "Growing up in Omaha, Nebraska, we didn't have events aimed at Pakistani Americans back then. We have the resources in LA, and we also have the Pakistani American youth here, so why not connect them," Rehman said. "A time has come when our voice is being heard."
Consul General of Pakistan Riffat Masood, an advocate of youth engagement and activism, thanked LA Sheriff Lee Baca for his unwavering support and dedication to the Pakistani community by calling him the "loudest voice of Muslims" in LA. Masood also emphasized on "integration," a word that was echoed throughout the day as panelists underlined the significance of finding their identity in the American society while being connected to their Pakistani roots. "Muslim Americans are engaged in the betterment of not only their families but people outside their communities," Sheriff Baca said in the welcome address. "When you call yourself a Pakistani American, you are a replica of what America is built on, its foundations, its ideals."
Rob Asghar, American writer, columnist and political commentator, talked about "India envy," a term he coined to refer to his awe and appreciation of Indians being a model immigrant community in the US. "I started writing about Pakistan Americans in my columns after 9/11. There wasn't an incredible interest about Pakistani Americans," Asghar said. He compared that lack of interest about Pakistanis with the fascination that the American society has for India and how it associates India with yoga and spicy cuisine. But he later realized of Pakistan's great potential to be an active and dominant community in the US when an Indian friend once confessed to him of having "Pakistan envy," a view that stems from Pakistani Americans' unique opportunity to engage in dialogue and change the current mindset about Muslims.
Shaykh Jamaal Diwan, a Southern California native and the Resident Scholar at the Islamic Center of Irvine, also talked about having Islam as the platform to have the Pakistani voice heard in the multi-faith and multicultural American society. Shaykh Diwan, who accepted Islam in 2003, is a product of a multicultural and multi-faith family. "We have fears about Islam. We have Islamophobia inside us. We need to know what is and what isn't Islam, and draw the beauty out of it. Multiethnic and multicultural tension is good. We also need to learn how to tell our story to weave ourselves into the beauty of our culture and religion," he said.
An FBI information booth was also set up at the conference to educate and assist the young men and women who are looking for a career in the law enforcement department. "We are here to dispel myths and educate the youth about the FBI. We respect all cultures, and we want to encourage the Pakistani youth to work for us and help us solve issues related to the Pakistani community," FBI community outreach specialist Diane R. Gonzalez told Aslan Media.
The panel discussion with Pakistani Americans from the entertainment industry seemed to receive the most interest from the young crowd. The panel highlighted the achievements and stories of award-winning and renowned producers, writers, visual effects specialists and musicians of Pakistani descent. Qurram Hussain, a Pakistani Canadian and the other half of Josh -- the internationally acclaimed South Asian band that was also the headlining act of the evening -- shared his story of discovering his passion for music as a son of doctor parents who urged him to have engineering as a backup career. He also spoke of his struggles of getting signed by a major record company in India and of the wakeup call he got after his expectations of receiving special treatment on the basis of his Canadian background weren't met. "We faced many rejections, but it is what you decide during (the period of) rejections that counts in the end."
Keynote speaker of the evening, Pakistani American weightlifter Kulsoom Abdullah, won the hearts of the audience as she also shared her story of perseverance and self-confidence. Abdullah, who despite being born and raised in America chooses to represent Pakistan at international competitions, gained worldwide media attention when she fought for her right to wear clothing that covered her arms and legs at weightlifting competitions. She was barred from the US National Weightlifting Tournament 2011 when she attempted to compete in a modified version of the uniform which adhered to her religious beliefs on modesty. Her case was ultimately reviewed by the International Weightlifting Federation, which ruled in her favor. "I didn't know if things would go in my favor. The worst thing they could say was 'no,'" she said of her trials. "I received a lot of media attention in Pakistan. People all around the world can relate to my story because it's a civil rights issue."
At the end of the event, the toll of several painstaking weeks of preparations was apparent on Rumaisa Rehman's face. "People have been thanking us all day, and telling me that it is everything that they wanted from a Pakistani American interactive conference. I love the unity I saw at the event today, especially amongst the older generation of Pakistani Americans," an exhausted Rehman told Aslan Media.
Nevertheless, she looked proud as she glanced around the room filled with radiant and determined faces of young Pakistani Americans. In a way, she had passed on the torch to the next generation of Pakistanis to make a difference in the American society. – Courtesy Aslan Media
-------------------------------------------------------------------------------------