Hate Will Not Divide Us, Affirm Interfaith Leaders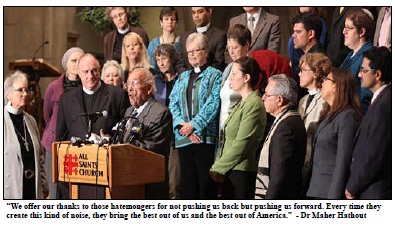 Los Angeles, CA: On December 6, more than 25 Southern California interfaith leaders joined the Muslim Public Affairs Council and All Saints Church to address a stream of hate emails the church has received for hosting MPAC's 12th Annual Convention on Saturday, Dec. 15, and to say "No to Hate." They gathered in the sanctuary of the church for a press conference, and called the attacks a clear demonstration of the need for such an event.
Following an article published by Right Side News attacking All Saints Church and MPAC last week, the church received more than 30 emails criticizing them for associating with the Muslim organization, using vile and hateful language.
The church has responded with blogs , a powerful sermon by the Rev. Edwin J. Bacon, the senior pastor of All Saints Church, and then December 6 th's historic p ress conference reiterating its unwavering commitment to hosting this important event as a symbol and act of standing together as people of faith.
"There is a deep spirituality that holds us together and an understanding of God-consciousness that we share in our prayers together," the Rev. Bacon said, during the press conference. "The fact is that our life in America is transacted in a culture of fear and transacted in a culture of hatred. We standing before you have committed ourselves to one another and our religious organizations to say that whenever we give ourselves over to fear and hatred, we lose touch with the truth, we lose touch with facts and we lose touch with a way of finding our way forward to hear the entire world. We are very happy to have this occasion to put on display our relationships."
Dr. Maher Hathout, MPAC's Senior Adviser, described the opposition as an expected response when diverse groups of people come together to forge a path forward rooted in cooperation and understanding.
"We offer our thanks to those hatemongers for not pushing us back but pushing us forward. Every time they create this kind of noise, they bring the best out of us and the best out of America," Dr. Hathout said. "The US is the beacon to bring people together to address their ideas and identities freely and without coercion. This sums up the theme of the convention - 'Our Future in the Making.' We are here to discuss and learn from one another. We invite all of you to attend and be part of the conversation."
In addition to interfaith leaders, Betty Yee , a member of the State Board of Equalization, spoke at the press conference, and Rep. Adam Schiff (D-CA) also released a statement of support.
"I commend All Saints Episcopal Church for hosting the Muslim Public Affairs Council convention as part of its efforts to build an interfaith understanding based on shared values. I was deeply distressed to learn of the hateful and vitriolic messages that the church has received. Yet, these odious emails will only increase our determination to fight bigotry and increase understanding. I wish both the Church and MPAC a successful convention and know that they will not be deterred by the hateful speech of the intolerant."
The press conference was streamed live and was watched nationally by more than 40 viewers. MPAC President Salam al-Marayati added that security measure are being taken for the Dec. 15 Convention including working with the Department of Homeland Security, FBI and local authorities.
For more information and to PURCHASE YOUR TICKETS for MPAC's Convention, visit www.mpac.org/convention .
Founded in 1988, MPAC is an American institution which informs and shapes public opinion and policy by serving as a trusted resource to decision makers in government, media and policy institutions. MPAC is also committed to developing leaders with the purpose of enhancing the political and civic participation of American Muslims.
-------------------------------------------------------------------------------------