APPNA Southern California Chapter Holds Annual Dinner
Pictures by Anwar Khawaja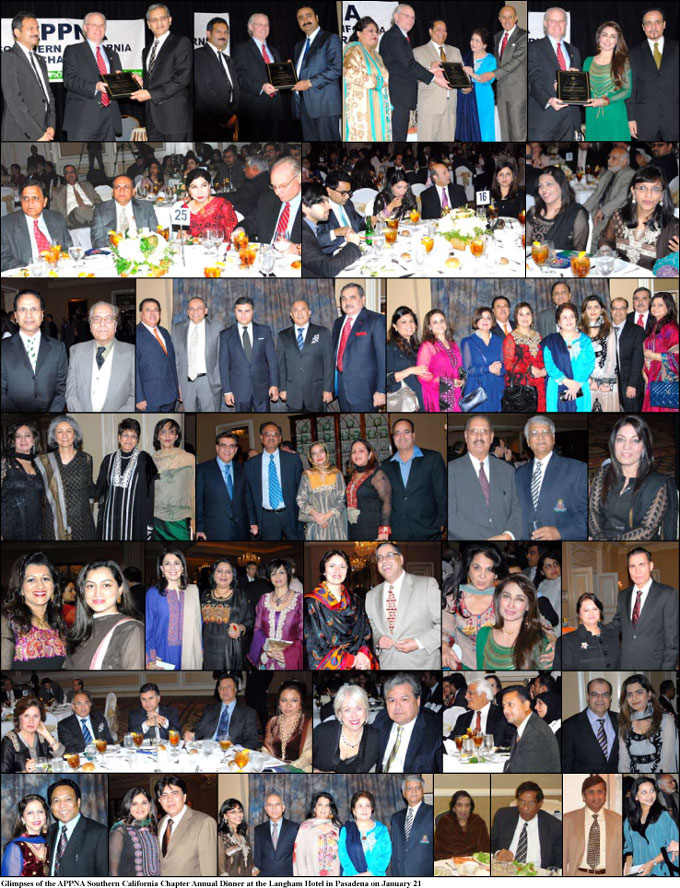 The APPNA Southern California Chapter held its annual dinner at the Langham Hotel in Pasadena, California, on January 21. The dinner was attended by over 250 physicians from Southern California and other cities, including San Diego, Fresno, Kingman and Las Vegas. Many APPNA stalwarts, including Dr Manzoor Tariq and Executive Committee members from other states attended the dinner. Dr. Saima Zafar, President of APPNA 2012, flew all the way from Iowa to be present at the event. Mr. Tim Lenderking, Director of Pakistan Affairs at the State Department, was the keynote speaker of the evening.
Other speakers included Congresswoman Judy Chu; State Controller John Chiang; Consul General Riffat Masood; City Attorney, Carmen A. Trutanich; Dr. Asif Mahmood, President APPNA Southern California Chapter; Sheriff Lee Baca and Dr. Saima Zafar, President APPNA 2012. Hollywood actor Farhan Tahir was the emcee of the event.
Awards were presented to prominent community members in recognition of their contribution in their respective fields. The awardees included Dr. Sohail Masood, Dr. Salman Naqvi, Mr. Najeeb Ghauri, Mr. Karim Ahmed, Mr. Waqar Ali Khan, and Mrs. Reema Khan.
The candidates who spoke on the occasion included Dr. Asad Qamar, Dr. Asif Rehman and Dr. Pervaiz Iqbal for President; Dr. Farid Qazi for Secretary and
Dr. Tariq Shahab for Treasurer.
The chief organizer of the program was Dr. Asif Mahmood, President APPNA So Cal Chapter. The event was coordinated by Fatima Khan of Safeer e Pakistan which was also the official media partner of the event.
-------------------------------------------------------------------------------------