The Year 2011 in Review from Northern California
By Ras H. Siddiqui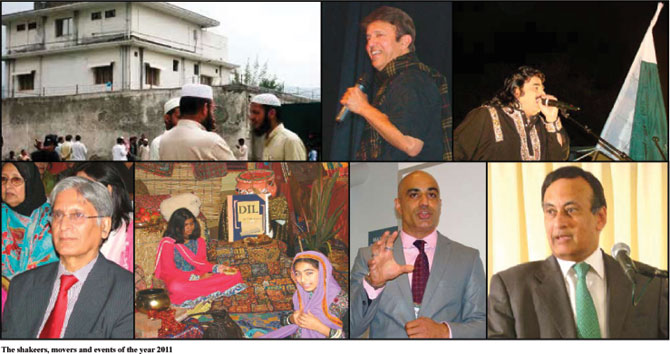 The year 2011 is behind us and 2012 is the one that the Pakistani-American community looks forward to with anticipation and apprehension. So while wishing our readers a "Happy New Year" , this scribe journeys back through the past year through a few events that were reported on and those that were somehow missed. But let us not forget the backdrop.
Last year did not start off well for the country of origin, reached a disastrous point in May, followed by floods again in Sindh and not to forget the "Memogate" scandal. Fortunately, 2011 ended on a more hopeful note with the PTI rally in Karachi on December 25 th.
Last year started with the murder of Punjab Governor Salman Taseer. Pondering over the news of his killing, somehow the following line: "Aik Safar Woh Hai Jis Mein Paoon Nahin Dil Thakta Hai" from late Urdu poet Ahmed Faraz came to mind. Not only was this news sad, but the reaction of some members of the community there for congratulating his killer was shocking. Is this what Pakistan has become? It was a sad January indeed.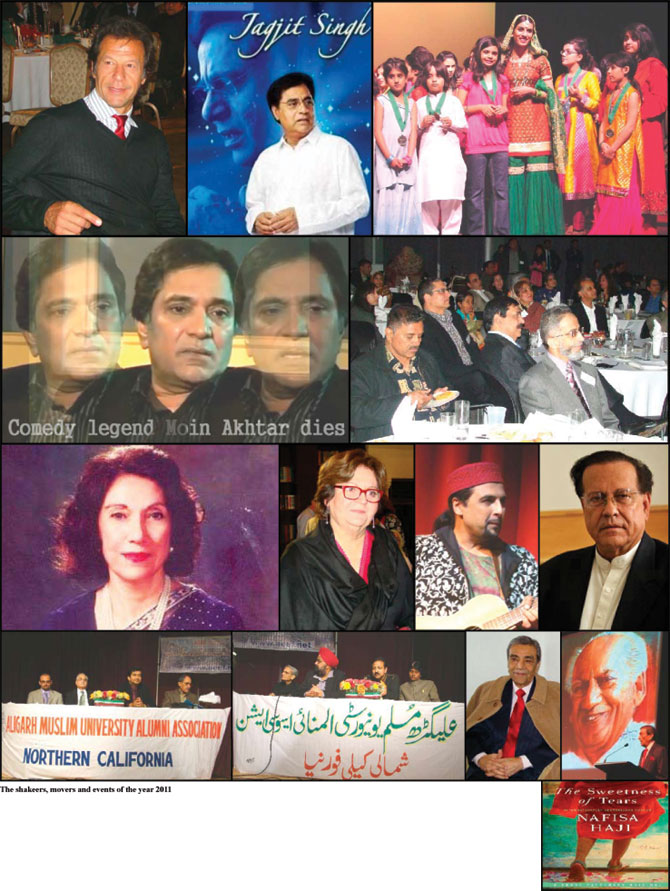 But here in another part of the world our Sufi Rocker Salman Ahmad visited Palo Alto, California with a solid performance at an "Abrahams Vision" gathering where Christians, Jews and Muslims along with people of other faiths, danced to the music praising the mystical realm of the Qalandar minstrels who honor both God and the Prophet (PBUH).
The Alumni of the NED Engineering University of Karachi in Silicon Valley also held an event in February during which some people did not overlook their philanthropic roots (Nadirshaw Edulji Dinshaw, a Parsi founded this fine institution) and tried to set up a mechanism to give back to their Alma Mater. A performance by Alamgir was a big plus here too.
And March 2011 was noteworthy for two great happenings. The Faiz Ahmad Faiz Centenary was officially launched in Northern California courtesy of The Citizens Foundation (TCF), an effort doing some important work. The major attraction at this program was the legendary Zia Moheyeddin and what an evening it turned out to be! The other major event was the Cricket World Cup which Pakistan gracefully exited after a loss to India which went on to win the big one.
April was a month of highs and sadness for Pakistani origin people. The Mashal organization held a grand event in San Ramon during which it shared Pakistani culture with both locals and with our American born generation by inviting them to fully participate/perform in the event. Our community needs more groups like this one to project Pakistan's image. The sad part of the month was the passing away of Moin Akhtar, one of the most talented performers in Pakistani show business history. Rest in Peace Moin Sahib. You were amongst the best comedians that walk this planet!
The low point in (post-1971) Pakistani was reached in May 2011 during which the world's most wanted man was found and killed by US Navy SEALS while living quite comfortably in Abbottabad, a stone's throw from the premiere Pakistan Military Academy. If there was an event that threw the entire Pakistani-American community (numbering close to 500,000 people in this country) under the bus, this was the one. One wonders if people back home even understand the predicament that they put us in, or if they even care? Whoever hid this man there has put that country itself in danger too.
Talk about trying to do some damage control, but finally meeting Hollywood actor Faran Tahir was a refreshing experience. His sharing with our young people the experiences that he had on the road to becoming a star were (in this scribe's opinion) the high point of the OPEN Forum Conference held in Silicon Valley last year. Nafisa Haji's book "The Sweetness of Tears" was also released at around that time and it should be read widely. More of our community artists and writers need to step forward, but can they do that without our community support?
After a hot July and Ramadan during August, Eid and Pakistani events kicked off September both in Sacramento and Pleasanton, California. The highlight of the Sacramento event was a great musical performance by Arif Lohar and one of the finest half hours of wisdom sharing this scribe has had the opportunity to hear, by PPP leader Barrister Chaudhry Aitzaz Ahsan during which he journeyed through the current predicament that Pakistanis and Muslims today find themselves in and offered some solutions. We also had a chance to highlight the life and works of Faiz Ahmad Faiz once again in September through the visit of his daughter Salima Hashmi to Berkeley.
October 2011 brought us to the annual Sir Syed Day Banquet and International Mushaira. Also during the month, former Pakistan Ambassador to the US Mr. Husain Haqqani made his last official visit to the San Francisco Bay Area to meet the community. Haqqani has resigned recently amidst the "Memogate" scandal. One could always count on the Pakistani Establishment to go after the wrong Haqqanis and once again it appears that they have done so. We also lost former first lady Begum Nusrat Bhutto in October.
Flood relief efforts both in Silicon Valley and in Sacramento took us though November with the loss of Indian ghazal singer Jagjit Singh making us all feel very mortal. What a voice Jagjit Sahib possessed! His "Kaghaz Ki Kashti" still resonates amongst us today. Also that month, the San Francisco Chapter of DIL held a fundraiser in Palo Alto which was a huge success.
The December 2011 month has been an interesting and hopeful closing for the year. Almost everyone in our community has been upbeat about Imran Khan's recent political rise in Pakistan and the huge PTI rally that he held in Karachi on December 25 th. This scribe received an email from one of the performers at the event, Salman Ahmad. "Dear Ras, it's a real revolution going on here. I am beyond happy and a little bewildered to be there to witness a historic turning point in Pakistan's troubled and chaotic journey. Finally, a positive change coming to Pakistan. Immense challenges lie ahead but the possibility of sustainable peace and prosperity within Pakistan's grasp, inshallah! In Unity, Salman."
Let us hope that Salman is right and that the year 2012 brings Pakistan and the United States closer together as partners in peace.
-------------------------------------------------------------------------------------