Helping Hand West Region Office Holds Fundraiser for Orphan Support
By Fatima Farooki
Pictures by Anwar Khawaja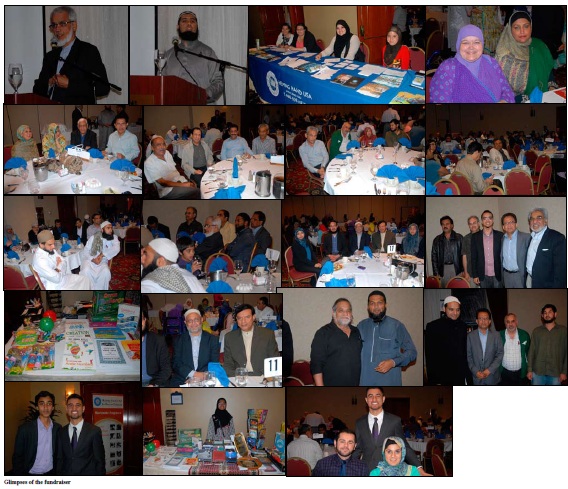 Helping Hand, West Region Office organized a fundraiser at the Knott's Berry Farm Hotel on June 3, 2012, to boost its orphan support program. The speakers at the soul-lifting evening included Dr. Muzammil Siddiqi, Sheikh Junaid Kharsany, and Hafiz Sahib Ashrafi. Omar Ali was the Nasheed artist.
The main focus for the evening was the support of orphans and our goal was 150 orphans which I very happily report that we very nearly met our goal, Alhamdulillah.
We originally had planned that Qari Saad Nomani would be in this event, but due to difficulty in his obtaining his Visa, he was not able to attend. Our other speakers, May Allah be pleased with them, really had our audience very moved by the plight of orphans all over the world, especially in Muslim countries. Each speaker had very unique perspectives to share and I felt that everyone was moved by Dr. Muzammil Siddiqi's very informative talk about our responsibility as Muslims for orphans and the example given by the Prophet's (PBUH) own life example.
We also had a very moving video about the role of Helping Hand in regards to our Orphan Support and Orphan Sponsorship programs.
We invite everyone to Support an orphan or several orphans which costs only $1 a day, $30 a month and $365 a year. We also invite you to use the funds you have set aside for your Zakat this year during Ramadan. You have the choice of the country and the orphan on our website. Contact us if you have any questions or need help.
Our volunteers were very efficient and we are very appreciative of their efforts on Behalf of Helping Hand for Relief and Development.
We also were blessed with a very young Nasheed artist, Sister Huda Syeda, 8, daughter of Ayaz Kaleemullah who performed the Nasheed Song 'Islam, The Way of Life', in addition to our entertainer for the evening, Omar Ali, who pleased the audience with a beautiful performance to close the night.
-------------------------------------------------------------------------------------