MPAC's Young Leaders Summit Delegates Meet with White House Officials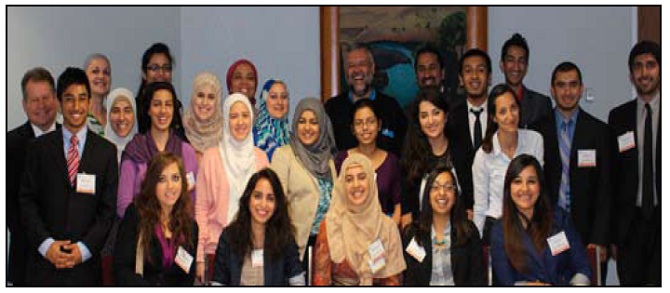 Washington, DC: The MPAC' 8th Annual Young Leaders Government Summit, which brought together nearly two dozen young Muslims from colleges and universities around the country to get a full experience of government and policy-making process, concluded in Washington, DC, recently.
"This year's summit was the perfect example of the importance of engagement between young and aspiring Muslims and the various segments of government," said Yasmin Hussein, MPAC's Young Leaders Program Coordinator. "Our Young Leaders were able to not only see the different opportunities they have to serve their community and nation but also were given the tools to ensure they make it in whatever goals they set to achieve. Each year, the program gains more recognition, prominence and prestige by those who attend our program and those who engage our delegates."
The delegates spent a week meeting and engaging members of nongovernmental organizations, Congress, federal agencies and the diplomatic community. The aspiring policy-makers also met with Jewish Women International, Department of State, Department of Homeland Security, Office of the Director of National Intelligence, Brookings Institution, The White House, Media Matters and the South African embassy.
This year's summit marked the first time the program has incorporated international participants with delegates attending from Belgium, Canada and Egypt.
The mission of MPAC's Young Leaders program is to provide young Muslims with the opportunity to become a part of the process of change. The Young Leaders Government Summit was an opportunity for young Muslims to be given a platform to identify their opportunities in government and to witness the many people making change on a daily basis. The delegates were able to discuss current policy issues while also exploring career opportunities.
Part of the program included a visit to the White House, where the delegates met with Valerie Jarrett, President Barack Obama Senior Adviser, and Denis McDonough, Deputy National Security Adviser.
"You have to try, and by trying you might have to take a risk or else you may not discover the potential within," McDonough said.
ALSO SEE: "Roundtable with MPAC's 2012 Young Leaders Summit" (White House)
As part of their commitment to civic engagement, the delegates wrote an open letter to President Obama stating:
Our faith and nation's shared values of compassion, peace and justice help us develop a unified American identity. Meeting with officials of various areas of government at the Muslim Public Affairs Council's Young Leaders Summit in Washington DC reinforced the idea that Muslim Americans have numerous opportunities to actively contribute to the civic and political process at multiple levels. Rather than allowing our story to be told by others, we own our narrative, and we encourage you, Mr. President, to work with us so that we can preserve an America that will allow our experiences to uphold the principles of E. Pluribus Unum.
Along with the meetings in DC, the MPAC staff conducted internal workshops on how to frame a message and networking skills.
For more information about Young Leaders Program, please visit summits.mpac.org or contact Hussein at 202-547-7701 or Yasmin@mpac.org
Founded in 1988, MPAC is an American institution which informs and shapes public opinion and policy by serving as a trusted resource to decision makers in government, media and policy institutions. MPAC is also committed to developing leaders with the purpose of enhancing the political and civic participation of Muslim Americans.
-------------------------------------------------------------------------------------