SHINE Humanity's Annual Benefit Gala
By Majyd Hassan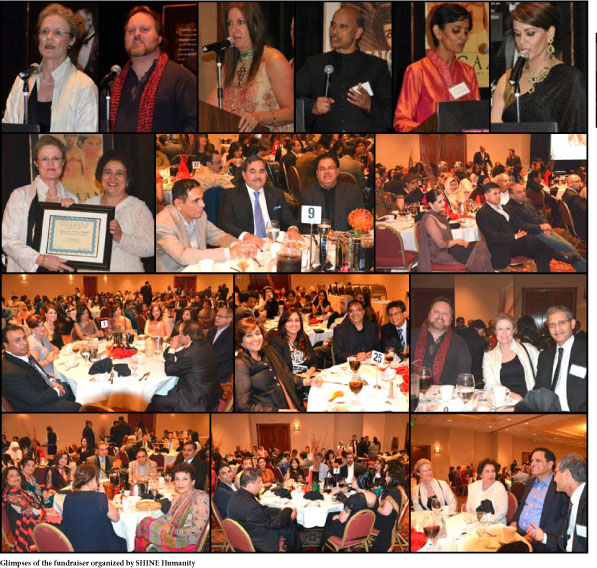 The annual benefit gala was held on May 20th at the Knott's Berry Farm Resort Hotel in Buena Park to support SHINE Humanity's ongoing projects in Pakistan.
The guests were splendidly dressed up in keeping with the movie theme for the evening.
Emcee Leslie Marshall, a nationally syndicated radio host, began the evening with a short speech about SHINE before introducing the speakers.
SHINE Executive Director, Seema Hassan, followed with a presentation highlighting the organization's disaster relief efforts in Pakistan and Japan along with a summation of the post-disaster efforts in Haiti, Japan and Pakistan and a presentation of the financial reports. Her talk over, Todd Shea, executive director of CDRS, delivered his speech which furnished a personal and hands-on perspective of SHINE and CDRS' endeavors. Todd shared his experiences of working in Pakistan and various disaster-affected areas with his relief team and donor support.
Board member Dr. Faisal Khan spoke next about his team's mission to Haiti with a team of volunteer medical personnel. Tehmina Jesrai, a visitor to Islamabad and the Swat Mother and Child Facility, presented her report on the work by the CDRS staff with the support of SHINE Humanity and International Development and Relief Foundation
Ambassador Robin Raphel, senior advisor for Pakistan to the Special Representative for Afghanistan and Pakistan, lauded the work being done by SHINE and CDRS. She shed light on the current situation and how each one of us can play our part in promoting Pak-American relations and carrying on the work forward. A Certificate of Appreciation was presented to Ambassador Raphel by the Consul General of Pakistan, Ms. Riffat Masood.
Raffles for best dressed guests was followed by a lively musical program.
-------------------------------------------------------------------------------------