OPEN Forum 2012 Brings Brightest Minds together
By A.H. Cemendtaur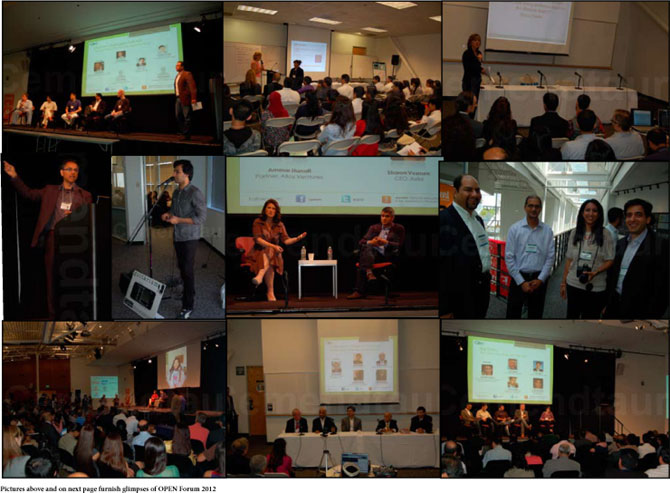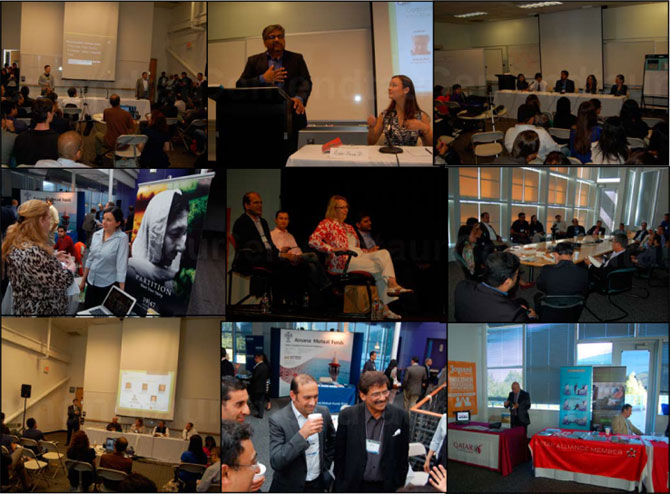 Where do Pakistani-Americans go if they want to reduce the degrees of separation between them and the brightest minds working in the field of technology? To the OPEN Forum, of course! An all-day program of lectures and workshops, the annual OPEN Forum provides an excellent opportunity to learn about the latest technologies and the time-proven techniques you can use to achieve your goals, and to find people that are in the fields you are pursuing or want to pursue. OPEN Forum 2012, under the leadership of its new president Moazzam Chaudry, was held at the Computer History Museum in Mountain View on June 2. It is hard for an annual event to get better and better every year, but the OPEN Forum has indeed been doing just that. This year's improvement was through an increased participation of high-school students and other young people in the conference.
This year too OPEN had three plenary sessions: a morning 'fireside chat' featuring Sharon Vosmek, CEO of Astia, a non-profit organization, moderated by Ammar Hanafi, general partner at Alloy Ventures; an afternoon keynote by Salman Khan of the Khan Academy; and an evening 'fireside chat' featuring Al Lieb, Cofounder and CEO of Clearside dot com and Aaron Levie, Cofounder and CEO of Box dot com, moderated by Aaref Hilaly, partner at Sequoia Capital.
The morning plenary session started with introductory remarks by Moazzam Chaudry.
Talking to Ammar Hanafi, Sharon Vosmek, a feminist and the CEO of Astia, a non-profit corporation seeking wider participation of women in business, said most professional women reach the highest in their careers at the age of 28. Vosmek said at the age of 28 or about a woman gives birth and till her children are grown up is unable to give time to her career. Vosmek advised women to give some time to their professional work — even if it is just a few hours a week -- while they are rearing children; this way women would keep themselves 'in the game' and would be able to move forward when they resume full-time after their children have grown up.
There was going to be an afternoon keynote speech by Salman Khan — also known as Sal Khan -- of the Khan Academy, but instead of making a speech Salman Khan went directly to a Q&A session with Thuy Vu, co-host of 'Eye on the Bay' by CBS. The session with Salman Khan drew the largest crowd of the conference; around 400 people gathered to listen to English-understanding-world's favorite teacher over the Internet. A CBS movie on Salman Khan delved into his journey, starting in 2004, from a teacher, over the Internet, to his young cousin to a teacher to the world. Listen to Sal Khan answering Thuy Vu's and the OPEN Forum audience's questions here:
http://archive.org/details/SalmanKhanOfKhanAcademyAtTheOpenForum2012
What followed between the keynote speeches were Track I, Track II, and Gen-Y Tracks, a series of workshops and lectures on a variety of topics. Reporters covering OPEN Forum can wear themselves out running from one talk to another. This correspondent was able to only briefly attend each presentation. Information about the professional association of speakers has been obtained from the program brochure.
The first Track I panel discussion was on "Investment Climate in Pakistan — Do the returns offset the perceived risks?" Panelists included Junaid Qureshi, CEO, SSJD Group; Naveed Sherwani, CEO, OPEN Silicon, a semiconductor design and manufacturing company (not to be confused with OPEN, the host organization); Sarfaraz Rehman, CEO, The Dawood Foundation; and Javed Hamid, Senior MD, International Executive Service Corps. The panel was moderated by Stephen West, Deputy Bureau Chief, Bloomberg News. Talking to the audience Naveed Sherwani said he had established an office in Lahore because his company found Pakistan to be a far more profitable location for doing business than China or India. Responding to a question about the electricity crisis in Pakistan, Sherwani said doing business in Pakistan includes figuring in the cost of on-site power generation.
While one panel discussed the investment climate in Pakistan, the other panel discussed corporate social responsibility. The panel on "Corporate Social Responsibility: Is the triple bottom line more than a trend?" was moderated by Shahab Riazi of OPEN. Specialists included Imran Sayeed, Senior Lecturer, MIT Sloan School of Management; Aude-Olivia Dufour, founder of Invup; and John Montgomery of Montgomery & Hansen, LLP, a corporate law firm. Here, the consensus seemed to be that corporations paying attention to the triple bottom line — People, Planet, Profit — have a much brighter future than those that are focusing on profit alone.
The concurrent Gen-Y presentation on "Gen Y Entrepreneurs" featured Noman Ali, founder and CEO, Peanut Labs; Brian Wong, CEO, Kiip; David Helgason, CEO, Unity Technologies; and Rahim Fazal, CEO, Involver. The talk was moderated by Mahmood Panjwani, Chairman, Infinisim.
In the second set of presentations, Track I talk on "Success with presentation and persuasion skills" was given by Kristi Royse, CEO, KLR Consulting, a management consulting firm specializing in leadership development and team building programs. Royse said 'first impressions' — that often last a lifetime — are formed in the first 15 seconds.
A conversation titled "Game Changers tell all: 'Work? Play? There's an app for that'" featured Charles Huang, Co-Founder, Red Octane; Robert Martyn, CEO, Zynga; Joe Robinson, Product Lead, Square; Omar Siddiqui, CEO, Kiwi; and Zia Yusuf, CEO, Streetline as the panelists. The panel was moderated by Umair Khan, CEO, SecretBuilders.
Listen to the audio of 'Game Changers' panel discussion here:
http://archive.org/details/gameChangersTellAllAtOpenForum2012
In the Gen Y Track coaching session on "Planning Your Future 101 (An Insider's Guide)," youth coach K.C. Anderson advised young people and answered their questions.
During lunch Adil Sherwani, developer of Guitarism, an app that enables people to play guitar, virtually, played music using 'Guitarism.'
Following the afternoon plenary session, the gathering once again broke into three concurrent tracks.
Panelists discussing "Big Data: The good, the bad, and the ugly" included Jim Adler, Chief Privacy Officer, Intelius; Natalie Fonseca, Co-founder and Executive Producer , Privacy Identity Innovation; Arif Jan Mohamed, Partner at Lightspeed Venture Partners; Alan Saldich, Vice President of Marketing at Cloudera; and Ashkan Soltani, Independent Privacy Researcher, WSJ Tech Consultant. The discussion was moderated by Rafae Bhatti, Data Privacy Lead, Accenture Technology Labs.
Listen to the audio of the 'Big Data' panel discussion here:
http://archive.org/details/bigDataTheGoodTheBadAndTheUglyAtOpenForum2012
A concurrent Track II workshop on "New Rules for Lean Startups" was given by Trevor Owens, CEO and Founder, Lean Startup Machine. Naeem Zafar, past president of OPEN, facilitated the discussion.
A youth panel on "Career through community building" included Mahvish Jafri; Sabah Khan, Assistant Director MBA Admissions, Stanford GSB; and Suhail Razzaque, Senior Software Engineer, Google. The moderators included Samreen Imran and Zain Umerani.
The judges for 'Entrepreneurial Idol' included Carol Sands, Founder, The Angels' Forum & The Halo Funds; Aaref Hilaly, partner at Sequoia Capital; Rehan Jalil, venture advisor to Mayfield Fund and ex-President, Wichorus; and Riaz Karamali; Partner, Sheppard Mullin Richter & Hampton LLP. Contestants participating in the 'Entrepreneurial Idol' presented their business ideas to the judges and the audience to promote their startup and get VCs interested in funding them. Listen to the proceedings of the Entrepreneurial Idol contest here:
http://archive.org/details/EntrepreneurialIdolAtOpenForum2012
A workshop on "How to land your next dream job," moderated by Athar Siddiqee , Head of Global Compensation at Atmel Corporation, included Shahid Khan , Career Coach; Bryon McDougall, Partner, Alchemy Search Partners; Hasan Rizvi , SVP, Oracle; and Tey Scott, Talent Acquisition Manager, LinkedIn.
Besides workshops and lectures OPEN also provides space for alumni of the Pakistani universities to get together, indulge in nostalgia, and discuss common interests. A 'Birds of a feather' meeting of the NED University alumni hosted Aquila Ismail, former professor of electrical engineering at the NED University. Ismail's debut novel 'Of Martyrs and Marigolds', on the sufferings of Urdu-speaking people of East Pakistan at the birth of Bangladesh, has been well-received in literary circles. Shahid Bokhari spoke to the UET, Lahore alumni in a concurrent 'Birds of a feather' meeting.
-------------------------------------------------------------------------------------