Pakistan Tehreek-e-Insaf California Chapter Holds Fundraiser Reception
By Masood U. Syed
Pictures by Anwar Khawaja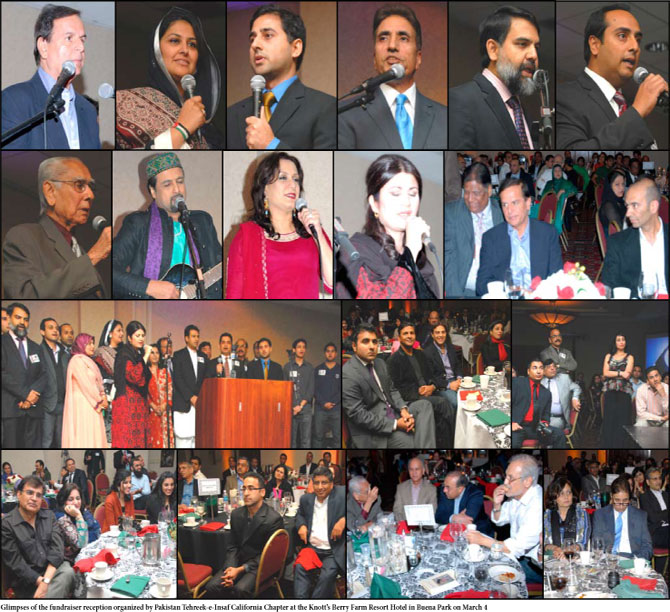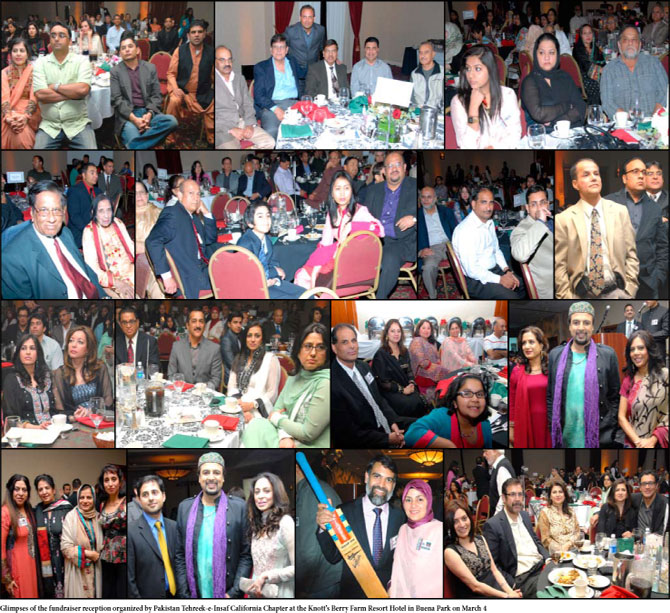 Los Angeles, CA: The Pakistan Tehreek-e-Insaf California Chapter (PTI-CA) hosted a fundraiser reception for PTI Senior Vice President Mr. Javed Hashmi at the Knott's Berry Farm Resort Hotel in Buena Park on March 4. Samina and Salman Ahmed of Junoon performed at the event. The large gathering was addressed by Mr. Javed Hashmi and his address was followed by a Q&A session during which the enthusiastic audience asked a wide variety of questions. A pre-recorded video address of Imran Khan was played and towards the end of the evening Imran delivered a surprise live address via phone.
The event was attended by around 450 people from all walks of life. It was a sold-out event: fairly early in the evening the banquet hall was buzzing with eager guests and volunteers who were seen putting in sincere efforts with a rare sense of pride and joy. While the guests were being seated, appetizers were served and live sitar was played by Farhan Khan of Fountain Muse. The atmosphere was positive and filled with excitement.
The program started with a recitation of the Holy Qur'an and presentation of naat by the program host Wasfa Ahmed. The national anthem was spiritedly sung by the team of volunteers as the gathering joined in with zest. A long-time supporter of PTI and a local friend of Imran Khan, Dr. Razaq Chaudhry, addressed the gathering and urged the community to support PTI.
Sadaf Agha, coordinator of the local PTI women's wing, recited a poem from Ameer-ul-Islam Hashmi, "Iqbal Teray Des Ka Kia Hal Sunaoon" that brought tears to many eyes. After this beautifully rendered poem with background images from Pakistan that acted as a reminder of the current situation in the country, the proceedings focused on solutions, optimism and hope. Usman Ali Bokhari, President of PTI-CA Chapter, highlighted the activities of local chapters and encouraged everyone to join hands with Imran Khan and actively participate in PTI's struggle for a better Pakistan. He reminded the audience on how and why it is important for them to support PTI and help usher a wholesome change in the country for coming generations.
Masood Syed presented a poem that he had written for the 25 th December Karachi Jalsa. The poem was inspired by Imran Khan's love for his mother and his admiration of Allama Iqbal. A senior member of the community, Sahibzada Muzaffaruddin Mirza, presented a wonderful poem about the changes that will be taking place in Pakistan following the success of the PTI and Imran Khan.
Mr. Javed Hashmi next addressed the emotionally charged gathering and explained how PTI is getting ready to break the old two-party system and how PTI will be able to stop the tradition of two parties taking turns and ruling the country to serve their own interests. Javed Hashmi's way of interacting with people, his gentle demeanor and ability to patiently listen to all the questions and calmly explain his point of view, was impressive. Mr Hashmi converted many in the audience as his ardent fans and supporters. His openness testified to his sincerity and his earnest comments were a contrast to the clichés one often associates with politicians. While the team of PTI-CA volunteers gave their best efforts and the guests provided overwhelming generous support, it appeared that Mr. Hashmi had much more to offer in return to his admirers. Listening to him made people believe in Imran Khan's ability of selecting the right team.

After Mr. Hashmi's speech, dinner was served. Near the end of the dinner, raffles were drawn and a few of Javed Hashmi-signed PTI t-shirts and Imram Khan's books were given away. Also, autographed cricket bats generously donated by Zubair Vaseer and Adnan Akram, cricket memorabilia and Imran Khan-autographed books were auctioned off to raise funds. During the event, the guests also filled out pledge forms to show their support for PTI and its cause.
The show moved on with the introduction of Salman Ahmed and Samina Ahmed of Junoon. Salman Ahmed told interesting stories about his conversations with Imran Khan and along with Samina Ahmed sang patriotic and soul-lifting songs. Despite the fact that the fundraiser reception was held on a Sunday people were seen enjoying the relaxed atmosphere late into the evening. Then came the big surprise when Usman Bokhari and Sherry Khan were able to connect with Imran Khan, who was on an umrah trip to Saudi Arabia, via phone. In his characteristic style Imran Khan briefly addressed the audience. He urged Pakistani Americans to step forward and support the cause of change in Pakistan. He said Allah Almighty never changes the condition of a people unless they themselves strive for a change. Imran mentioned that Pakistani Americans are an asset of our nation, and he welcomed their support. Late into the evening, a band of young local musical enthusiasts called Insaaf sang songs and entertained the crowd.
Sherry Khan, General Secretary of PTI-CA, who along with Ausaf Ali played a leading role in making the banquet hall into a beautiful and relaxing place, was later told by many guests that while at the banquet, they felt like they were sitting among their family and friends. Along with PTI-CA officials, the event was organized with the support of a large team of dedicated volunteers - Awab Ali, Faisal Khan, Nudrat Usman, Shamama Ali, Madeeha Siddiqui, Shazia Syed, Adnan Akram, Nasir Cheema, Ishtiaq Hussain Shah, Ghulam Rabbani, Sharjeel Mohammad, Fazal Haq, Mudeem Siddiqui, Hassan Firzok and Muhammad Ahsan. They played an important role in organizing and planning the logistics of the evening. The event was also supported by star performers and professionals who were happy to perform or help the event as volunteers such as Waqar Khan of Safeer-e-Pakistan, Salman and Samina Ahmed of Junoon, Fountain Muse, Insaaf Band, Nadeem Akhter (Noomi), and Tahir Iftikhar Khan.
PTI-CA hosted another gathering on March 5th in collaboration with Tasneem and Ghulam Farooq Rehmani at their residence in San Diego, CA. Mr. Javed Hashmi attended the San Diego fundraiser event with enthusiasm and energized the local crowd. PTI-CA President Usman Ali and Mr. and Mrs. Rehmani also addressed the gathering and encouraged everyone to join hands with PTI. The San Diego folks responded positively to the PTI call for support and a PTI-San Diego chapter was promptly formed with the help of the new membership sign-ups.
PTI-CA would like to thank the local Pakistani community for their support and request their continued support for future PTI programs and events. Currently, Faisal Khan, a volunteer of PTI-CA, is working on arranging the participation of PTI volunteers in a 5k walk/jog in Los Angeles, CA to be held on 17 th of March. The objective of the organizers of the walk is to project a positive image of Pakistan and its people and to demonstrate PTI-CA team's support for the PTI team and volunteers working in Pakistan and all over the world.
-------------------------------------------------------------------------------------