Urdu Markaz International Organizes Lively Literary Event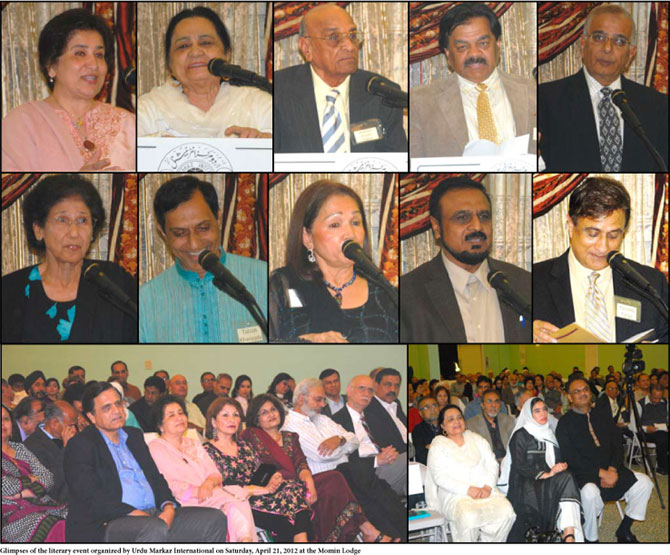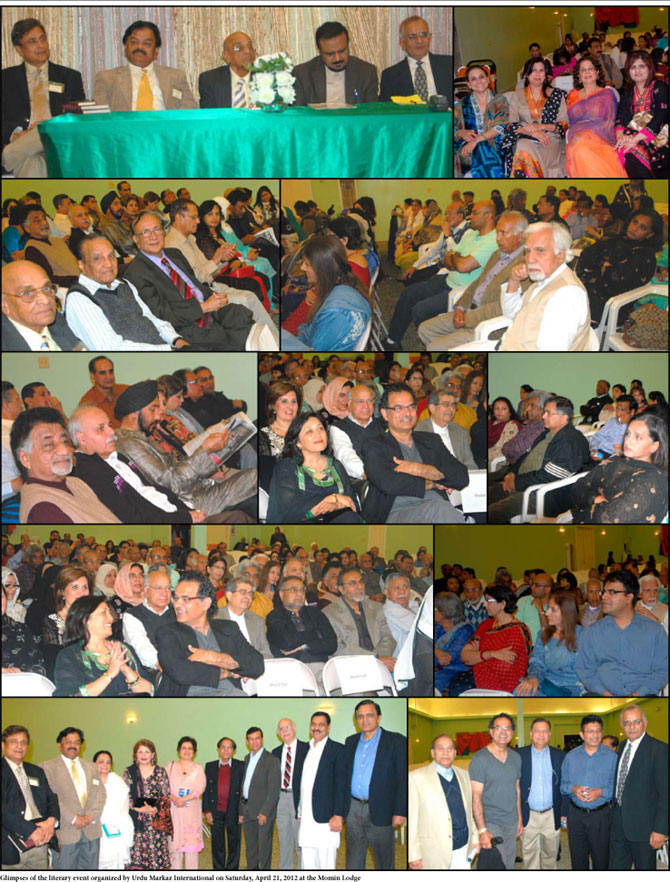 Torrance, CA: Urdu Markaz International Los Angeles organized a well-attended literary event on Saturday, April 21, 2012 at the Momin Lodge.
Mindful of the untimely death of an active community member – Iqbal Shahnawaz – and glum at the tragedy that had struck the Pakistani soldiers in Siachen – the audience was visibly in low spirits. Naiyar Aapa asked the gathering to observe a minute of silence in memory of the departed souls before formally starting the proceedings. She profusely thanked Dr Hasanuddin Hashmi for his prompt willingness to extend hospitality to Urdu Markaz International whenever it was requested.
Consul General Mrs Riffat Masood spoke briefly on the life and work of Dr Allama Iqbal and exhorted the gathering to heed his tolerant and moderate message. She paid glowing tributes to the eminent poet: his liberal views enjoyed universal appeal and following.
The poetry recital won repeated acclaim and the gathering was enraptured by the humorous kalam of the poets - Khalid Irfan from New York, Farooq Taraz from San Francisco, Sheikh Maqbool Ahmed from Salt Lake City and Ejaz Hussain from New Jersey. A few selected local poets, including Asadullah Hussaini Chakkar, Naiyar Aapa, Majeed Akhtar, Tabish Khanzada, Atiya Niazi, and Dr Shamim Ibrahim, presented their kalam and won accolades. Asadullah Hussaini Chakkar presided over the mushaira. Majeed Akhtar ably conducted the proceedings as emcee of the program.
Khalid Irfan stole the show with his recital and deservedly won repeated applause.
In a pre-mushaira announcement, an official of Urdu Markaz International had hoped: "We are sure that this event will provide a few hours of nice relaxation from the frustration and stress these days. Please do spare some time and come to the Mushaira to quench your thirst for poetry and get real enjoyment." He was wholly right. The mushaira did provide many moments of mirth and light-hearted banter to the audience.
Thank you Naiyar Apa and Zahanat Sahib for organizing the splendid event. Naiyar Apa's words of support for 'Link – Pakistan Link and Urdu Link – were music to the ears of many.
-------------------------------------------------------------------------------------