Pakistan-United States Ties Debated at Harvard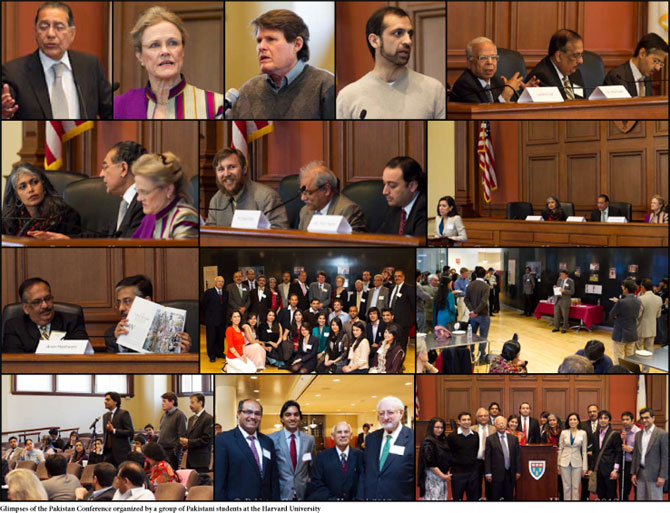 On April 26, 2012 a group of Pakistani students organized the Pakistan Conference at Harvard University Rising Above the Tide. It opened with an engaging business panel. Professor Lakshami Iyer of Harvard Business School moderated an absorbing discussion on the challenges of entrepreneurship and business in Pakistan today. The panel brought together renowned experts and businessmen: Dr. Ishrat Husain former governor State Bank of Pakistan; Mr. Salman Burney, Chairman GSK Pakistan; and Mr. Amin Hashwani, Co-Chair India Pakistan CEOs Business Forum.
The panelists paid special attention to regional economic integration as a means to foster economic and business ties especially between Pakistan and India. The quality of discussion was further enhanced with the participation of Boston-based Pakistani businessmen, young professionals, and students of Harvard University.
Following the business panel, another highly engrossing discussion ensued with two panels on re-setting and improving diplomatic relations between Pakistan and the United States. Each panel was preceded by a tone-setting Keynote speech.
Ambassador Robin Raphel, who is Senior Advisor to Special Representative for Afghanistan and Pakistan at US State Department, delivered the first keynote emphasizing the US perspective and interests in diplomatic relations with Pakistan. Ambassador Raphel then joined a panel of experts in a discussion moderated by Michael Semple, Fellow at Harvard Carr Center for Human Rights, The co-panelists included Zahid Hussain, Fellow at Woodrow Wilson Center, and Pir Zubair Shah, Fellow at Harvard Neiman Foundation for Journalism. The discussion was highly interactive with the audience, as several pointed questions were raised to panelists and addressed in detail.
Ambassador Munir Akram, former Ambassador of Pakistan to the United Nations, delivered the second keynote speech laying out the interests, concerns and non-negotiables for Pakistan in its relationship with the United States. After his keynote, Ambassador Raphel joined Ambassador Akram for a final, closing panel discussion entitled "The Way Forward - Pakistan and the United States" moderated by Beena Sarwar, Fellow at Harvard Ash Center for Democratic Governance.
The high-level of audience interest throughout the day was evident from the long lines of participants who wanted to ask questions and offer comments during the Q&A sessions after each panel. Professors John Briscoe and Asim Khwaja were also in attendance lending Harvard faculty's support to the conference and its organizers. Special guests included representatives from the Consulate General in New York, the Consulate General in Boston, and the Pakistan Embassy in Washington, DC who also attended an exclusive Pre-Conference Networking Dinner with conference speakers.
Harvard Pakistan Student Group organized this conference with a team of students devoted to continue such catalytic engagement and further strengthen the bonds between Harvard and Pakistan in years to come.
The conference was graciously sponsored by Harvard South Asia Initiative, Harvard Asia Center, Mr. Barry Hoffman - Consul General of Pakistan in Boston, Mr. Scharukh Jalisi - President of Pakistan Association of Greater Boston (PAGB), Mr. Mahmud Jafri - Dover Rug and Home, Dr. Khalil Katri - President of Association of Pakistani Physicians of New England (APPNE), Mr. Imran Sayeed - Organization of Pakistani Entrepreneurs of North America (OPEN), Harvard Business School South Asia Business Association, Harvard Kennedy School Pakistan Caucus, Harvard College Pakistan Students Association, Harvard Kennedy School Student Government (KSSG), American Pakistan Foundation, and Muslim Law Students Association Harvard Law School. Conference. Photos and details on: www.PakistanConference2012.org.
-------------------------------------------------------------------------------------