DIL Raises Awareness and Funds at Annual Walkathon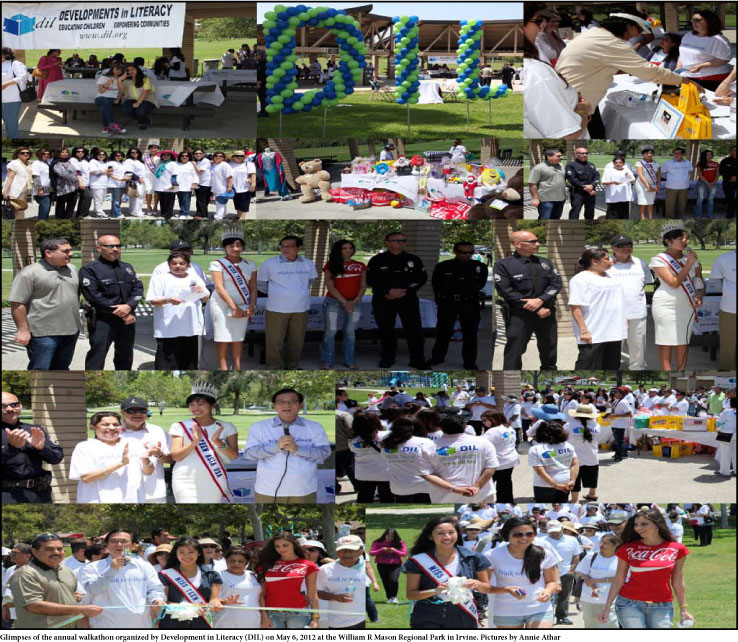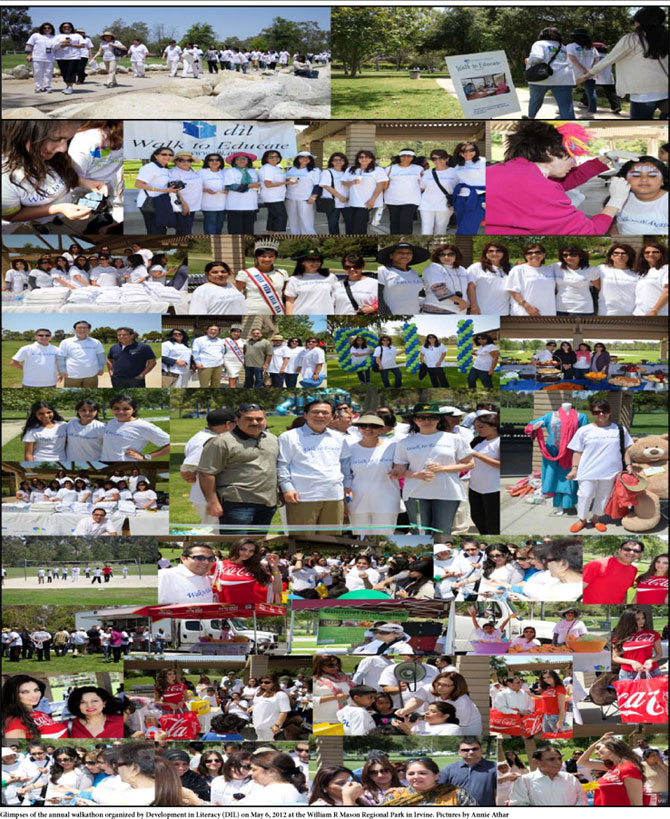 Developments in Literacy (DIL) hosted its annual walkathon on May 6, 2012 at the William R Mason Regional Park in Irvine, California. With over 350 attendees from all ages, backgrounds and cultures, the event was a huge success bringing together DIL supporters and local community members. In addition, the event successfully raised over $20,000 for DIL schools and programs in Pakistan.
Attendees were greeted by volunteers and given DIL logo'd t-shirts, towels and raffle tickets as well as information on the DIL schools, curriculum and activity programs. Once they entered the DIL retreat at the park, the wonderful sunny weather contributed to a relaxed and jovial ambiance which began with traditional Pakistani appetizers, palm-reader, face-painters for the children, games and an exhibition of traditional Pakistani clothes. The attendees were able to mingle and enjoy before the official walk route began with a ribbon cutting ceremony.
Among the community leaders, Irvine Mayor Sukhee Kang thanked DIL for hosting the event in the diverse Irvine community. Miss Asia, Meeghan Henry, praised the work of the DIL volunteers for making a change in the lives of so many children and the community at large. Several LAPD officers expressed pleasureon being part of the event. COPAA president Adnan Khan supported the event with his participation and joined in the walk. DIL LA Chapter President Mariam Rashid also thanked all the volunteers, sponsors and attendees for making the event such a huge success every year.
After completing the walk, attendees were served a delicious and unique lunch of either Pakistani kabob rolls or Inn N' Out burgers and chips from an authentic Inn N' Out truck which was cooking fresh food. The food was complemented by tea and desserts followed by a variety of fun games including face painting, dodge ball, soccer and cricket. The event concluded with the announcement of the raffle winners and the award of a multitude of prizes, including Pakistani traditional outfits donated by Chique Designs, tickets to Las Vegas for two sponsored by Travel Plus, a complimentary stay at the St. Regis and Coke-sponsored memorabilia handed out by Miss Coca Cola.
The reaction and generosity of the attendees highlighted their belief in the importance of education in Pakistan and how DIL's programs are making inroads to help the fight against illiteracy. To learn about or donate to the DIL programs please visit www.dil.org.
-------------------------------------------------------------------------------------