Imran Khan Raises $100,000 from San Francisco Bay Area
By Abdus Sattar Ghazali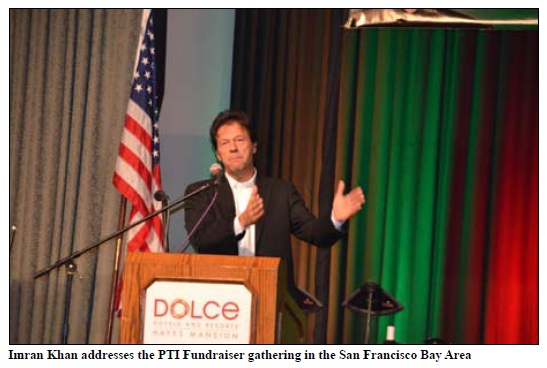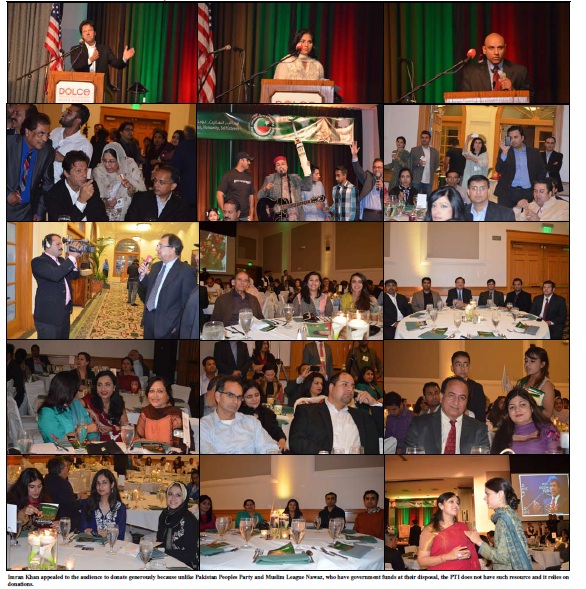 Imran Khan, chairman of Pakistan Tehreek-e-Insaf (PTI), Sunday attended a fundraiser sponsored by the PTI San Francisco Bay Area where $100,000 was raised for the PTI. One cricket bat signed by the cricket legend was auctioned for $5,000.
The fundraiser, held at the Dolce Hayes Mansion Hotel in San Jose, was attended by about 500 PTI supporters and well wishers. Salman Ahmed of Junoon played the Pakistan national anthem on his guitar at the PTI gathering.
Imran Khan is on a fundraising tour of North America. This was his third fundraising stop in the USA. According to PTI tweet, so far the PTI has raised over $115,000 in Toronto - over $650,000 in New York and $139,000 in Seattle.
In his speech, Imran Khan talked about his deplaning at Toronto airport by the US Immigration officials. They wanted to know his views about the drone attacks, he informed adding that "his stance on drones is known."
Imran Khan appealed to the audience to donate generously because unlike Pakistan Peoples Party and Muslim League Nawaz, who have government funds at their disposal, the PTI does not have such resource and it relies on donations.
Imran Khan said that the PTI is the only political party of Pakistan which does not have hereditary leadership. The PTI is the most democratic party as it is holding party elections at every level, he informed.
He said that the PTI has launched an aggressive membership campaign and registered millions of members that makes the PTI the largest party of Pakistan. According to a survey by the US-based International Republican Institute (IRI), Pakistan Tehreek-e-Insaf (PTI) of Imran Khan tops the list of popular parties in Pakistan both at the national as well as provincial level, leaving Pakistan Muslim League-Nawaz (PML-N) and Pakistan Peoples Party (PPP) behind.
On foreign policy, Imran Khan said that we want friendly relations with the United States but based on mutual respect. He said that Zardari government's policies are dictated by Washington. He also said that the party will renew our relationship with India.
On the current military operations in Pakistan's tribal areas, Imran Khan said when the operation was launched he opposed it by saying that the military will be bogged down as it has now bogged down. The Swat military operation was launched three years ago and it is still in military control.
He reminded the audience that the tribal areas joined Pakistan under an agreement with Mr Mohammad Ali Jinnah who was advised by the last British Governor of NWFP (now Pakhtunkhaw) to withdraw troops from the tribal territory and he did withdraw.
Imran Khan reaffirmed his belief that Pakistan must withdraw from the present war and negotiate a peace settlement with the Taliban. He said that the Pakistani Taliban surfaced in 2006 as a result of the military operation launched in 2004.
He said he is sometimes called Taliban Khan because he advocates dialogue. He said 'do more' is not a solution. Many groups are fighting under the name of Taliban, he said adding that we can win over those who are not hard core. He pointed out that the United Kingdom ultimately talked to the Irish Republican Army (IRA) which was involved in terrorist operations.
Imran Khan was asked why he was 48 hours late in condemning the Taliban attack on Malala Yusufzai? He said that this is disinformation; he visited Malala in hospital and condemned the tragic attack. The video of his press conference is on the PTI website.
Earlier, Javed Tufail, PTI San Francisco Bay Area Coordinator, welcomed Imran Khan and his team, including Dr. Nasrullah Khan, Treasurer PTI SF Bay Area and Fauzia Kasuri, member Political Strategy Committee.
Salman Ahmad of Junoon group entertained the audience with his musical renditions.
-------------------------------------------------------------------------------------