Imran Electrifies Los Angeles Crowd
By Perwaiz Ahmad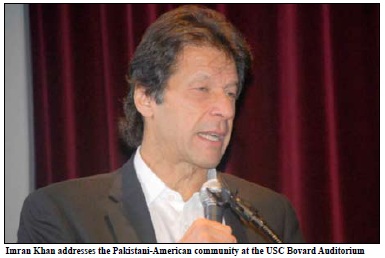 Los Angeles, CA: With profound anticipation, we arrived at the USC's Bovard Auditorium at the allotted time to hear Imran Khan, Chairman, Pakistan Tehreek e Insaaf (PTI) speak at an event organized by the Pakistan Student Association-USC. At first, I was a bit dismayed to see just a handful of people (100-200) standing outside and waiting for the auditorium doors to open. However, the entire atmosphere changed rapidly when people started pouring in from all directions.
In no time the auditorium was jam-packed to its capacity of 1200, while many stood on the periphery of the seating area hoping to find an empty seat. By and large, it seems that while others plan to be early, we Pakistanis plan to be late!!!!
On approaching a member of the organizing committee, I was told that the program will start an hour late because an extra fundraiser program was squeezed in between the lunch fundraiser and the USC program. Taking advantage of the waiting period some of us thought it was a good idea to gobble up mouth-watering food available at the entrance to the auditorium.
The program started around 7:30 pm with the introduction of a newly formed band called " Insaaf " inspired by the PTI's name, followed by an emotional rendering of a poem "Iqbal teray dais ka kya haal sunaoon" by Sadaf Agha, written by Ameer-ul-Islam Hashmi. After the recitation of the Holy Qur'an, Salman Ahmad motivated the crowd by singing one of his most popular national songs, "Pakistan Kabhi Na Bhoolo".
As Imran Khan accompanied by Ms Fauzia Kasuri stepped on the stage, the entire auditorium gave an unending, unforgettable, rousing and roaring standing ovation which will be imprinted on our minds for years to come. It just goes to show the love, affection and admiration people have for the man who has relentlessly and single-handedly fought the status quo in the political arena for 16 long years to get his message across to the nation. In the last two years he has finally won the acceptance of millions of people who were mere skeptics and dwelled on anecdotal cases and innuendos emanating from his opponents. Many skeptics have come to believe in him now and strongly feel that if anybody can change the dangerous course Pakistan has drifted to because of corrupt, self-serving politicians, it is Imran Khan. His sincere and honest wake-up call to all Pakistanis is finally resonating in all walks of life, resulting in record-breaking attendance at the Lahore Jalsa followed by similar events in Karachi, Quetta, and Waziristan and, most recently, in the Los Angeles area.
Usman Ali, President PTI–California, gave a short speech to welcome Imran Khan and his small entourage of four including Ms Fauzia Kasuri and Salmaan Ahmad. Just before Imran Khan took the mike to address the impatient crowd, Salmaan Ahmad once again entertained the crowd by spiritedly singing one of his famous national songs "Dil Dil Pakistan, Jaan Jaan Pakistan". The excitement in the crowd knew no bounds and just about everyone was on their feet, clapping, thumping their feet and singing along with Salman; the mood of the crowd was beyond euphoric, a sight never seen in a political jalsa by us expatriates. Exactly one year ago, PTI made history by holding the biggest jalsa in Lahore on the footsteps of Minaar e Pakistan, followed by mammoth gatherings in Karachi, Quetta, Waziristan, and now, Los Angeles.
Imran Khan started his speech with a thunderous applause from the crowd, talking about his dreams as a child and his failures in the early stages while playing cricket for Pakistan. Through hard work he became a shining cricket star not only in England County Cricket but in Pakistan too. He proved his mantle by bringing many victories to the then demoralized Pakistan cricket team and finally reached the pinnacle of his career by winning the coveted World Cup in 1992. He convinced the ICC to arrange neutral referees in international cricket to eliminate biased umpiring. All along his captaincy, he led by example. Although his life is full of trial and tribulations, discouragements from his coaches, elders and personal misfortunes he never gave up on his ambition to deliver to the people of Pakistan, proving his critics that hard work with honesty and sincerity is bound to get rewards and, above all, a sense of utmost satisfaction.
After an exhaustive question-and-answer session, it appeared that people who were sitting on the fence were now convinced that in a jungle of lawlessness, nepotism, narcissistic behavior, hopelessness, exploitation of the poor, family dynasty politics, Imran Khan alone could rescue the nation.
Back in early 1980's, a confident Le Iacocca, ex-chairman of Chrysler Motor Corporation who brought Chrysler back, from the ashes, near extinction, on the map, once said, "If you can find a better car, buy it ". To the entire nay sayers, I want to say, "If you have a better option than Imran Khan, show me."
When I asked, Sabba, a budding history teacher, she said, "Imran Khan gives people like me the hope that Pakistan can and will have a better, stronger and more prosperous future. While hearing him speak you could feel the passion in his voice".
The program was a resounding success in terms of attendance, excitement and monies raised. The crowd left with the assurance that there was someone to lead Pakistan into the 21 st century with commitment, honor and inspirational sincerity.
-------------------------------------------------------------------------------------