'My Faith. My Vote. My Future.' Election Campaign Launched by MPAC
By Marium Mohiuddin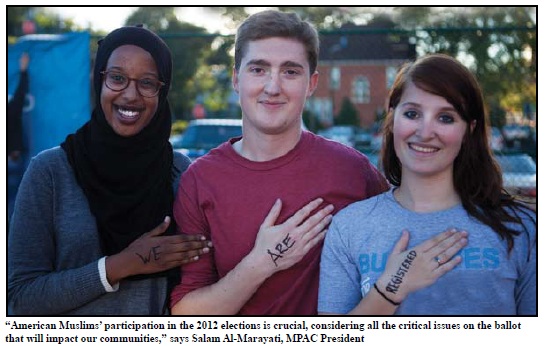 Los Angeles, CA: The Muslim Public Affairs Council has kicked off its 2012 election campaign — "My Faith. My Vote. My Future." The campaign aims to mobilize American Muslims and their communities to participate in the upcoming election. To learn how you can join the nationwide campaign and find an election forum taking place near you, check out our Community Toolkit and our website .
SEE: 'My Faith. My Vote. My Future.' 2012 Election Community Toolkit ( mpac.org/myfaithmyvote )
"American Muslims' participation in the 2012 elections is crucial, considering all the critical issues on the ballot that will impact our communities," said Salam Al-Marayati , MPAC President. "The Community Toolkit lays out the steps you can take to engage local, state and national campaigns, create community forums to discuss the issues you care about, and mobilize American Muslim voters to get involved and go to the polls on November 6."
Recently, MPAC conducted a national poll of American Muslims to determine the top 10 issues they care about this election season. Using those findings, our toolkit offers an issue-by-issue breakdown of President Barack Obama's and Republican challenger Mitt Romney's positions. Topping the list were immigration, the environment, taxes and the federal budget, national security and foreign aid.
With less than six weeks left until Nov. 6, we want to hear what's on your mind regarding the elections. Use #myfaithmyvote on Twitter to share why you will be voting, your election-related events and the issues you care about as a voter.
In our efforts to engage American Muslim voters, MPAC has organized 10 forums and debate viewing parties around the nation so far. Visit www.mpac.org/myfaithmyvote for more details and to find an event taking place near you.
MPAC also encourages American Muslims to host 2012 Presidential Debate viewing parties, starting with the first national debate on domestic policy on Wednesday, October 3. To learn how you can organize an event in your community, contact Hoda Elshishtawy , MPAC's Legislative & Policy Analyst, at hoda@mpac.org .
Upcoming "My Faith. My Vote. My Future." Events :
Sept. 29 MD Muslim Community Center : Election Forum
Sept. 30 CA Islamic Center of Irvine : Irvine & the State of Education
Oct. 3 VA Location TBA: Presidential Debate Viewing Party
Oct. 5 OH The Ohio State University: Election Forum
Oct. 6 OH Cincinnati – Location TBA: Election Forum
Oct. 11 VA Location TBA: Vice-Presidential Debate Viewing Party
Oct. 16 FL Location TBA: Presidential Debate Forum
Oct. 22 VA Location TBA: Presidential Debate Viewing Party
Oct. 22 CA Temple Judea: Debate Night Viewing Party: The Issues We Share
Nov. 4 CA Islamic Center of Southern California : Election 2012 Community Forum
Founded in 1988, MPAC is an American institution which informs and shapes public opinion and policy by serving as a trusted resource to decision makers in government, media and policy institutions. MPAC is also committed to developing leaders with the purpose of enhancing the political and civic participation of American Muslims.
-------------------------------------------------------------------------------------