Pakistani-Americans Demonstrate against Religious Extremism
By Amin Haq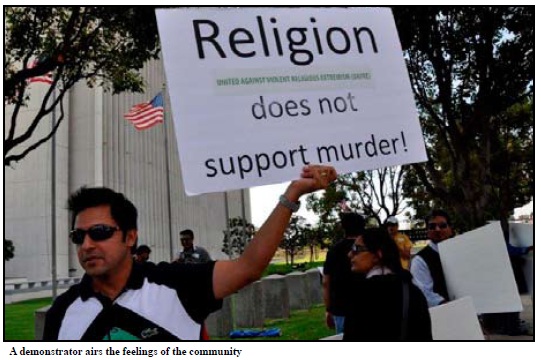 Los Angeles, CA: Pakistani-Americans came together in Los Angeles, CA on Saturday, October 13 th to mount an awareness campaign within the Pakistani Diaspora of the need to speak out and confront religious extremism in Pakistan and to coalesce likeminded Pakistanis and Pakistani-Americans to lobby the Government of Pakistan to enact legislation which would guarantee freedom of religion to all Pakistanis such that no citizen need fear for his life on account of his faith.
The campaign which comprised of a rally was held at the Federal Building on Wilshire Boulevard on the Westside of Los Angeles. More than 200 people comprising of different Pakistani ethnicities and religious denominations participated in this event. On Monday, October 15 th a petition urging the Government of Pakistan to protect the rights of religious minorities, signed by more than 700 Pakistani-Americans was delivered to Mrs Riffat Masood, Consul General of Pakistan. The Consul assured the petitioners that their voice would be heard by the Government of Pakistan.
Of course there is a larger question which looms in the minds of many Pakistanis and Pakistani-Americans alike: where did we go wrong? How did Pakistan which was once a secular, tolerant country at ease with its liberal South Asian culture, progressively become a violent society, prone to aggression and religious fratricide?
A fratricide based on religious differences which has seen: Ahmadis, Christians and Hindus being murdered in their homes and places of worship; Shiites being labeled by extremists as non-Muslims and then willfully murdered in a genocide which has seen thousands of Shiites lose their lives by way of bombs and bullets – murder committed in Imambargahs, buses and homes alike; mystics who practice centuries old Sufi traditions of prayer and worship branded as heretics and then blown to pieces.
And of course we have seen the perversion of application of the infamous Blasphemy Law which has led to frenzied mobs apply their street justice to Salman Taseer and Shahbaz Bhatti by way of cold-blooded murder and Rimsha Massi, a child, falsely accused of blasphemy and then imprisoned based upon fabricated evidence submitted by a local cleric.
We have seen instance upon instance of gratuitous, senseless violence committed on innocent, helpless individuals simply for being of another faith. We keep wondering how this intolerant, bigoted and unyielding mindset become part of our society? Where did this seed which bore the tree whose deadly bitter fruit that we now eat, come from?
We ask ourselves this question because since its inception and for a significant period after its birth, the State of Pakistan had always been a country where a majority of its populace identified their religious persuasion as Islam, but, a Pakistani's political ideology could best be described as progressive. Evidence of this phenomenon was presented time and again by the inability of religious parties to secure a political mandate in nationwide elections.
We now have come to the realization that for too long we have displayed ignorance, indifference and an inability to speak up for justice for the weakest members of our fraternity. Our lack of action only emboldened the obscurantist element which seeks our subservience to their will – a will to dominate our spirit and to make us conform to a political ideology which seeks no dialogue or accommodation of another's point of view. We are now resolved not to repeat the mistakes of our past. We will speak out and make sure that the voices of those who are wronged are heard. There will be no attempt towards mitigation. We will be unequivocal in our condemnation of religious extremism.
Hina Abidi, one of the principal organizers of the UAVRE rally, elaborated her reasons as thus:
When the lives of Christians and Hindus were ended simply for belonging to another faith, we looked the other way.
Then they massacred Ahmadis in their mosques but our tongues remained locked in fear.
Emboldened, they set alight Sufi Shrines, called our saints "heretics" and butchered the mystics as they knelt in prayer. Our silence was deafening.
Sensing our cowardice and indifference they unleashed their dogs of war upon the schools where our daughters learned.
They killed the sons of our Shia Brothers with a hail of bullets.
We watched all of this in horror and disbelief but could not bring ourselves to speak or rain wrath on those who destroyed another's life, for the supposed sake of preserving their own afterlife.
Malala is our daughter. She is all of 14. She embodies the bravery of her people and her wisdom belies her tender age.
She should not be, they said. They tried but what is not meant to be shall not be.
We awoke. We cried and now we are resolved that we shall not let them be. We do not seek revenge but we do seek an end to injustice.
To win against manifest evil shall be our cause. We shall remain steadfast in our belief that all human kind has the right to life, liberty and faith.
Our cause is just. We are resolved. We shall succeed.
-------------------------------------------------------------------------------------