Dr Farooq Sattar in Sacramento
By Abdus Sattar Ghazali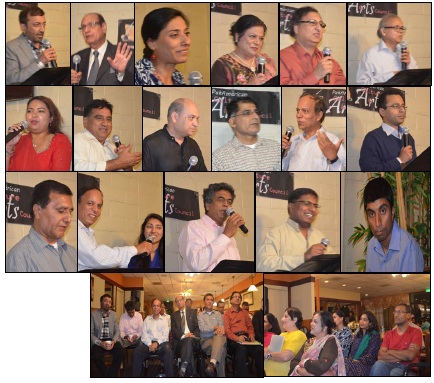 Federal Minister for Overseas Pakistanis and MQM Deputy Convener, Dr Farooq Sattar, says that he is working to ensure the participation of overseas Pakistanis in country's parliamentary process.
Dr. Farooq Sattar, on a private visit to Sacramento, was the chief guest at the Pak-American Cultural & Arts Council gathering Saturday at the Kabab Corner Restaurant in Sacramento.
Dr Farooq Sattar said that he was vigorously pursuing voting rights for overseas Pakistanis who send more than $13.5 billion remittances to Pakistan every year and enjoy a great clout in policy making circles outside Pakistan. The World Bank ranks Pakistan among the top ten recipients of remittances.
He said that Pakistanis residing abroad have been playing a pivotal role in country's socio-economic development and they should have a voice in the democratic process.
Dr. Farooq Sattar said that Government will soon announce a policy for overseas Pakistanis under which seats will be reserved for them in Senate and National Assembly. He said that a bill in the National Assembly of Pakistan has been moved to pursue the reserved seats for Overseas Pakistanis which constitute 7 to 9 percent of the Pakistani population and they cannot be neglected.
Dr Farooq Sattar observed that in Pakistan, policies were made to safeguard 2 per cent ruling elite but other 98 per cent people were alien in their own land. He observed that alienating millions of Pakistanis living overseas would be a huge mistake and Pakistan can't afford it.
According to official statistics, 6.3 million Pakistanis are living in more than 54 countries across the world. About 1,500,000 Overseas Pakistanis live in Saudi Arabia, 1,200,000 in United Kingdom, 1,014,082 in United Arab Emirates and 900,000 in USA.
Tellingly, the Election Commission of Pakistan in February 2012 decided to grant voting rights to overseas Pakistanis. However, voting will be limited to those Pakistanis who have a National Card for Overseas Pakistanis or NICP card, an identification card which allows expats visa-less entry into their home country.
The debate on whether overseas Pakistanis should be allowed to participate in Pakistan's elections gained steam after Pakistan Tehrike Insaf (PTI) chairman Imran Khan moved the Supreme Court requesting that Pakistanis living abroad should be permitted to vote.
Many experts predict that PTI – a progressive party which is building formidable momentum in the run-up to the next election – stands the most to gain from the move, as it has a significant following among those overseas citizens who are disillusioned with the country's ruling Pakistan People's Party.
Dr. Farooq Sattar said that the MQM is also working to grant voting right and right to contest parliamentary elections to dual nationality holder Pakistanis.
On September 20, the Supreme Court disqualified 11 members of parliament and provincial assemblies for holding dual nationalities. Hours after the announcement of verdict, the ECP de-notified the membership of the legislators.
Four of those disqualified by the court under Article 63(1c) of the Constitution for possessing dual nationality are members of the National Assembly and seven of provincial assemblies of Punjab and Sindh. The MNAs are: Chaudhry Zahid Iqbal (UK nationality) and Farahnaz Ispahani (USA) of the PPP, Farhat Mehmood Khan (USA) of the MQM and Jamil Ahmed Malik of the PML-N.
The MPAs who have been sent home are: Mohammad Akhlaq (USA), Dr Mohammad Ashraf Chohan (UK), Chaudhry Waseem Qadir (Norway) and Chaudhry Nadeem Khadim (UK) of the PML-N from Punjab, PPP's Ms Amna Buttar (USA) from Punjab and Dr Ahmad Ali Shah (UK) from Sindh and Ms Nadia Gabol (UK) of the MQM from Sindh.
The politicians were found guilty of corrupt practices in terms of Section 78 of the Representation of Peoples Act (RPA) 1976 and the court directed the CEC to initiate legal proceedings against them under Section 82 of the RPA which envisages a jail term of up to three years.
The cases will also be registered against them under Section 193 of the Pakistan Penal Code (PPC) which asks for a punishment of up to seven years for providing false evidence during judicial proceedings; Section 196 for using evidence known to be false; Section 197 for issuing or signing false certificate; 198 Section for using as true a certificate known to be false; and Section 199 for false statement made in declaration which is by law receivable as evidence.
Questions to Dr. Farooq Sattar: On the dual nationality issue, Mir Shams Nazir, an IT engineer at Intel, told the Minister that like him many overseas Pakistanis don't agree with the suggestion that dual nationals should be allowed to contest in parliamentary elections because obviously the loyalty of such nationals towards Pakistan may be questionable. "If any overseas Pakistani wants to contest then he or she should go back and stay in Pakistan to become part of the political process."
Khalid Saeed, founder of the Pak-American Cultural & Arts Council, was of the view that the MQM supporting the Zardari government from the beginning. He hoped that the MQM, as a strong coalition partner, will use its pressure in establishing an impartial care taker government to ensure fair and free elections.
Dr. Farooq Sattar was asked many questions related to the security situation in the country, target killings in Karachi and elsewhere, rampant corruption in the government as well as current political turmoil. He was also reminded that the overseas Pakistanis have bitter past experience with the governments in Islamabad. In 1998 about two billion dollars foreign currency accounts of overseas Pakistanis were seized while many schemes of notorious Overseas Pakistanis Foundation were proved fraudulent.
Among those who asked questions include: Rukhsana Riaz, Javed Akhtar, Khadim Ali and Surriya Syed.
Mushaera Session: Prior to Dr. Farooq Sattar's question-answer session, a traditional literary session was held. Naeem Syed, a prominent personality of Greater Sacramento was the MC of the event. At the outset of the program he delighted the audience with a witty composition.
Dr. Nirmal Mann, a prominent Urdu poet with his published diwan, thrilled the audience with his touchy poetry.
Khaled Saeed's comical composition about domestic life drew wide applause. Javid Akhtar's political poem about the current situation in Pakistan also drew wide clapping.
Among those who amused the audience with their presentations of the Urdu poetry include: Basir Shehzad, Sameena Sundas, Mir Shams Nazir, Zahoor Ahmed, Mohammad Nadeem and Shakeel Rahman.
Duriya Syed captivated the audience with her presentation of an interesting skit.
Aziz Rehman, nice of famous South Asian singer Gulshan Ara Syed stole the show with her melodious presentations of many ghazals.
-------------------------------------------------------------------------------------