Horrific Boston Bombing Condemned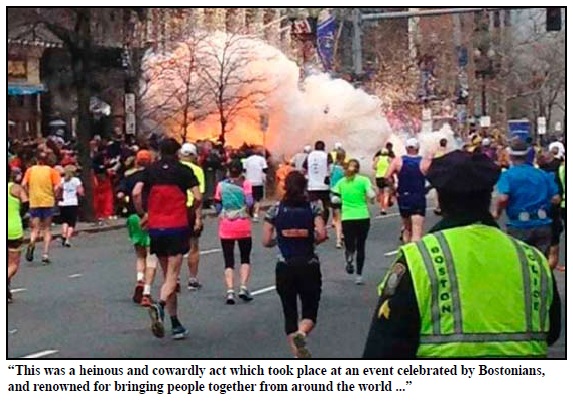 Los Angeles , CA: APPNA, COPAA, Muslim Public Affairs Council et al have condemned thheinous act of terrorism in Boston. In a Press Release entitled 'APPNA Stands with Boston' the Association said: "APPNA leadership and members are deeply shocked and saddened by the highly despicable terror attack on innocent citizens in Boston. We are in solidarity with the affected individuals and families and express our heartfelt condolence to the near and dear ones of the victims who lost their lives.
"This was a heinous and cowardly act which took place at an event celebrated by Bostonians, and renowned for bringing people together from around the world. We agree with President Obama's pledge to find the perpetrators and bring the 'full weight of justice' against them.
"Though it is another sad event in the history of humanity, but we need to remain firm in our resolve to fight and defeat terrorism and to defend and uphold the values that define the United States of America."
The Council of Pakistan American Affairs (COPAA) in a statement stated: "Council of Pakistan American Affairs extends its heartfelt sympathy to the victims of the tragic bombings in Boston. We stand united with our fellow Americans in praying for the victims and their families and doing whatever is humanly possible to help bring their lives back to normal.
"This tragedy has drowned us in sorrow and compelled us to urge the law enforcement to find the perpetrators. As people of faith, we unequivocally condemn these terrible acts of violence and we stand united with our fellow American brothers and sisters during this trial and with our Presiden (who said): 'On days like this there are no Republicans or Democrats-we are Americans, united in concern for our fellow citizens.' "
MPAC: "… MPAC condemns this terrorist attack; this is a horrible crime, and we call on all of us as Americans to work together to bring those responsible to justice. The Boston Marathon is an annual, historic event with more than 28,000 people participating from all around the world. To attack those on what is supposed to be a day of jubilation is criminal and inexcusable.
MPAC has been in touch with federal authorities and Muslim community leaders in Boston to get up-to-date and accurate information as this fluid situation develops. At this point no one has claimed responsibility. We will convey any information we receive from authorities.
" 'This is a time for us to show resilience and calmness, as we come together to help the American public recover from this heinous act," said Salam Al-Marayati, MPAC President. "At this point the investigation is too early to determine the nature of this crime.'
"We ask everyone to reach out to their faith and civic leaders to coordinate with authorities to bring resolution to this tragedy."
-------------------------------------------------------------------------------------