American Muslim Women's Empowerment Council Holds Third Annual Conference
By Tami Shaikh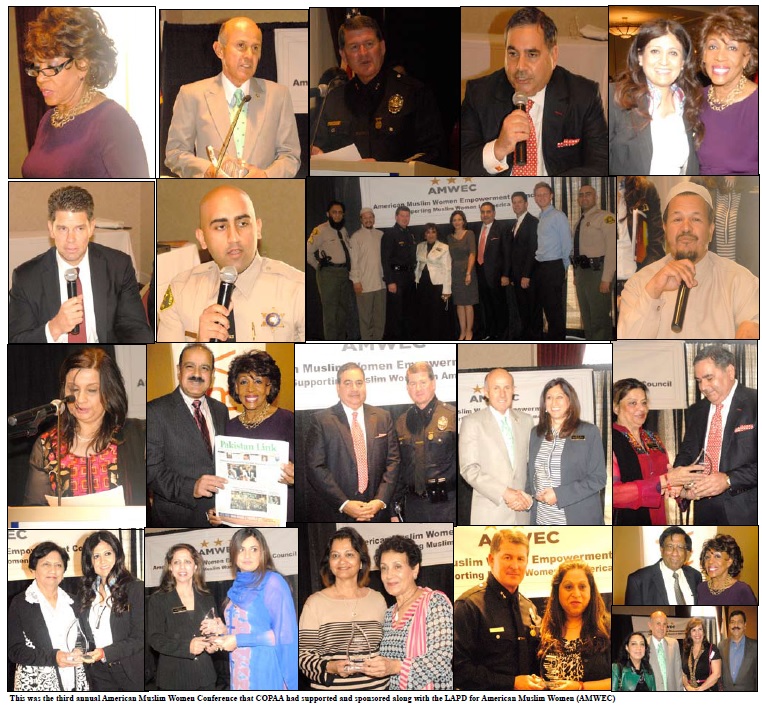 April 21, 2013 was a day that started with a patriotic Honor Guard that was followed by the pledge and anthem led by Officer Rosalind Curry of the LAPD. Then a moment of silence was observed for the victims of the Boston Marathon and the tragic explosions in Texas. Sheriff Lee Baca's emotional words echoed in the minds of the audience: "All religions meet at the top, in heaven there will be no special place for Muslims, Jews or Christians, so we should all just try to do our best here on earth."
This was the third annual American Muslim Women Conference that COPAA has supported and sponsored along with the LAPD for American Muslim Women (AMWEC).
It was a day full of inspiration, reflection, admiration and awe. It started with the founder of AMWEC , Anila Ali, who talked about the mission and vision of the organization. She said that AMWEC seeks to educate, inform, engage and encourage Muslim women to do their best and achieve their dreams. During the past year AMWEC had worked side by side with law enforcement agencies, non-profits like Sahara and Share Ourselves to promote civic engagement, educate Muslim women on their rights, organize interfaith activities, toy drives, etc.
The first keynote speaker was Congresswoman Maxine Waters who was introduced by AMWEC board member Tina Khan. Congresswoman Maxine Waters started by thanking Chief Mike Downing and Lee Bacca on their support and involvement with the Muslim community. She went on to talk about how today women have made great strides to achieve equal rights, however they still have a long way to go. The Congresswoman also congratulated Muslim women for their entrepreneurship and their hard work towards empowering, ensuring and extending equal opportunities to all.
The next speaker was Chief Michael Downing who began by greeting Muslims in their traditional way - "Asalamoalaikum". He also brought about a few laughs when he said he was no Bollywood's Shahrukh Khan or Pakistan's Atif Aslam. He appreciated the efforts of the ladies of AMWEC and presented them with certificates for their hard work and dedication.
After his address awards were presented to various community members who had worked diligently to promote the vision of AMWEC and others who encouraged outreach and interfaith programs. This included Razia Jaan the CNN Hero of Razia's Ray of Hope Foundation, Judy and Steve Gilliland of The Church of Jesus Christ of Latter-day Saints, Jami Valentine and Staci Freeman of Solace for Children, Uzma Zehra of Irvine Pakistani Parents Association, Muslim women in politics: Dr.Bina Kamdar, Dr. Sanobar Baig, Maliha Noamani, Nargis Kurwa, Dr Talat Khan, and Sheela Mehta of SAHARA for helping Muslim women. Chief Michael Downing was presented with an AMWEC award for his empowerment and outreach to Muslim women. COPAA President Adnan Khan was recognized and awarded an AMWEC award for his leadership, vision, and advocacy of Muslim women.
The second part of the conference allowed community members to ask questions from expert panelists. The panelists were from all walks of life including Mike Downing, Adnan Khan, Corey Feinstein from the Olive Tree initiative, Special Agent-in-charge, SAC David Bowdich of the FBI, Iman Said Sedouk, Director of San Gabriel Valley Mosque, Joumana Silyan-Saba of City of LA, Human Relations Commission, Obeer Qazi, Reserve Deputy Sheriff LA County. and Sheela Mehta of Sahara. The panelists answered a large number of questions asked by the audience, especially the youth. The conference ended with small breakout sessions including -Women Inspiring Women, Women's Health,, Know Your Civil Rights by FBI, and Domestic Violence by LAPD.
-------------------------------------------------------------------------------------