Vigil in San Jose against the Killing of Shias in Quetta
By Abdus Sattar Ghazali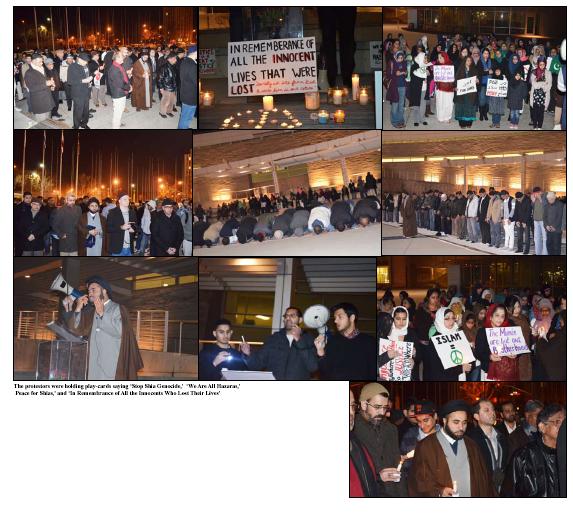 A candle light vigil was held on January 21, 2013 at the San Jose City Hall to protest the killings of Shia Hazaras in Quetta.
The vigil, arranged by the Youth Wing of the SABA Islamic Center, was attended by about 150 people belonging to different Islamic sects.
The protestors were holding play-cards saying: Stop Shia genocide; We are all Hazaras; Peace for Shias; In remembrance of all the innocents who lost their lives.
Incidentally, one of the victims of the recent Shia killings in Quetta was Irfan Ali, whose family lives in the US.
Dr Nabi Raza Abdi, Resident Alim (Scholar) of SABA Islamic Center led the Maghrabain (Maghreb and Isha) prayers outside the City Hall.
Addressing the protesters, Dr Abdi expressed deep concern over the killing of Shia community members in Pakistan and revealed that his uncle was also killed in Quetta a few years back.
About the persecution of the Hazara community, Dr Abdi pointed out that in one Afghan village 150 Hazara people were killed but no action was taken. It may be added that Hazaras in Baluchistan migrated from Afghanistan several decades ago.
Dr Abdi said that we should remember all the people who lost their life in Pakistan, India, Bahrain and Palestine. He was of the view that a conspiracy against Shias continues today in Syria, Bahrain, Afghanistan, Yemen, Indonesia and Saudi Arabia.
He called upon the media to focus attention on the plight of the Shia community.
It may be recalled that 85 people were killed and 150 injured on January 10 in two suicide bombings in a predominantly Shia neighborhood known as Alamdar Road in Quetta. The victims belonged to the Hazara ethnic community. The Qaumi Yakjehti Council called a protest demonstration in which bereaved families sat on the roads alongside bodies of those who were killed in the blasts. The protest ended on January 14 when the government of Baluchistan was dismissed and Governor Rule was imposed in the troubled province.
Earlier in December, more than 20 Shia pilgrims were killed when a car bomb was detonated near the buses they were traveling in.
-------------------------------------------------------------------------------------